Vaccines are the hot topic of spring. And nothing is more buzzworthy—albeit confusing—than figuring out who is eligible, when and where to go, and how to find the most recent, accurate information. Staff at Thurston County Public Health and Social Services are working tirelessly to make sure the COVID-19 vaccine roll-out is smooth, equitable and efficient.
To date, "49,108 people in Thurston County are fully vaccinated, which is 17.8% of our population," says Meredith Mathis, COVID-19 Vaccine Public Information Specialist. "80,159 people, or 28.05% of our population have had at least one dose of vaccine. Across the county, health care providers have administered a total of 124,171 doses. Public Health and Social Services (PHSS) has administered 15,072 of those doses."
County by county statistics are updated regularly and can be found on a public health dashboard. And large-scale vaccination sites are ongoing and growing. From the first PHSS clinic on January 23, 2021 where only 100 doses were administered to February 6 staff, when staff, partnered with Providence Health and Services, hosted the county's first drive-through clinic, and administered more than 1,100 doses, explains Mathis. "On March 5, PHSS opened a large-scale drive through vaccination clinic at the Thurston County Fairgrounds where we vaccinated just under 900 people with their first doses," she continues. "On March 12, we opened another drive through vaccination site at South Puget Sound Community College, where we vaccinated just over 1,000 people with the single dose Johnson & Johnson Janssen vaccine."
And these big endeavors aren't all. Mathis explains that both main sites, "run intermittently, depending on our vaccine allocations from the Washington State Department of Health (DOH)." But they've also hosted mobile vaccination clinics to help those most in need. These include adult family homes and assisted living facilities, private clinics focused on serving seniors, healthcare workers, underserved populations, educators and childcare providers, people with disabilities, houseless individuals, first responders and other groups.
Finding a vaccination appointment can feel stressful and overwhelming. But the PHSS team maintain a dedicated COVID-19 vaccine webpage with registration links, eligibility information and resources. They also post the most recent information to Facebook, Twitter and Instagram. There is a vaccine telephone hotline for folks without internet access. Simply call 360.867.2610 and someone will help you find and register for an appointment.
Such a massive undertaking requires the hard work and help of both employees and volunteers. For example, the large SPSCC and fairgrounds locations, which are run by PHSS, rely on assistance from Thurston County employees, Medical Reserve Corps, healthcare partners, and local volunteers. "United Way of Thurston County has been instrumental in the success of these clinics," says Mathis. "They coordinate 100% of our volunteer force from the community and provide, on average, 65-85 volunteers for each day of our SPSCC and Fairgrounds clinics. To date, they have recruited more than 1,700 volunteers! It takes upward of 90 people to make these drive-through events happen."
On April 15, all residents will be eligible for the vaccine, regardless of their previous phase. This means another wave of eager arms looking for shots. But don't worry, the PHSS team aren't slowing down. They'll continue to provide the shot and host sites until all county residents have access. "Likely through the summer and beyond when children become eligible," says Mathis.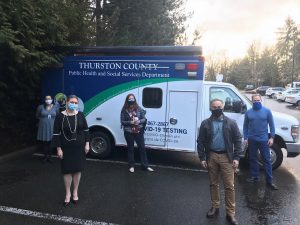 The department's no-holds-barred approach comes from a simple goal. "It is our mission to work together to achieve the highest level of health and wellbeing for everyone," says Schelli Slaughter, Thurston County Public Health and Social Services director.  "Getting Thurston County vaccinated against COVID-19 is our highest priority at Thurston County Public Health and Social Services. We are one of the largest vaccine providers in our community. Local health jurisdictions play a critical role across the state and have the responsibility and funding to implement mass vaccination plans."
Why not go through hospitals, doctor's offices or clinics? The answer is clear. "Our traditional healthcare provider community such as hospitals, healthcare clinics, and pharmacies do not have the capacity to do it all without the support and partnership with local public health," answers Slaughter. "It takes our entire community to help bring this pandemic to an end. We appreciate the support of our generous community in volunteering and all of our public health and healthcare heroes for keeping us safe. We hope that everyone will get vaccinated when it is their turn and will continue to do their part in protecting others by wearing masks and physical distancing and socializing responsibly."
Mid-April's open availability should streamline the vaccination process. Find a vaccine location near you and register for an appointment as they open up. Summer's just around the corner, do what you can to get out and enjoy it safely with the ones you love.
Sponsored