In the energy sector, you might say that green is the new black. Customer demand for renewable energy has been increasing every year and at Puget Sound Energy (PSE), that demand has been harnessed to fund solar grants to nonprofits, housing authorities and tribal entities serving low-income and BIPOC community members through the Green Power Solar Grant program. "This year we were able to award over $1 million to 15 organizations," says Mackenzie Martin, community projects manager. It's the largest amount distributed through the program to date.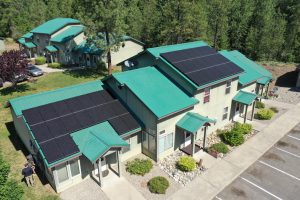 Around Thurston County, two of the selected projects will have a significant impact. A $100,000 grant will enable the Nisqually Indian Tribe to install a 120-kilowatt solar system on their Elders Facility. "A unique piece of their application is that they plan to use the installation as a training and workforce development opportunity for the tribal construction team," says Martin.
At YWCA Olympia, a $12,665 grant is being used for a 3.24-kilowatt solar installation on their historic Main House. "Their intent is for any operational savings they experience as a result of installing solar to be invested directly in their programs that prioritize Womxn of Color and BIPOC communities," Martin explains. "They're also planning to expand renewable energy education within some of their programming."
Other recipients are Lummi Nation School, Hopelink, El Centro de la Raza, King County Housing Authority, Sustainable Connections, Helping Hands Food Bank, Skagit Valley Hospitality House Association, Camp Korey, Boys & Girls Clubs of Skagit County, Institute for Washington's Future, Friends of the Manchester Library, Boys & Girls Club of South Puget Sound, and South Whidbey Good Cheer Food Bank.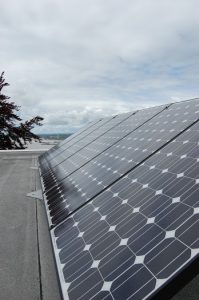 The grants are made possible by PSE customers who participate in the company's Green Power and Solar Choice programs, which allow any home or business in PSE's electric service area to match some or all of their electricity usage with green power by paying a bit more each month. The cost of the extra power is added to their bill and then the power is added to the grid on the customer's behalf.
"These programs are not only committed to providing our customers with access to renewable energy, but also to expanding the development of new, local, clean energy sources," says Martin. "We use a small percentage of the funds that customers pay into the Green Power and Solar Choice programs to provide solar grants to organizations that directly benefit and serve our low-income and BIPOC customers."
Once installed, the solar systems continue to provide benefits for grant recipients over time, starting with reduced operating costs and lower energy bills. "Grant recipients have found creative ways to pass on those savings to benefit their constituents or community members," Martin notes "Some are using the savings to increase staff, and some are using them to provide a wider variety of services or to serve more individuals and families." Like YWCA Olympia, other groups who conduct educational programming may use the installations as teaching tools for career-connected learning or lessons on renewable energy.
Another benefit is the act of bringing clean energy to a community, a high priority in Washington State. Annually, Washington ranks at or near the top of all states in renewable energy generation every year, with more than three-fourths of its power coming from renewable sources, mainly hydropower. In 2019, the state produced approximately one-tenth of the total renewable sourced utility-scale electricity in the U.S. PSE increased its capacity for solar by 85% over the previous year in 2015 and continues to grow its solar program.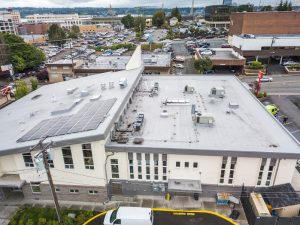 "Our customers' interest in renewable energy has been increasing every year," Martin says. "Participation in our voluntary renewable programs is higher than ever. At PSE, we have a strong commitment to a clean energy future and we're also committed to helping customers meet their personal clean energy goals."
In previous years the Green Power Solar Grant was by invitation only, but in 2020 PSE had more funding available and made the applications public. The company created an external-facing website to house application materials and conducted outreach with nonprofits, tribal entities and housing authorities in their electric service area. "We had more money to disburse and we wanted to expand the reach of those funds," says Martin. "While the details are still being finalized, we're preparing to release another round of grant funding this summer."
PSE customers enrolled in their Green Power and Solar Choice programs can give themselves credit for helping to bring these projects to life, she points out. "They contribute to the financial and environmental benefits that clean energy can bring to these organizations."
To learn more or enroll in a program, visit the Puget Sound Energy Solar Choice webpage or Green Power Program pages.
Sponsored