Many people have experienced frustration and discouragement when attempts to sign up for a COVID-19 vaccination have been unsuccessful. Limited appointments, crashing websites and limited internet access left people who were qualified by the Washington State Department of Health Phase Finder unable to pin down an appointment. Connie Hoang and her daughter Yvy La have been busy since February hooking up people with available slots. Without fees or fanfare, they have helped many in our community.

Connie and Yvy started with the intention to help their older relatives. Initially that was what they did. With a few swift clicks, times were secured. It might have ended there, but her father-in-law mentioned his appointment to his friends, many of whom had been stymied with typical sign-up snafus. Connie and her daughter took their names and birth dates and went hunting online. The focus was for seniors, the oldest being 98 years old. Connie is part of a Vietnamese community. "Language barriers, no cell phones or internet are all problematic," says Connie. Other calls began coming into her. "I'm on three waiting lists, but no one is calling back," was a common refrain.
Word of their success spread. Connie's friends of friends of friends started getting in touch with her. "We have extended family and want to help them," people explained. Both Connie and Yvy felt their hearts fill with joy as each appointment was secured.
"When I signed up for my own appointment, it was easy," Connie recalls, "I had no trouble finding a spot. But in late January, it became much harder." As a podiatrist, she was able to get inoculated early on. As word about vaccines got out, more people were competing for limited supplies.
I wondered why Yvy and Connie were so much more successful than anyone else. Speed on the keyboard and knowing what questions are asked made all the difference. Yvy and her mom are both fast. With a person's first and last names and date of birth, they're ready to go. The truth is that some people took so long to get through the questions, by the time they got to the appointment slot, it was already taken, and they would have to start all over again. The speedy duo has made up to 50 appointments in a day. At one mass vaccine clinic, they were able to secure 20 appointments in 30 minutes.
Yvy, who is 13 years old and an 8th grader at Jefferson Middle School, isn't just fast on the computer. She is fast in the swimming pool. She started lessons by the time she was three years old and has been seriously swimming since she was six. Yvy used to swim locally but has since graduated to the King Aquatic Club in Tacoma. "We wanted a little more competitive coaching and environment," explains Connie. You'll find her in the pool six days a week for two or three hours.
A few years ago, Yvy broke the state record in the 200 IM (individual medley). "I like doing IM," says Yvu. "It's a little of every stroke." The four strokes are butterfly, back, breast and freestyle, in that order. She has her sights set on being an Olympic swimmer. She'll be one of the youngest swimmers in sectionals this year, competitive meets that require prior qualifying from lower levels. Getting to sectionals is an accomplishment in itself. The intense swim schedule has fit into life more neatly with school being remote, so that will continue to the end of this school year.  In the fall, the schedule will be in review as an incoming freshman.
The availability of COVID vaccines is increasing, but Connie and Yvy are still helping. There are still roadblocks for technology challenged individuals, those with language limitations and people without internet. "If you are working full time, it's hard to get an appointment," says Connie.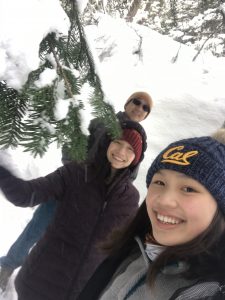 The duo has made over 200 appointments for teachers, who were not in the first round of eligibility. "They are especially grateful," notes Connie. Also happy are seniors who are looking forward to seeing their grandchildren again. "It's fun. People really appreciate it," adds Yvy.
"Many seniors now vaccinated. That was our goal," adds Connie who is especially concerned about Asian Americans and all people of color.
"Don't give up. If you have trouble we can help," concludes Connie. With parameters widening for those qualifying for a vaccine, The State of Washington as moved from Phase Finder to vaccine location website based on the zip code you enter. If you are over 60, have had no success at getting appointment, you can call Connie at 360-402-1015.
Thank you, Connie and Evy, for giving your time and talents to making our community safer.