Exercise does more than build a beach body or help shed post-winter quarantine pounds. It is an integral building block of a healthy life and focused, intentional lifestyle. At the new Evolution and Creation Wellness Studio in Olympia, one-on-one training in fitness, nutrition and overall wellness builds a stronger, happier and healthier you.
During the long months of COVID captivity and winter blahs, most of us have been trapped indoors more than we'd like. But when it comes to starting an exercise routine, there are so many questions. When should I begin? What's the best exercise for my body type or medical background? Why bother at all? The answers to all of these can be found through speaking with a personal trainer. Locally, Brian Evans wants to help.
Evans opened the Wellness Studio in October 2020 as a hub for private one-on-one training. A certified personal trainer for more than 15 years, he fell in love with all types of exercise at a very young age. To date, he has participated in numerous 5K events, marathons and Iron Man competitions. At Evolution and Creation Wellness Studio, he lovingly developed a career that doesn't feel like a job.
Evans caters to "young athletes wanting to advance in their sport, clients with special needs, the actively aging and those interested in overall health and wellness," says wife Trista Nesbit-Evans.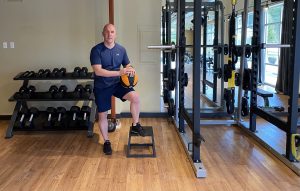 Located at 4419 Harrison Avenue on Olympia's west side, the Wellness Studio operates by appointment only. A benefit of the appointment only service is the ability to maintain careful Coronavirus protection. "A private studio is ideal for people concerned about COVID and safety precautions," says Evans. "Evolution and Creation is a controlled environment that is sanitized in between each client and we are able to screen individuals upon their arrival."
And yes, both agree that launching a new small business during such uncertain times is just that. "Opening the fitness studio during a pandemic may seem like a risky decision," admits Evans, "But we saw it as an opportunity to do something unique in a space we love. Sometimes adverse situations are an opportunity to pursue another path. The stars aligned and our dream location became available. With time off during the shutdown, there was time to make it happen."
At their Wellness Studio, it's more than just learning how to use equipment. Evans focuses on food choices, lifestyle changes and ways to improve day-to-day living. New clients can receive a complimentary consultation by emailing evolutioncreation@yahoo.com, messaging them through Facebook or by calling 360.888.9424.
This area is a perfect fit for their growing clientele. "Olympia is a very active community of people who run, bike, ski, snowboard, water ski and more," says Evans. "People are health-conscious and like to stay in shape so that they can do what they love. Gyms and private studios are a big part of our community that offer yoga, Pilates and personal training."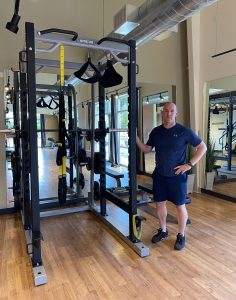 Getting fit is more than about losing weight. Exercise helps us maintain mobility and balance and does wonders for our mental health as well. Doctors explain that: "People who exercise regularly tend to do so because it gives them an enormous sense of well-being. They feel more energetic throughout the day, sleep better at night, have sharper memories, and feel more relaxed and positive about themselves and their lives."
The doctors also agree that: "Regular exercise…relieves stress, improves memory, helps you sleep better, and boosts your overall mood. And you don't have to be a fitness fanatic to reap the benefits. Research indicates that modest amounts of exercise can make a real difference. No matter your age or fitness level, you can learn to use exercise as a powerful tool to deal with mental health problems, improve your energy and outlook, and get more out of life."
All of which echoes the Evans family's dedication. "We believe that health and wellness are key to achieving your goals and the life you want! It's time to make your way back into the gym; self-care is the best investment in yourself."
When you're ready to face the outside world once again, start by calling 360.888.9424. Then dust off your gym bag, dig out a water bottle and head over for a 30- or 45-minute individualized session tailored to your needs, hopes, ability and desires. Whether starting out (creation) or refining (evolution), they're the Wellness Studio for you.