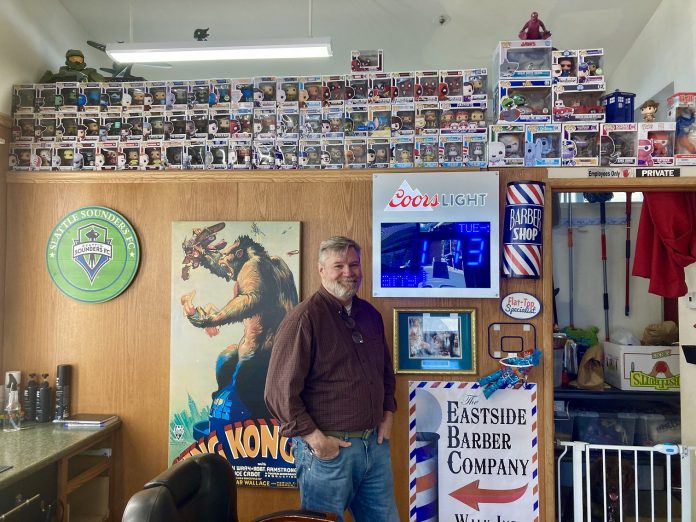 There are so many interesting things to collect in this world. From marbles to stamps to leaves, people have found an unlimited number of ways to capture the things they love. Olympian barber and business owner Alex Taylor found his niche in collecting Funko POP! Figures. He displays a majority of the collection in his barber shop, The Eastside Barber Co., which has been a fun way to connect with the local community.
The first Funko POP! character Alex ever got was of Master Chief, the main character from a popular Xbox video game called "Halo." At the time he didn't know much about these figures, so for many years this was his only one. Once he started his business in 2016, he leased space to a barber who had a huge collection of the figures himself. "It got me thinking about what other ones were out there from a favorite game or movie, so I started looking for POPs from things I liked," Alex says.
Alex decided to check out the internet to see what else was out there, and he quickly found that the figures available were quite expansive. The company makes fictional characters from a wide range of movies, including animated favorites from Disney and Pixar. They also release sets of characters from popular TV shows like "The Office" and classic cartoons like Tweety Bird. They even make figures of real-life people like KISS band members, Bob Ross, and Mariners baseball players. Some are special editions or limited releases, which means they can be quite pricey. For example, The Beatles figures are pretty rare, so they go for about $500, which is about 50 times more than the average figure.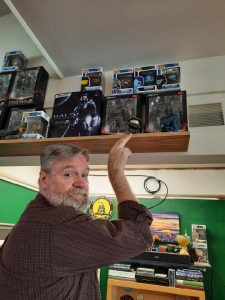 Today, Alex has about 500 Funko POP! figures in his collection. While some are kept at home, he displays most of the figures in his barber shop. "When I started the shop, one of my goals was to gain the trust of the local community," Alex says. "As a neighborhood with lots of young families, I thought this would be a fun way to make the shop family-friendly." It has become something really special to people in the community and has truly helped him connect with Olympia. Families with children especially like it because their kids can have more fun getting their haircut with all of the figures and toys to look at.
It isn't just kids that enjoy the collection, though. Adults that come into the shop immediately have something to talk about because of all the cool and unique characters displayed around the shop. "It has been a neat thing to help people connect," he says. "It's a great icebreaker for new clients because when they see one they like, it sparks a conversation." Some clients have even donated POP! figures to the shop, which has created a real sense of community within his business. Whenever someone brings a POP! figure in to be added to the collection, Alex has them sign the box and write a note so he can remember all the people that have contributed. "It's been a fun way to share something I love."
As he has expanded his collection, he has found that so many of these figures resonate with people and evoke an emotional reaction because of what that character symbolized in their life. "It's an inexpensive piece of plastic and vinyl, but when people realize who it is and what it signifies, it connects them with a cherished memory," Alex says. "It often brings out a kid-like reaction in grown-ups and reconnects them to their childhood."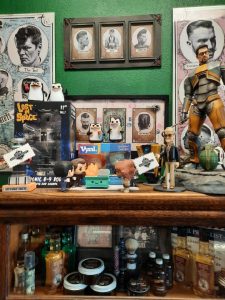 Alex often gives POP! figures as gifts because of the wide range of characters available for purchase. It can be the perfect gift for almost anyone. "My daughter is a huge Audrey Hepburn fan, so for her birthday I got her the character from the movie 'Breakfast at Tiffany's,'" Alex says. "She reacted the same way at 20 years old as she would have when she was 8 on Christmas morning." No matter how old people are, something about these figures brings out a child-like wonder and connects us to happy parts of our lives.
Alex has always been a bit of a collector at heart. He loves to have things that remind him of people, places, or a happy memory. The Funko POP! figures have the wonderful ability to do just that. "They are great for the memories they bring back about childhood favorites, good movies, or just characters you like," Alex says. With so many wonderful, cherished characters that many of us know and love, it is easy to see how a collection like this can really connect people more to their happiest memories and to each other.
Check out the collection for yourself by stopping by The Eastside Barber Co. Alex always loves to share his collection, and you may just see a character that reminds you of a joyful memory of your own.