We've all heard of Weekend Warrior Syndrome, which occurs when people who are too busy to work out during the week overdo it on the weekend and end up hurting themselves. But what happens when young athletes who have been forced into dormancy for a full year because of COVID-19 return to their former level of activity?
That's a question on Dr. Hillary Arnold-MacLeod's mind. "It's a little too soon to tell but I think we're going to see a lot of three-sport athletes who have been unable to maintain a high degree of physical fitness across their entire school year having issues around loss of flexibility and strength," says Arnold-MacLeod, clinical care director at MultiCare Indigo Urgent Care. "That may put them at a higher risk for strains, sprains and muscle pulls than they would have been before the pandemic."
Staff at Indigo Urgent Care are used to dealing with sports injuries from ankle and knee strains and sprains, to issues caused by falling onto outstretched hands. Aside from organized sports, when the weather warms up more people are participating in activities like bicycling and skateboarding, which can also result in accidents.
Any sort of visible deformity is a red flag, along with bony tenderness in the injured region or muscles that hurt when you move them.
"We encourage people to come in and get evaluated for those types of injuries because complications can arise if there's a fracture that goes undiagnosed," says Arnold-MacLeod.
The clinics have multiple resources on hand for treatment. All MultiCare facilities stock immobilization equipment, walking boots and crutches, and can create custom-fabricated splints.
An Ounce of Prevention…
Of course, prevention is the best medicine. To lessen the risk of sports-related injuries, Arnold-MacLeod recommends paying attention to aerobic fitness, strength and flexibility. "All three are very important," she maintains. "Young athletes are fairly flexible by virtue of their youth, but like anything, that can go away if they haven't been active."
She also advises ramping up gradually rather than attempting to immediately return to previous fitness levels. "When you look at overuse injuries like shin splints for runners, they tend to occur when people go from one level of activity to a significantly higher level all at once," she notes. "Give yourself time to safely re-engage in sports without putting yourself at risk for overuse injuries."
Sports Physicals
Aside from treating injuries, Indigo clinics offer sports physicals to athletes before their seasons get underway. Athletes should be accompanied by someone with a detailed knowledge of their medical history, according to Arnold-MacLeod. "We need someone who would know whether any family members have had heart arrhythmias or cardiac issues," she explains. "Many times, it takes a parent to fill in any gaps." Once the medical history is complete, a medical provider will check for high blood pressure and conduct a thorough physical exam and functional movement assessment.
Unfortunately, along with its other impacts, COVID-19 has also complicated sports physicals. An emerging field of research has focused on the virus' impact on young peoples' hearts based on the damage it does to adults' cardiac muscles. If a student has had the virus, it's recommended that they see their primary care physician or pediatrician before turning out for any sport. For this reason, Indigos do not perform sports physicals for students who've had COVID-19.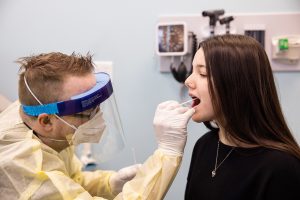 Parents should note that many insurance companies will not cover both sports physicals and separate examinations within the same calendar year. MultiCare Indigo Urgent Care offers reasonably priced cash pay options for those families who don't want to run the risk of losing coverage for their well-child exam.
In addition to sports physicals, Indigo provides COVID-19 testing at all its Thurston County clinics with a turnaround time of approximately 36 hours for results. Tests are also available for people who may have been exposed but are not showing symptoms, such as a football player whose teammates have tested positive.
"We follow what the Center for Disease Control recommends, which is wait at least five days since the most recent exposure so that we're not getting a false negative," says Arnold MacLeod. "We can also test at any time based on any coronavirus symptoms." The Lacey clinic offers rapid testing, which can deliver results in as little as an hour to people who have symptoms.
As students begin returning to in-person instruction and sports, she recommends patience. "Just be aware that 2020 has been a really weird year. You're probably not at the same level of readiness for athletic participation as you would have been 12 months ago. Give yourself a little time to ramp up."
MultiCare Indigo Urgent Care has convenient locations in Lacey, Olympia and Tumwater. Schedule an appointment online or simply walk in for care.
Sponsored