Chris Lester likes to stay behind the scenes. When the Lacey South Sound Chamber of Commerce hosts major events like the South Sound BBQ Festival or Golf Classic, he'll always be there to help, but you won't find him making announcements or presenting awards. "I'm more of a quiet person," he explains, "but I really enjoy working with people and I'm honored to be on the board with great professional people."
This is Lester's second term as a board member for the chamber. He was first elected in 2006 and served until 2010. His involvement, however, can be traced to March 4, 1998. "I got connected with the chamber through my dad," he says. "He had been a long-standing member with his insurance company, and when I went to work with him in February 1998, I attended my first meeting."
His father believed in the value of community involvement and it's a belief Lester clearly shares. Starting out in the insurance industry, he lacked an advertising budget and found the simplest way to meet other professionals was through volunteering, something that came naturally to him. "I've always been that way," says Lester. "At Timberline High School, I volunteered for a lot of things. It goes back to the fact that I love this community."
As a chamber member, he began participating in committees and eventually was asked to join the board in 2006. Along the way, he grew from being a young insurance broker following in his dad's footsteps to a recognized fixture within the local business community. In both 2004 and 2007, he was named the chamber's Volunteer of the Year and in 2012, Chris Lester Insurance Services, the company he had taken over from his father, earned the chamber's Small Business of the Year Award.
For almost 17 years he ran the small business, which managed benefits and health insurance for employees, individuals and families statewide. Then, in 2016 he joined Thurston County Title Company as Business Development Director. He appreciates the fact that Thurston Title is the only locally owned and operated title company in Thurston County.
"The owners are right here in our building," he notes. "They are local people who grew this business since 1972. My connection with the chamber helps with knowing the larger community outside the walls of the business. We're in the housing industry, but we also want to know about the other facets of community life that are happening outside of our industry."
Aside from the Title Company, there's another connection Lester brings to the table that comes into play every summer. He's also the owner of The Tailgate BBQ, a catering service for weddings, birthdays, tailgate parties and more. The two sides of his professional life come together (in normal years) at the South Sound BBQ Festival. In 2018, The Tailgate BBQ won the festival's coveted People's Choice Award. In 2020 the festival was canceled and in 2021 it has been postponed until further notice.
The chamber has subcommittees for all of its major programs, including the BBQ Festival, the Golf Classic, and the Fall Fundraiser, which raises money for the chamber itself, the Kidwiler Scholarship Foundation and one supporting nonprofit partner through a cocktail reception, dinner, silent and live auction. Lester has been involved in many of these subcommittees.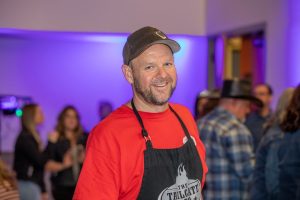 "We have fundraisers where we get to help other nonprofit organizations like All Kids Win," he says. "It's been a struggle with the pandemic, and we've had to slow some things down, but we still do grand openings for new businesses. "
Lester is hoping for a return to normalcy, along with opportunities to connect with his colleagues in person. "I enjoy the monthly networking forums," he says. "I've been a member of the organization for a long time and I miss my peeps. I'm looking forward to getting back together with my friends and helping the community."
Learn more about joining by visiting the Lacey South Sound Chamber of Commerce website.
Sponsored