Traveling may feel like a distant dream you once had after living through a year of a pandemic. Now more than ever people are looking for ways to break away from the stress of life and enjoy a new adventure with their families. Hotels and flights may feel overwhelming and unsafe during a time like this, which is why RVs have become increasingly popular. Carstars is proud to offer RVs as the perfect option for safe vacationing. John Paine, local owner of the Olympia location, has been thrilled to bring RV sales into the operation and is excited to continue to bring fun and happiness to families in the area with their exceptional lines of RVs.
John has been in the car sales industry for 24 years and used to worked in RV sales before he started Carstars. At that time, Carstars was only selling vehicles, so John decided he wanted to be able to offer RVs to people in the community. After a few years of contacting different RV manufacturers, John finally received a call from Forest River asking if he would be interested in selling their RVs. In April 2019, Carstars officially started selling new Forest River RVs. Since then, they have added four manufacturers and seven lines of classy RVs with a wide range of options to meet your every vacation need. "We are always excited to feature new lines, and will hopefully be offering even more later this year," John shares.
John and the staff have loved the change of pace that RV sales has brought to the business. "With RVs, we are selling fun," John says. "It's exciting when a family finally finds the right one and you know how much fun they are going to have in it." Carstars is very engaged and connected to its customers and community, so the staff really delight in the idea of helping people find the perfect fit. John has been so impressed with his team when it comes to their commitment to service and customer satisfaction. Customers feel so cherished at Carstars that many of them will stop in now and then to chat and have some coffee with some of the staff. At Carstars, it is like a big family, and they are always ready to welcome the next person in.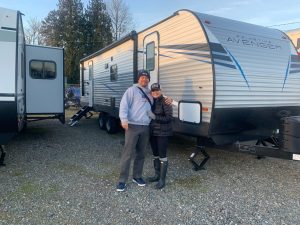 If you want to be able to join in the RV experience, Carstars is truly a one-stop shop to meet your every need. Since they are a small business, you can find comfort in knowing you will work with the same person throughout the process. "You don't get passed around to different people," John says. "We really build a bond with someone and get to know them." The staff has been working hard to continue to offer in-person services and tours of available RVs, all while following Covid-19 safety protocols. They are social distancing, encouraging masks, and sanitizing every RV after viewing to help keep everyone safe. They have also modified their process to allow for a 100% virtual buying experience if needed so every person can get help with their new RV.
Once you find the perfect fit for your family, Carstars also helps coordinate financing to make sure your new purchase is stress-free and affordable. "We are a CUDL dealer, so we offer indirect lending through local credit unions," John explains. If you're not already part of a credit union, Carstars can get you set up with one that will get you the best deal, and they will even pay the fees associated with starting an account. John is dedicated to making sure his customer's get the best value possible, which is why Carstars runs a credit report to match customers to the credit union that will save them the most money. With most of the financing agreements they write, the cost of a new RV is only about $200 a month, which is well worth the investment considering how versatile and luxurious this style of traveling is.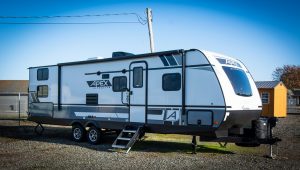 Even after you drive off the lot, Carstars is still there for you. They offer RV maintenance in their 7,200-square-foot shop, so if something goes wrong, you have a knowledgeable and trustworthy team that can take care of it for you. They also sell parts on-site for those that are comfortable servicing the RV themselves. No matter the need, Carstars is there to make sure your RV is always in top-notch shape.
One of the biggest challenges people face when buying an RV is figuring out where to put it. "Most people don't have the space, or they live in communities where they aren't allowed," John says. That's why Carstars offers RV storage so you don't have to worry about finding a place to park it. They provide 24-hour security and keep the RVs locked up to prevent theft or damage, so you can trust that your RV will be protected in their care. Looking for storage now? Call or stop by Carstars and mention this article to get 6 months of RV storage completely free when purchasing your RV or trailer from them.
If you want to be able to take a trip without the risks, an RV is a great solution. When you start shopping, start with Carstars, a locally owned and family operated small business serving our community. Their exceptional staff, commitment to excellence, and true love of people and industry will make the entire experience truly enjoyable for you and your family.
Carstars
8500 Old Hwy 99 SE, Olympia (automobiles and RVs)
360.956.1373
6033, 621 W Heron St, Aberdeen (automobiles only)
360.612.339