Two years later and the University of Minnesota football program is starting to reap the rewards of its stellar 2019 season on a national recruiting level – and it brought the Golden Gophers to Tumwater High School in search of Jacob Schuster.

Four-star defensive tackle recruit Jacob Schuster is a big-time player and he's headed to the Big 10 Conference.
"Looking back at my decision I laugh because my little kid self would've never said I was going to go to Minnesota for college especially if I had to choose between them, Washington, Stanford, or Michigan," the 6-foot-2, 300-pound Schuster said. "Obviously, my mind has changed since then, but what ultimately made me decide on Minnesota was how I fit in. They had the best overall fit for me from where I'll be playing on defense to the way their culture is set."
It's a culture created by Head Coach P.J. Fleck with his "Row the boat" mentality, a family-centered mindset that Schuster compared to the one established at Tumwater, making it an almost seamless transition.
Fleck began to the create the "row the boat" culture at Minnesota years ago. It is a mantra closely relatable to the Thunderbirds' own long-standing NGUNNGU – Never Give Up Never Never Give Up – credo.
"The culture with how they run everything and their attention to detail really impresses me at Minnesota," said Schuster, who helped led Tumwater to the Class 2A state championship as a junior. "Coach Fleck has established something special and I'm excited to be a part of it. The Row the Boat culture has a lot of similarities to how we run things at Tumwater and that was a very pivotal factor in my decision."
Schuster picked Minnesota over a host of other high-profile programs. In addition to the University of Washington and Washington State University, Schuster also held scholarship offers from Arizona, Boise State, California, Duke, Michigan and Stanford, among numerous others.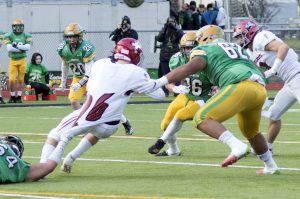 "Minnesota is getting a very passionate and caring young man that will do whatever is asked for the program," Tumwater coach Bill Beattie said. "He continually works to get better and understand the game more.  He obviously has the physical talents, but his mental part of the game is really impressive. A lot of young men who come into high school having a lot of talent will sometimes not improve that much over their time. Jacob has continually worked to get better in all aspects of his game. He has really improved as a leader in our program."
Fleck guided the Golden Gophers to an 11-2 season in 2019 with the campaign highlighted by a win over previously undefeated No. 4 Penn State and a victory over No. 12 Auburn in the Outback Bowl. The 11 wins were the most for the program since 1904.
Seasons like that certainly draw the attention of athletes who would normally be considered outside a program's recruiting zone and that was the case with Schuster.
"He could have stayed on the West Coast. We could have gone to all the Pac-12 schools. He decided to go to Minnesota and the Big 10," said Fleck in a video on National Signing Day. "He's a top 20 defensive tackle in the country. We wanted to go find the best D-tackles that fit us, and we went out there and found one."
As a junior, Schuster posted 61 tackles with 26 for losses and spearheaded a T-Bird defense which only allowed 31 rushing yards a game. Quick off the ball and always one of the strongest players on the field, Schuster quickly caught the attention of Fleck and his staff all the way out in Minneapolis, ultimately ending with the Big 10 school notching an impressive recruiting victory over several Pac-12 programs.
"When you watch his film, we would have went to Alaska," Fleck said. "We would have went to different countries to get this guy. It didn't matter where he was. Watch his highlight tape. Watch his game film. He plays with relentless energy, relentless effort, all the time up front."
Tumwater will conclude the regular season at home against Steilacoom in a rematch of the 2019 state championship game. The T-Birds won the prior matchup with the Sentinels, 48-34, to claim the school's sixth state title.
"With everything that's been going on since we've won our state title, our senior class has just been focusing on staying present in the moment," said Schuster, a 4.0 student who also received a scholarship offer from Yale. "They're so many distractions especially with all that's happened this last year that we just control what we can and make the best of the situations we get. Having such a strong senior class was a reason I ended up staying to play my senior year instead of enrolling early."