Recent months have taught us a thing or two about food. Namely that cooking every meal, every day is exhausting, and we should probably go easy on the comfort classics. While caloric reassurance has kept us busy—sourdough, anyone?—it's time to lighten up. Springtime specials at The Park Side Cafe mean tasty, plant-based goodness indoors and out, at home or on the go.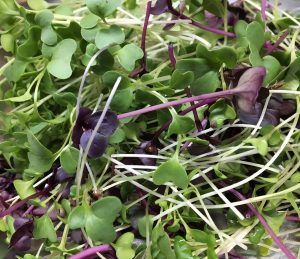 As we transition into warmer weather, it's time to use up those delicious, filling winter staples. "The Park Side is focusing on their local menu by using a lot of root vegetables and mushrooms that are available right now," says owner Alicia Elliott. "We specially prepare all of our own cheeses, marinades, meats and dressings with creative uses of legumes, nuts, seeds, tofu and tempeh. We are excited to be working with a new vendor right now, Prairie Oak Farm, who is providing us with the wonderful micro greens and fresh herbs that are in a lot of our specialty menu items."
Joy Nguyen of Prairie Oak Farm loves working with The Park Side Cafe. "It has been such a pleasure to work with local restaurants that are invested in supporting farms in the community," she says. "I know it takes an extra effort on their part, but when local businesses work to support each other, it truly helps keep us all growing strong, and I think customers appreciate that spirit of community, in addition to having fresh, local food."
A relatively young farm, they've enjoyed learning what works. "As a grower, it is incredibly satisfying to get to know the owners and chefs at restaurants and then see the food you grow being used in their creations," says Nguyen. "The Park Side Cafe has been using microgreens from my farm for some of their special-occasion menus, which is exciting. Stellar Juices also uses fresh produce from the farm throughout the year, as does Three Magnets, so it has been interesting to learn about the needs of various establishments."
The Park Side Cafe Manager Victoria Kantargis discovered the farm from a recommendation by Nate Thomas of Stellar Juices in Olympia. Prairie Oak's herbs and veggies can be seen in many dishes at the Cafe. "The kinds of recipes that showcase their products (mostly sprouts for us) are our specialty menus," says Elliott. "We had lion's mane crab cakes with red pepper aioli and sprouts and also a roasted beet, and tofu chevre salad with sprouts."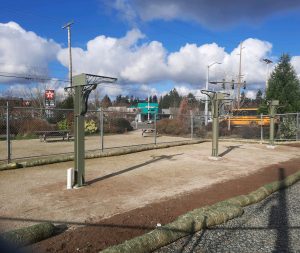 These specialty menus, typically crafted around a holiday, are often unique. "The response to our specialty menus has been through the roof," admits Elliott. "Very positive! With Easter, Mothers and Fathers Days coming up we are planning individual special family menus for each of those holidays." They are posted on the website two to three weeks before each holiday and showcase handcrafted delicacies both savory and sweet.
Though on-site dining is still closed, food from the walk-up window or curbside delivery can be enjoyed at home or next door at the West Central Park under a newly built canopy. Designed by Jeff Snyder, who also designed the Cafe, it is being constructed by the Northwest Construction Cooperative and will be completed in March.
Elliott hopes that the West Central Park will once again host a farmer's market and eventually be the site of a food truck hub. "I will be purchasing the food trailers and hiring employees to run them," she explains. "We are looking to do all vegan, but various menus. For example, one a sloppy burger and fries truck, one a soup, salad and bread truck, one a tempura or Mexican style. But this phase is still at least a year away."
Want to volunteer at the park or help organize this year's farmer's market? Reach out by emailing info@westcentralpark.org today. Program and social media coordinators, photographers, landscapers and gardeners are always welcome.
Curbside pickup or delivery are available from The Park Side Cafe take-out menu from 9 a.m. until 4 p.m. And follow the progress of their new seasonal family meals and outdoor or on-site dining options at The Parkside Cafe website  or on their Facebook page.
Springtime is about going green. When you're ready to lighten up and face the outside world again (safely masked and socially distanced, that is), visit The Park Side Café for a plant-based meal—with plenty of Prairie Oak Farm greens—that's sure to satisfy. And until the weather changes, load up on their fresh, local mushroom options. They're a strong source of vitamin D until the sunshine takes over.
Sponsored