Colby Wilson, a track star born and raised in Thurston County, has nowhere to go but up, quite literally. If you recognize the name Colby Wilson, you would not be alone. Wilson began competing in track as a fourth grader at Griffin Middle School, continued at Capital High School and now is part of the Montana State University track team.

Competing in both the decathlon and the heptathlon, Colby established himself early as a hard-working, talented athlete. Although he excels at all the events he competes in, there is one thing in particular Wilson is known for: pole vaulting.
Pole vaulting is the act of using a long, flexible pole to help propel an athlete into the air to clear a bar. In other words, it is a sport of extreme precision, practice and nerve.
Wilson just became 10th in the nation for pole vaulting, reaching a PR (personal record) of 16 feet-7.25 inches.
When Wilson started running with the Barron Park Striders in fourth grade, he did not know how monumental this decision would be for him and his future. "The track club I started with was called the Barron Park Striders and they had all-comers meets," Colby says. "You just had to pay five dollars, and you could do whatever you liked and stay as long as you liked. I found I enjoyed myself so I kept doing it."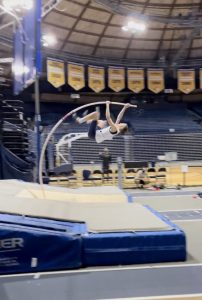 And continue doing it he did. As he became more involved, he began picking out different events. He competed in everything from the long jump and javelin to the discus and the 1,500- and 100-meter run. Today, these are some of the events he competes in for the decathlon. He even created a pole-vaulting station in his backyard so he can practice any time he wants. This station has everything from a homemade ramp and mats, to an actual bar that can be lowered or raised depending on the level of the athlete.
It could not be clearer that Colby Wilson is committed.
With the world of sports at his fingertips, he chose track. When asked why, Wilson admits that while he has tried multiple sports and activities, track is different. "One of the big reasons I've stayed with track is because of the camaraderie and the atmosphere," he shares. "I've competed in other sports and they weren't necessarily very fun. Not a lot of people were super nice. Your competitors hated you and you hated them. It's like that with a good deal of sports: When you compete against different people you kinda hate them, but with track, I've become really good friends with a lot of my opponents. I think this is one of the big reasons I love the sport."
For Wilson, track is more than just a competition, it is a chance to bond and grow both on and off the field. Track is a sport that embraces kindness in a way very few sports do. For a player who happily opens his home and backyard for track meets in the age of COVID-19, it makes sense Wilson would be drawn to the welcoming atmosphere of track.
Camaraderie seems to be a common theme when Wilson talks about the highlights of his sport. "Even though track is primarily an individual sport, you still have your team," he explains. "You train with your teammates and they push you. You become better because your teammates push you more."
Besides the fellowship, Wilson says he loves track because it has improved him mentally, not just physically. "Being able to get out and be active is awesome," he says. "You get to challenge yourself in a new way. Track has also definitely helped with my work ethic. Plus, it helps clear your mind. Coming after school to compete or practice helps release some stress."
Yes, when one takes into account his great love and commitment to the sport, it is no surprise he has continued competing in college. Even amid a raging pandemic, Colby Wilson continues to succeed. Wilson credits his parents and his coach Mike Strong for his success.
When asked what he plans to do next, Wilson says he will keep competing for Montana State University. He hopes next year he will be able to compete in the NCAA championships (COVID-19 was responsible for the cancellation this year). His biggest goal is to compete competitively in the Olympics, preferably in the decathlon.
"I'd like to keep clearing higher heights in track, especially pole vaulting," Wilson shares. One can only assume he means this both metaphorically and literally.