Olympia has a rich and interesting history. Many of its buildings and streets are a visual record of what once was. The Sanborn Overlay Project allows people to view the historical layers and features of Olympia in a virtual comparison of past and present. The research web tool is accessible through the Olympia Historical Society website.
Building materials do not always stand the test of time, and mother natural takes her toll with storms. Therefore, many historical features of Olympia are no longer visible due to development, revitalization, or even a change in the land itself. However, many existing façades, remnants of railroad tracks or unexplainable street patterns make us wonder about the past. Sifting through the Sanborn maps, layered over an aerial view of Olympia, can help solve some mysteries.
"The Overlay Project helps both researchers and laypeople to visualize how our city has evolved over the years," says Deborah Ross, research coordinator for Olympia Historical Society and Bigelow House Museum.
Fire insurance companies, beginning in London, England, wanted to know more about the properties they were insuring, and insurance cartography was born. They made maps that showed street widths, building usage, window and door locations, roof material and identified sprinkler systems. Maps were hand drawn by traveling surveyors and were exclusively used by insurance companies and underwriters. Maps had to be updated to show current usage, layout, design and conditions. The historical record of a city's socioeconomic changes, natural disaster events and developmental changes over time become evident through the maps.
D.A. Sanborn established his own company after having worked for others. The Sanborn Map Company expanded, absorbed other companies and had surveyors in every state. Company growth landed them in Fortune magazine in 1937. Thousands of maps are part of the Library of Congress collection. The Sanborn Company also hand drew and hand colored detailed city maps of Olympia.
The Sanborn Overlay Project
The Sanborn Overlay Project was created by Brian Hovis. The project grew out of a need for user friendly research tools. The maps were available through the Timberland Library, but were not as useful in their paper form as they could be. Digitally combining the layers of maps by year groupings, pairing them with historical points of interest and current aerial mapping, made the once separate tools accessible for simultaneous research and comparisons.
"The Sanborn maps are familiar to both lay and professional historians as great tools for research," explained Ross. "But they can be cumbersome to use, because each page of a particular year only shows a small segment of the city. By creating a unified 'mosaic' of the pages, a viewer can easily find both an overview of the city as well as individual neighborhoods or streets."
The online tool uses historic Sanborn insurance maps of 1884, 1891, 1908 and a 1924-1947 view with modern day aerial maps, or other various base maps. History is then visible through a mosaic mapping timeline. The Olympia Historical Society's Where Are We? feature is another layer that can be applied. Also created by Hovis, the Where Are We? locations appear as color coded dots, indicating time periods. Each dot is a link to historical location information, including side by side photographs depicting past and present.
Experimenting with the research tool is a great starting place. Open the site tool to first see an aerial view of Olympia. Menu tools will allow you to choose from various Sanborn maps. Skim around Olympia for something familiar to you, then use the layers to begin comparing present and past. You may also adjust the opacity of the map if you want to see through it to the current aerial view at the same time. Where Are We? locations can continue to be used with the map layers.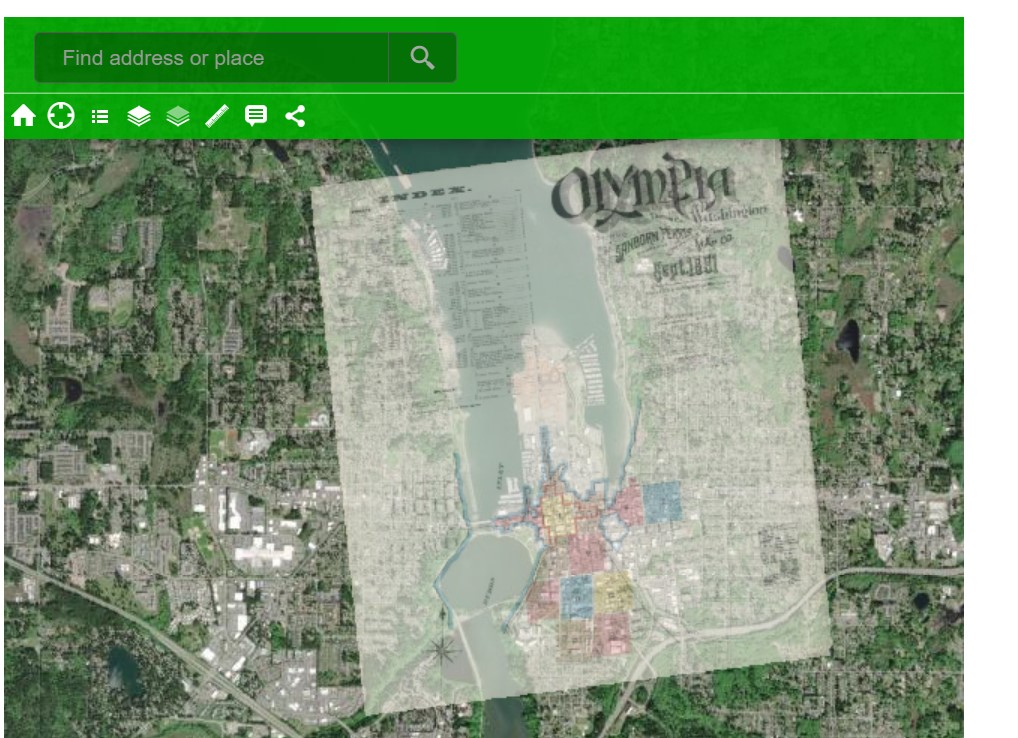 A dramatic demonstration of change would be the Port of Olympia area. By using the Sanborn maps from 1891, users can observe the significant changes in the waterline and wharf size in the last 100 plus years. The map tool shows where the city streets once ended at the salt water. It will also indicate where land now exists in an area previously covered with salt water. Another impressive comparison can be found by viewing the 1924-1947 overlay. This view shows the Deschutes River prior to the changes that formed Capitol Lake. Note the familiar railroad tracks that can be seen today as well as how the map extends over what is now Capitol Lake.
"I hope that users will take time to explore and have fun with this tool," shares Ross. "For example, playing with opacity levels can help users to see what's 'below' and 'above.' The overlays are highly zoomable so you can see the maps in great detail. Clicking on the Historic Features button provides a quick way to access the Where Are We? feature of our website, with its before and after images and additional resources. Researchers such as city planners and developers have found it helpful to look at the information about infrastructure and materials that were included in the historic maps."
The Olympia Historical Society website is a great resource for further investigating the history of Olympia, Tumwater and surrounding Thurston county.