They started off as railroads, traversing through Thurston County as prestigious symbols of township development. Today, they've been covered with asphalt and converted into paths that are used to travel between some of the region's most prominent towns as part of the Rails to Trails Conservancy program. They provide cyclists, pedestrians and horse riders an experience of the wild, rural and varied landscapes all around us. Vast fields of sheep, surrounded by lush delicate prairie ecosystems that lie before forested foothills stretching farther than the eye can see. Capping the experience off are several best-not-to-miss locations anyone can enjoy. Be sure to take time to check out these five, must-see pitstops on Thurston County's Rails to Trails bike trails.

Three paved paths comprise the majority of this increasingly important trail system. The Chehalis Western Trail runs north through Olympia southward for 22 miles, and connects with the Karen Fraser Woodland Trail from downtown Olympia to Lacey, along with the Yelm-Tenino Trail which connects Yelm, Rainier and Tenino.
#1 – Monarch Sculpture Park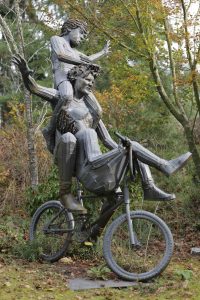 Monarch Sculpture Park is a five-acre refuge full of community supported art. Anyone out for an adventure will appreciate this ornate contemporary sculpture park, which leaves visitors breathless. Wandering through winding trails, or picnicking in its small valley, onlookers gaze at more than 100 unique sculptures created and influenced by visionary artists worldwide. Children can interact with the musical art pieces; visitors can explore the garden maze; and erected panels teach about artists from around the world.
The park is a nonprofit culmination of local community members and global influences. While access to the park is available by car on Waldrick Road near Tenino, cyclists will find it about 18.5 miles southward from the northern start of the Chehalis Western Trail at Woodard Bay. Parking is free in the first lot, but a Discover Pass is required for the second lot, down the hill.
#2 – Woodard Bay Natural Resource Conservation
Woodard Bay Natural Resource Conservation is one of Washington's first wildlife sanctuaries, protecting sensitive coastline habitat and forests. Designated in 1987, the 917-acre site is the product of mass restoration efforts. It existed as a prominent loading ground for the timber industry through the early- and mid-1900s. After removing thousands of pounds of material, native plants were reintroduced to the shoreline. The area is now home to a massive bat population and protected Blue Heron rookery. The Woodard Bay Conservation Area has become a popular destination for anyone looking to be immersed in some of Olympia's most pristine coastline habitat.
There are two trail heads that provide access into the conservation area. One can be found off the Chehalis Western Woodard Bay Trailhead parking lot and the other is just down Woodard Bay Road, over the bridge crossing Henderson Inlet.
#3 – Woodland Creek Community Park and Disc Golf Playground
Woodland Creek Community Park and Disc Golf Playground is a 72-acre park that features picnic spaces, paved walking trails, a pond and more. Outside the common park facilities, Woodland Creek contains a fantastic disc golf course available to players of all skill levels. Offering both open and tightly treed fairways, along with a putting area and driving range, this course allows beginners to learn the game, and experts a challenge to hone their skills.
To find the park, simply hop onto the Karen Fraser Woodland Trail and ride a little more than 2 miles past the Chehalis Western Trail Roundabout into Lacey. Shortly after crossing Carpenter Road, the park will be seen on the left.
#4 – The Tenino Depot Museum
The Tenino Depot Museum is a great place to stop for anyone interested in local history. Operated by the South Thurston County Historical Society, the museum offers a look into historical development, migration and life in Washington State. From insight into Tenino's sandstone quarry, to artifacts of Washington State's first territorial prison and remnants from immigrants of the Oregon trail, visitors gain a glimpse of earlier settlement of the area.
Cyclists visiting the museum will find it near the very end of the Yelm-Tenino Trail. The Chehalis Western Trail intersects with the Yelm-Tenino Trail, about 21 miles south of Woodard Bay.
#5 – Grab a Bite to Eat in Rainier
While out for a longer ride, stopping for some grub in Rainier is a must. The trail passes through the downtown area and can be quickly explored while looking for a mid-ride snack.
The Main Street Cookie Company located on the main road passing through town creates unbeatable treats for sugar cravers. Rainier Espresso and Pizza gets riders back up and going with a caffeine buzz, and deliciously loaded meals that will satiate anybody. Sonja's cafe across the road offers a variety of hearty meals as well, and a convenience store right on the way offers many other options.
When the food has been ordered, cyclists can hop back on the trail where picnic tables adorn the path as it passes through town.