Chain letters have been around just about forever. Most follow a simple pattern: do this specific thing and you'll receive good luck, don't and horrible things will befall you (evil laughter and the sound of thunder in the distance). But lately the idea has been used both to spark joy and support folks in need. Within Thurston County, a few ingenious souls are using the format to keep local small businesses thriving this holiday season.

Folklorists report that early types of chain letters—do this thing or good/bad things will result—can be found as far back as the Egyptian Book of the Dead, say articles in Smithsonian magazine. The modern form, however, is first documented in 1888. They're thriving today because, say the authors, "Now, with social-distancing measures leaving many isolated from their friends and family, such virtual connections are more appealing than ever."
For a few Thurston County friends and small business owners, a novel idea recently took flight. "Like most good ideas these days, I was drinking martinis (gin of course), quarantining in my cabin, thinking about all of the gyms, restaurants, and small shops needing our support as businesses were being closed again," says instigator Amy Evans. "I posted on Facebook to see who would respond. Three of my friends quickly volunteered, so I started three chains. The idea was that these seeds would be planted, and they would grow organically."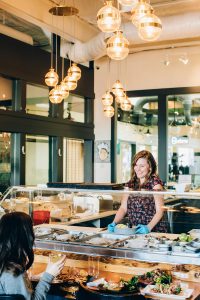 Their chain was simple. Purchase a $100 gift card to a local business, boutique, spa, restaurant or experience and send it to the next person on the list. Things circle around and eventually everyone involved gives and receives a gift that benefits the economy in and around us all.
Evans hopes that first and foremost Local businesses feel the love. "Those starting and keeping the chains going are reminded there is more good in the world than anything else," she says. "I love seeing creative people being the masters of their own destiny. The fabric of our community is made up of many small businesses doing just that. I believe this is important for individuals and society as a whole. COVID has helped us bring that into focus, and I hope that continues."
Shina Wysocki, of delicious Chelsea Farms oyster fame, is friends with Evans and participated in the chain. "I participated by reposting the Facebook message," she recalls. "I actually did two gifts cards for $100 each. One to Octapas Cafe and one for Lark. I also will receive a gift card from a friend that posted the chain to her Facebook: Left Bank!"
As someone who works in Olympia, Wysocki understands the need. "I think the most important part of the whole idea is that we focus our spending on smaller locally owned shops this holiday season. The small business have been very effected by COVID restrictions and the downtown business have also been effected by the perception of social unrest and lack of feeling safe in our downtown core. We need more Archibald less Amazon for this season—spread out the love by shopping local whenever possible."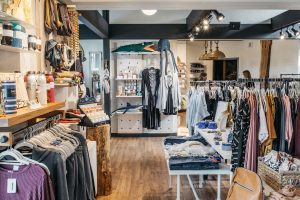 Annie Johns is founder and master esthetician at Spruce and sister to Amy Evans. From day one, she's been excited about this idea. "My sister has always been a creative supporter of all things local, and this chain she started is so moving and no exception. I've seen ripples of it through several different groups of friends on Facebook and been lucky enough to have been one of the people being supported. That allowed me to turn around and buy gift cards at our local restaurants who are being affected so greatly at this time."
She too understands the benefits of shopping local, especially in trying times. "This year it's become especially important and personal. During closure I was able to see the direct effect of each and every online sale making our difficult situation manageable. We were able to survive, literally, based on those supportive customers."
This holiday season when many businesses are struggling due to ongoing quarantine restrictions and finite business relief funds, consider starting a chain letter of your own. "This doesn't require signing up or participating," stresses Evans. "You can do it however you choose. Are you 12 years old and want to do a $5 chain with your friends? Get it started. Are you passionate about food and want to limit it to restaurants? Cool. All you have to do is give one person a gift certificate to a locally owned spot and ask them to commit to keep the chain going. And then it goes viral. Spread LOVE, not COVID."
Sister Annie agrees. "This holiday season will be very different than past years, but it doesn't have to be a negative," she says. "Amy starting that chain, and the timing of it, unlocked a flood of local support and the pledges of our community to help support our small businesses. It was early enough that people who may have been more likely to just order online somewhere are seeking out local (or local online options) instead. I think the chain letter sparked an idea within people that they can do both—local and easy. And the consequences of those purchasing decisions is going to be so vital for our small business community this year."