Whether sweet or savory, classic or adventurous, Honeycuspe is an Olympia-based food truck dedicated to serving gourmet Belgian waffles. For Honeycuspe owner Eric Beaudoin, the perfect waffle was not born out of one overnight process, but of many. What may taste like a work of art on the palate, is the result of several months' worth of chemistry experiments and dozens of trial runs.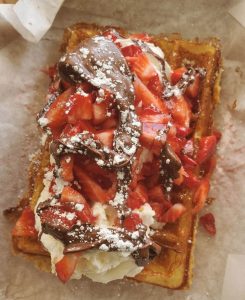 "I remember having little bowls labelled from A-Z sitting around with slightly different ratios of the ingredients," explains Beaudoin. "I let them leaven overnight, trying them out, narrowing down each day to a couple with the best results, then making slight tweaks on those for the next round. I was not satisfied until it was perfect. Lots of painstaking attention to detail."
A perpetual lineup of bowls, and overnight adjustments eventually lead Beaudoin to Honeycuspe's current waffle recipe. A raised dough bakes into a waffle with an airy interior that, according to Beaudoin, is ready to melt in the mouth. Combined with the waffle's golden exterior and crisp honey-comb-like pockets, sweet and savory toppings await the taste buds.
Originally from Portland, Beaudoin was immersed in the world and culture of food trucks. With hundreds of trucks throughout the city serving diverse cuisines, Beaudoin says food trucks often rivaled meals from fine restaurants. Following in the tradition of his hometown, it was only a matter of time for Beaudoin to set up shop himself.
"Growing up in Portland, food carts, as we call them, are a way of life and we are all eating at them all the time," says Beaudoin. "So, for me, opening my own was inevitable. I chose waffles because I love their versatility. I wanted to do something that could be sweet or savory. What else can you top with ice cream or fried chicken and have both options emerge delicious? We also go to great lengths to ensure every waffle is as beautiful as can be, as we recognize that as an integral part of the experience."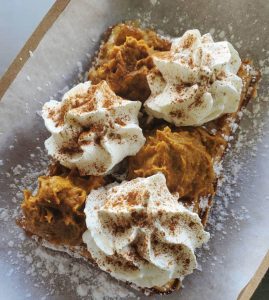 Established in late October 2019, Honeycuspe's first year has been marked by adventure, cultivating connections within the community and discovering creative means to serve customers in a safe manner. Although Honeycuspe is now a staple in Olympia's food truck scene, Beaudoin says the truck's first day started at a slower pace, selling 3 waffles over a 10-hour period. After pouring months of research and years into the food truck's preparation, though, Beaudoin continued to forge a network throughout the Pacific Northwest, gradually building up a loyal clientele through word of mouth and through frequenting seasonal events, like craft fairs and haunted houses.
"I always believed in our waffles because an immeasurable amount of care and passion go into them," says Beaudoin. "With this mindset, I knew it was just a matter of getting people to come try them, and the more that came, the more would come back."
In the early spring, during the early days of the COVID-19 pandemic, Honeycuspe was forced to temporarily close up shop. After reopening in May, Honeycuspe expanded safety procedures to protect employees and customers. Currently, all Honeycuspe employees wear masks at all times, and they encourage customers to also wear a mask when placing an order. All payment is contactless, with no signature required during card transactions. In addition, Beaudoin hopes the food truck structure allows for more social distancing between customers.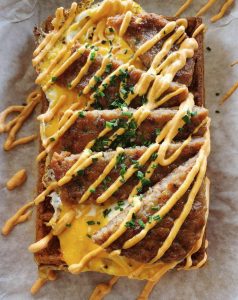 On the Honeycuspe menu, old favorites and new adventures are stacked high, from spiced pumpkin custard, to maple syrup and butter, to lavender cream cheese sauce. No matter the topping, all Honeycuspe waffles share a common origin in a gas-powered waffle iron imported from Belgium. "I imported a large waffle oven from Belgium, which cooks the waffles in heavy duty 50-pound cast iron plates over open flame," says Beaudoin. "Everything runs on gas, there is no electricity involved. Every step was taken to ensure these were the best waffles we could possibly serve."
Sweet and savory options await, including the Breakfast waffle that features two strips of applewood smoked bacon, cheddar cheese, soft-cooked eggs, all topped with a smoked aioli. To satisfy a sweet tooth, options range from the Diner, a waffle topped with organic maple syrup and freshly whipped cream, to the Madeleine, topped with toasted pecans, caramel, warmed cookie butter and freshly whipped cream. In addition to set menu items, customers can also create their own combinations of flavors and toppings, including, strawberries, lemon curd, chocolate sauce, bananas and toasted pecans.
Beaudoin says Honeycuspe will also feature revolving specials in the near future, featuring flavors like crème brûlée, matcha, bananas foster, tiramisu and chocolate-raspberry waffles, in addition to savory fried chicken options.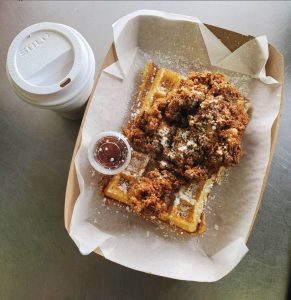 "We do not release anything unless we feel it is perfect," says Beaudoin. "So there have been many recipes we've worked on only to abandon after months because we concluded they were just 'good.' The process of finding perfect symmetry and harmony of flavor is crucial, but seeing people's faces light up with happiness upon trying our waffles is our favorite."
Looking back on one year in business, Beaudoin says operating a food truck has been rewarding, but also hard fought. Even before opening day, Beaudoin was working tirelessly to set up shop and comply with Washington State's extensive food truck regulations. Through the red tape and through developing a clientele in the community, though, Beaudoin has found great joy in preparing the finest waffles and he wants to continue to pay that joy forward by providing delectable waffles to Honeycuspe customers.
"Many business owners say the first year is almost always the most difficult, and so we feel blessed to have found success as quickly as we have," explains Beaudoin. "Many people also say that it is even more difficult to maintain success once you have found it. So, we will look to step it up and become even better in year two and beyond."
To learn more about Honeycuspe and their Belgian waffle menu, visit the Honeycuspe Facebook page or on Instagram.
Honeycuspe
2504 Pacific Ave SE, Olympia
360-995-2613
honeycuspe@gmail.com
Sponsored