After being in business since 1974, Madelin White, the owner of Merle Norman Cosmetics, Wigs, and Day Spa in Lacey, has seen almost everything. Throughout the years, the Merle Norman storefront has seen many new faces and friends, cultivating a community within the shop. But earlier in the spring, Madelin and her team faced an unprecedented change to operations as COVID-19 spread across Washington State.
When the COVID-19 pandemic shut down commerce for many businesses, Madelin provided remote shopping services to Merle Norman customers. Taking orders over the phone, Madelin would package and ship orders through the mail. Now that Thurston County is in Phase 3 of Safe Start Washington, though, Merle Norman is open for in-person spa and shopping services.
Whether a longtime customer or first-time visitor, Madelin and her team have developed a one stop shop to help customers feel their best during these times, offering a range of cosmetic, skincare, wig, massage and hairstyling services. For any customers unable to shop in person, Madelin says remote ordering and curbside pickup options are also available.
"Customers call us, and tell us what they would like to purchase," explains Madelin. "We can put it in a bag and take it out to their car. We can stay six feet away, or put it in their trunk, or in their backseat. We don't have a problem with that."
Hairstyling and massage services are also on the menu at Merle Norman and both are available by appointment. To ensure the health and safety of guests and employees, those seeking spa services will no longer gather in a waiting area, but will instead be asked to stay in their car until their allotted appointment. At the time of their appointment, the massage therapist or hairstylist will escort the client directly into the salon to help maintain proper social distancing between clients.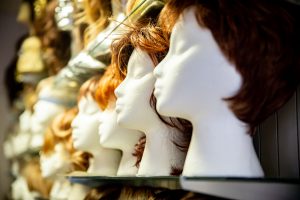 Both clients and employees will be asked to wear a mask throughout massage therapy and hairstyling appointments. Masks will be provided to any clients who do not have their own. To comply with social distancing regulations, there will only be one client at a time in each hairstyling room and each station will be properly sanitized in between appointments. In addition, hairstylists will use a new salon cape for each client. For massage therapy services, table linens will be changed between each client and the massage room will be routinely sanitized.
Inside the Merle Norman Cosmetics storefront, there are similar sanitation protocols to ensure each shopper's health. After each customer exits the retail area, chairs, mirrors, counters and other common areas are properly cleaned. Due to current mask requirements, services like facials, mini facials and makeovers are suspended until further notice. Shoppers interested in wigs or hair extensions will be able to try on their favorite hair pieces in a private room.
"Shoppers who are looking at hair pieces, wigs or extensions will have their own room," explains Madelin. "We put up a room divider. If the customer needs help, they have a mask on and we have a mask on. We can help them try on the wig or hairpiece if they want, or otherwise we allow them to try on wigs on their own."
In addition to hairpieces, Merle Norman offers a rainbow of color and coverage cosmetics, in addition to several solutions for your skincare needs. Although full-face makeovers are currently unavailable, shoppers can still swatch many Merle Norman lipsticks, blushes and foundations using sanitary applicators and individually packaged samples.
"We have samples of lipsticks sealed in little bubble packages," Madelin shares. "We allow customers to use a disposable lip brush to try the lipstick on. And it's always been that way, especially when we do makeovers. If it's a certain kind of brush that can be sterilized, we sterilize them, but we also have a lot of things like mascara brushes and eyeliner brushes and different things like that, which are disposable. The client may use them one time and then will be disposed of."
"I have so many loyal longtime customers," she says. "In fact, some for the entire 46 years that I've been open. It's different for them. To be really honest about it, I'm a hugger, and I can't hug anymore. That has been hard for me and hard on some of these longtime customers because they're so used to that. Everybody's been really good about it. They don't want me to close, they want to make sure that we can stay open and remain open, so they abide by the new rules. Everything is working out well."
To learn more about Merle Norman and the services offered, visit the Merle Norman Cosmetics, Wigs, and Day Spa website.
Merle Norman Cosmetics, Wigs, and Day Spa
3925 8th Ave SE Suite F, Lacey
360.491.4911
Sponsored