Would you rather have grass for hair or flowers for ears? Stephanie White's first graders at South Bay Elementary confirm their morning attendance by answering the daily question. She's teaching from her classroom on-site while her students are in their remote locations.
Parents, teachers and students are acquiring greater computer literacy while exploring learning techniques that are the new face of school.
The proverbial school bell goes off at 8:25 a.m. for the first graders, but Stephanie has been up hours before, usually clicking into her computer at home at 6:00 a.m. She's checking for updates, messages and making sure the day is set to run smoothly. Then she takes her short commute to South Bay Elementary, where many of the teachers have migrated from being at home. The playground is sadly devoid of kids. Teachers enter their rooms from outside doors, limiting physical distances.
"The structure of each day is the same so students know what is coming next," explains Stephanie. This constancy is helpful at all times and especially when other life factors are uncertain. The morning begins with social and emotional learning. A recent topic was listening. That might seem easy enough, but many of us have had little learning about what it really means to listen, what it looks like and why it makes a difference. Children have time to explore self-management about emotions and behaviors. Social and self-awareness allow students to gain empathy and understand strengths and weaknesses. Social and emotional learning gives practice to working in teams and dealing effectively with conflict while making responsible decisions along the way. First graders are developing their sense of self and place, all critical to being successful throughout life.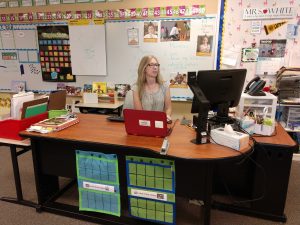 After an hour, the students take a short break. Then it is time for phonemic awareness, which is the ability to identify and manipulate individual sounds in spoken words. This improves reading skills. What are your memories of learning to read? Stephanie has 21 students and they are all learning at individual rates.
Don't worry that your child is stuck in his or her seat all day. Aside from breaks, there are many "noodling" moments. "We've been reading a lot of rhyming books," says Stephanie, which promotes wiggling, jumping, dancing and various arm movements. Moving is usually fun and easy for kids. First graders also do their share of math. For all subjects, students are supplied with books, papers, math tools and a Chromebook, all for home use.
What can the guardians, who are in the daily background of these young people, do to be most helpful to foster a positive learning environment? Stephanie had a few suggestions. "Establishing a routine is important," she says. This means setting a regular time to get up, get dressed, eat breakfast, and brush teeth before school starts. There is no longer the bus schedule, but the clock is still ticking. It might be helpful to have the kids outside a few minutes before they sit down at their workspace that has already been prepared with the day's supplies. That means having available books, paper, pencils and computer. Stephanie says that headphones are quite helpful to reduce distractions, which can be exacerbated when there are siblings or others nearby who are wanting to work or study.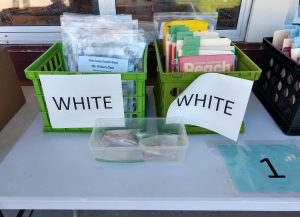 Stephanie said that she and her team of teachers are working diligently to minimize the number of emails to parents, meaning each is packed with information. Therefore, please read each note through to the end. Perhaps even read it twice. If you don't get your questions answered, you are encouraged to contact your teacher. "It's great to build a positive relationship with your teacher and school," says Stephanie. If you do have issues, please address them directly with the teacher and not in front of the children. Communications can happen by email, phone or Zoom. When things are going well, teachers love to hear that, too!
School days are full. First graders' schedules include visits from specialists in music, art, PE and the library. Remember that it is important to give kids down time. Let them have time to play and sometimes do physical activities with them, such as crafting or gardening. Encourage them to share about their day. Make time to read to each other.
Finally, Stephanie adds, "Let your kids work out their challenges. That's how they learn." Families are spending more time together and it is important to figure out ways to give everyone enough space to breathe and stretch. She looks forward to everyone being back together in the classroom. In the meantime, she is learning to create "more and more fun every day."