On behalf of the entire Lacey business community, Lacey South Sound Chamber of Commerce President Christine Forrey is thrilled to welcome Blake Knoblauch as their new executive director.
Former Executive Director Blaine Land was a "huge asset to the Chamber," Christine explains. "We always joked about how she could never leave." When Blaine announced she would be moving out of state mid-summer, the news was tough, but Christine understood her circumstances completely. "A new opportunity for Blaine created a new opportunity for Blake," Christine says with grace.
Blake reached out to Melanie Bakala, the Chamber's vice president, to inquire about the opening, and she invited him for an interview right away. Blake met with the Chamber's leadership a few days later, and just a day or two after that, they hired him. "Blake was the standout," Christine explains. "He had so many good ideas about sponsorships and getting people engaged. That's what we've missed in the last couple of months."
Blake is a well-known figure in the Thurston County business community. He graduated from Timberline High School  and spent about nine years in real estate before joining the member services team at the Thurston County Chamber of Commerce. While he treasures his years spent building relationships at the Thurston Chamber, he felt he was unable to pass up the opportunity to become the Executive Director with the chamber based in Lacey.
"The thing I'm most excited about is to grow membership," Blake says. "A chamber's job is to connect people, ideas and resources, and I think a lot of members in the Lacey Chamber understand that. To be a part of an organization that wants to help its members, and where its members really want to see other members thrive and grow, is really exciting."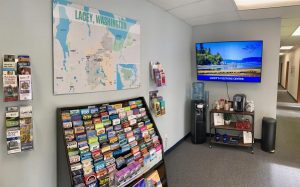 At the Thurston Chamber, Blake was responsible for growing and retaining memberships and sponsorships, so it's a natural fit for him to step into a leadership role with similar goals at the Lacey South Sound Chamber. His first goal is to grow membership by 20% in his first 18 months. He is eager to welcome businesses of all sizes across industries of all kinds, but he does have a special eye on the healthcare industry as one that is under-represented in the Chamber.
Stepping into this role during the COVID-19 pandemic has its own unique challenges. So much of what the Chamber does is gather members and potential members together to get to know each other, celebrate, problem solve and support one another. Blake is eager to virtually reboot both the monthly Forum lunch as well as South Sound Connections, the Chamber's monthly networking group.
Blake also plans to get a regular e-newsletter going again, and has launched the creation of member spotlight videos that allow the greater community to know which businesses are open. "Lacey is a great place to do business, and we still have lots of ways to showcase that," Blake explains. Not being able to host the annual Lacey South Sound BBQ Festival or their annual golf tournament were definitely a disappointment. "We're going to get through this and be stronger on the other side," Blake says confidently.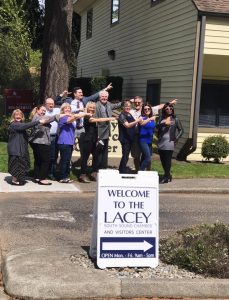 It's this kind of attitude in leadership that will see the Lacey South Sound Chamber through to a time when the community can gather together again. "We're just really excited to have Blake and his vision and all that he brings," Christine concludes.
If you're already a member of the Lacey South Sound Chamber, keep an eye on their events calendar or follow them on Facebook to get the latest updates on virtual programs. Current members also enjoy COVID-19 response support. The Chamber's ambassadors are available to deliver supplies like face masks and hand sanitizer, or you can pick up supplies at the Chamber's office and visitor's center at 420 Golf Club Road, Suite 105, Lacey. Call ahead at 360-491-4141.
If you're interested in joining the Lacey South Sound Chamber, you can enroll on their website. Blake would also love to have a virtual one-on-one or grab a coffee outside with you if you'd like to get to know him or the Chamber a bit better before you join. You can reach out to him at blake@laceysschamber.com or give him a call at 360-491-4141.
sponsored