Grays Harbor County is surrounded by fishing opportunities in nearly every direction you look. From the small winding rivers to the mighty Pacific Ocean, opportunities to catch various kinds of native saltwater and freshwater fish are abundant. Take a day trip or several-day adventure to enjoy Grays Harbor ocean, river and tribal land guided fishing trips.
Guided Ocean Fishing
Deep sea fishing trips on the ocean can be a challenging task that only skilled fisherman familiar with local waters should try on their own. For those that don't have the knowledge, experience, or their own boat adequate for the challenge of ocean waters, a charter fishing  trip will provide the captain, crew, boat and equipment needed to handle the rigors of an unforgettable, day-long, deep sea fishing experience. Contacting a charter fishing company to book a trip is the way to go for many anglers. These Charter Boat Fishermen have often spent their life on the water and know the tricks of the trade to help you learn the ropes and hopefully catch a king salmon, tuna or other saltwater fish.
Charter Companies in Westport
Booking a trip through a charter fishing company gives you the option to set sail on a variety of different boats. Each company oversees multiple vessels varying in size and capacity, so you are sure to find the right boat for your Grays Harbor, deep sea fishing adventure, based on size and style you need or prefer. This is especially important if you are accommodating a large group, as you don't want to get there and not be able to fit everyone aboard.
Advantage Charters
360-648-2277
fishbiz1@comcast.net
Blue Eyes Sportfishing
360-268-8158
Deep Sea Charters
800-562-0151
Info@DeepSeaCharters.biz
Gold Rush Charters
360-591-9044
High Life Charter Fishing
360-589-9525
fishthehighlife@gmail.com
Ms Magoo Sportfishing
360-648-3017
msmagoo@msmagoosportfishing.com
Ocean Sportfishing
360-268-1000
info@OceanSportfishingCharters.com
Westport Charters
360-268-0900
fishon@westportcharter.com
Small Boat Ocean Fishing Operations
These small boat, ocean fishing operations are independently run by the owners and not overseen by a charter fishing company. They are a great choice for those looking for a smaller boat and perhaps a more relaxed atmosphere during their Grays Harbor fishing trip.
Far Corners Adventure
253-606-5754
darrell@watuna.com
Offshore Northwest
253-380-9973
reservations@offshorenorthwest.com
CCO Sportfishing
360-470-6078
clearcuttaxidermy@gmail.com
Anglers Edge Sportfishing
360-536-1344
anglersedgefishingcharter@gmail.com
TailWalker Fisheries
tailwalkerfisheries@gmail.com
Contact the Westport/Grayland Chamber of Commerce for more information on ocean fishing guides and charters at 360-268-9422.
Guided River Fishing
Many people associate fishing in Grays Harbor with the ocean, but the county also boasts hundreds of miles of rivers and countless streams that can easily be fished upon for world-class salmon, steelhead and trout species. Charter ocean fishing is a wild, adventurous activity, but it may not be everyone's cup of tea. Luckily, the nonprofit organization, Grays Harbor Guides Association has a compiled list of local, licensed fishing guides that can lead you out onto the vast river systems of Grays Harbor and have you fishing in no time.
Guided Quinault Fishing
The knowledgeable Quinault Tribal and non-tribal fishing guides offer an unforgettable experience for guided fishing trips in Grays Harbor year-round.
Fishing on the lower Quinault River in the Olympic National Park and Forest requires visitors to be accompanied by a guide, making booking in advance a requirement. While on the Quinault River, expect to reel in steelhead, salmon and trout that are known to often break records in this exclusive, pristine area.  Fishing trips can be customized to meet your needs and group sizes. Inquire with your guide about what gear you should bring before your journey.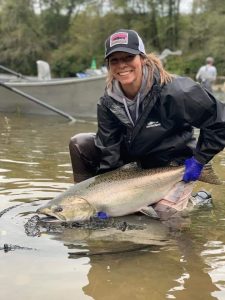 New guides are known to establish themselves frequently, so contact the Quinault Indian Nation Tribal Center at 360-276-8215, or the Lake Quinault Lodge at 360-896-3818 for more information.
Quinault Guide Services
360-288-2513
Clay Butler Guide Service
360-288-9966
Assault on the Quinault
360-590-6444
richieandjeanie@gmail.com
Dean Johnstone Guide Service
360-288-2661
Bad Ash Fishing
360-915-3667
Kamala Guide Service
360-580-4048
Quinault Fisher King Guide Service
360-276-4295
lsampson@centurytel.com
Letty's Lower Quinault Guide Service
360-276-4779
letty@lettypotter.com
Lower Quinault Fishing Guide: Richard Obi
richard@lowerquinaultfishingguide.com
CC's Guide Service
Message on Instagram
George's Guide Service
360-288-2840
grose@seanet.com
Alaska Pacific Northwest Fishing Adventures
360-288-2789
Rain Forest Guide Services
360-288-2432
rainforestguide@earthlink.net
Fishing on Lake Quinault is also an option while visiting the Olympic Peninsula. This requires a tribal permit and knowledge of the specific rules and regulations of the area. Fishermen can catch the allotted trout limit during the summer months only. Salmon fishing on the lake is strictly prohibited. Your boat must also be registered, in order to use it on this lake. More information on Lake Quinault fishing can be found here.
For those looking to fish the waters of Grays Harbor without a guide, check out the Six Top Places to Fish in Grays Harbor. Grays Harbor's over 100 lakes full of bass, crappie, bluegill or trout are fantastic places to drop a line and can be more straight forward to manage without a guide. Additional useful information and regional regulations can be found on the Washington State Department of Fish and Wildlife's website.
Sponsored