What started out as a normal day on the green, ended in a historic feat for Kyle Kanda, a third-generation member of the Olympia Country & Golf Club (OC&GC). For the first time in almost a decade, Kanda broke the course record, with a score of 61. Kanda describes his accomplishment as especially meaningful, because of his family's longtime history at the Club.
"This is very sentimental to me," says Kanda. "Especially breaking the course record. It's hard for me to put into words because of my family. My family has been a part of this club for a long time and it's such a special place for us."
Kanda is the grandson of the late Dick Kanda, one of the original members of OC&GC and the former president of the Pacific Northwest Golf Association. Kanda's father, Devin Kanda, is also a longtime member of the Club and is the 2019 Bink Schmidt Champion. Kanda says that over the years, the Olympia Country & Golf Club has become home for him and his family. "I grew up at the club," says Kanda. "We've always been there. I bought a house on the golf course and now I live here. So, it's a big part of our family."
Although OC&GC a place that Kanda knows well, breaking the course record is not an everyday event. The previous course record was a score of 62, which held for almost a decade. Kanda broke the current record by shooting 61, which is 10 under the par of 71.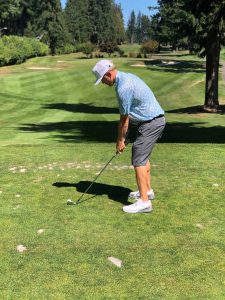 "When Kyle shot the 61, I wasn't surprised at all," says Mark Jensen, the head golf professional at the Olympia Country & Golf Club. "He's been playing really well the last couple of years and I think he's really come into his own as a player. The score of 61 is very good out here, because this is a difficult course. It's really a tough, tough task here. So, for him to shoot 61, not only was it a neat thing because his family and himself are longtime members, but also because the score of 62 stood for quite a few years."
For Kanda, his record-breaking day on the course started out as a typical game, playing alongside a small group of friends and family, including his father. "I was able to play with my dad when I shot the course record," says Kanda. "It was cool he was able to witness and play with me that day."
Soon after teeing off, Kanda gained momentum and shot seven under par through hole nine, scoring 28 on the front of the course. "Then I get to hole 10 and I burned, 10, so I'm eight under through then," explains Kanda. "It just kept going from there. I held it together and it got a little nerve wracking toward the end, because at that point I knew that I was chasing history. I knew I was chasing the course record. And so, for me, trying to do that was very special, not only knowing in my mind that I was going for it, but to be actually able to do it, is another thing. It felt good. It was awesome."
Coupling the new course record, Kanda is also the reigning Men's Club Champion at OC&GC, holding the title for the past three years. In addition, Kanda has also recorded five hole-in-ones at the club.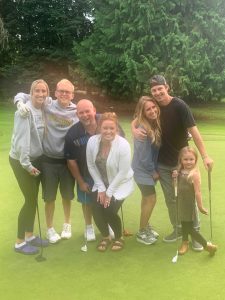 "I've been a pro here for 15 years," says Jensen. "And I've known Kyle the entire time. He's worked hard in this game and breaking the course record is really a great, great accomplishment."
For Kanda and his family, the record-breaking day out on the course will be a longstanding memory. Kanda says breaking the record at the Olympia Country & Golf Club was not only a personal accomplishment, but a way to honor his family's legacy at the golf course. "It's an honor," he says. "I don't want to be full of myself but, I'm very glad that I was able to break the record because of my path with the club and my family. It means the world. And the fact that my dad was able to be there with me, it is hard for me to describe. Being that my dad was able to be there with me, and he grew up there because of his dad and so forth. It was a special day."
To learn more about the golf course and to become a member, visit the Olympia Country & Golf Club website.
Sponsored