Danielle Rants has been involved in the family business from day one. At age 14 she began working in the downtown Olympia office of The Rants Group and after graduating from college, she returned, eventually becoming a commercial leasing and sales broker and property manager. Now she's making another move, one that recognizes the responsibilities she's already been taking on, according to company president and CEO Pat Rants. "Danielle has been promoted to Vice President," he says, "reflecting the increase in leadership she is taking in the company."
The Rants Group is the oldest commercial real estate firm in Olympia, founded 47 years ago by Danielle's grandfather, Chairman Ron Rants. Along the way, he passed the baton to son Pat, Danielle's father. The company's focus is commercial and residential rental, property management, brokerage and development services within Thurston County and the surrounding region.
Internally, little will change. For the past year or more, Danielle has played a larger role in molding the operations of the company, acting as more of a public voice in the community and taking on financial leadership. "I think people who work with Danielle already know the skills she has," says Pat. "They've seen the successes she's had. But the title helps when you're meeting someone for the first time."
Danielle agrees that the main shift will be in external perceptions. "Everyone in the office has known they could come to me for questions or authorizations for some time," she says. "But now the community knows that I am stepping up to this leadership role."
Aside from her business background, Danielle brings a wealth of community involvement to her new position. She serves as an advisor on the Thurston County Chamber of Commerce's Business and Economics Committee and is on the board of directors for the Capital Recovery Center, a nonprofit that supports adults with mental health, addiction and homelessness challenges. As a result, she has a more well-rounded view of The Rants Group.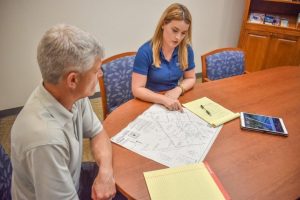 "Those experiences have opened my eyes to different issues and ways that a business can run," she says. "Since I have been at this company for so long, being involved in other organizations has shown me other ways of working with employees, finances and programs. Even though I've been here since I graduated from college, I'm still exposed to new ways of doing things."
It wasn't so long ago that Pat went through a similar transition with founder Ron Rants. In this case, the process has been accelerated, he notes. "It's happening better and faster than I thought it would. I have been thinking about this for a long time as Danielle was coming through college and showed interest in the business world. She is progressing so well, and of course, it makes me proud. I love working with Danielle."
The change in authority was a gradual progression, and one that will continue. As Pat points out, however, Olympia isn't Wall Street. "This isn't like being at a big corporation where she gets to move to a corner office with a bunch of stock options," he says. "It's just a recognition of what she's already doing."
It may seem like a challenging year to take on more responsibility, but the timing had nothing to do with it, according to Pat. "We probably could have made this move earlier, but we're doing it now," he says. "It has nothing to do with anything going on this year. It's just the right time." Since the pandemic began, the company has been working with commercial and residential clients to minimize risk and lessen the impact of COVID-19. Communication has been critical when everyone is dealing with such uncertainty.
Despite the turbulence of 2020, Danielle is excited about the future. "I'm looking forward to the public seeing me as another leader of this company," she says. "They've seen Pat as the face of The Rants Group for so long. I'll continue to lead and build on the reputation we've established in the community to further develop relationships with potential clients and partners."
On another level, the transition is a positive message about the direction the company is moving. "The Rants Group has been around for 47 years," says Pat. "This is a symbol of the fact that we're continually making changes."
Learn more by visiting The Rants Group website or calling 360-943-8060.
Sponsored