As schools throughout Thurston County prepare to resume remotely, thousands of parents are facing a critical question: What to do with their children? For those with the option of working from home, attempting to keep kids on track with their schoolwork while fulfilling their job responsibilities is nearly impossible. But for many, that's not even a choice. "Childcare is a critical need for a growing number of people who simply don't have the option to work from home," says Patrick Costelo, executive director of Youth and Community Development at the South Sound YMCA.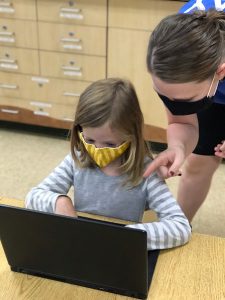 Statewide, the childcare industry was in crisis before COVID-19 hit. Now, many centers have had to close as enrollment plummeted during the pandemic, and parents are left scrambling for solutions. The Y has stepped in to fill that gap, providing a variety of full-day care options, adding more academic programming, and following strict health and safety protocols as required by the Center for Disease Control (CDC) and the Department of Health.
When schools closed this spring, the Y offered full-day childcare to emergency personnel and first responders at no charge at multiple locations around the South Sound, including Tumwater and Yelm. As spring transitioned to summer, they pivoted to provide a modified summer camp program. "The curriculum is significantly different than our traditional summer day camp," says Costelo. "Activities are planned around our ability to maintain appropriate distance between campers. We've also implemented a new small-group model so children are with the same staff and kids all week. "
The impact has been huge for parents like Brea Ellis who are considered essential workers. "As a single mom, I solely depend on the YMCA care," says Ellis. "It is the only reason I'm able to work to provide for my two children, ages five and nine. I cannot stress enough how important the Y has been for me and my children. I would be completely out of work without it."
Annie, a healthcare worker, agrees. "Without the YMCA and the childcare they offer, I would not be able to work as much," she says. "I know I'm not alone in feeling immensely grateful. Whatever this school year ends up looking like, I hope there is a place for Y Care. For my family, it has been a lifesaver and a true staple in allowing me to continue to provide care to the patients in our community."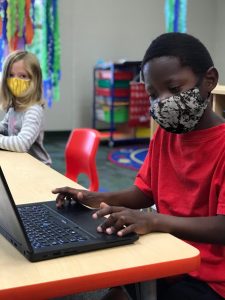 When the Department of Health released its recommendation that all schools in Thurston County serve students 100 percent remotely this fall, the Y was ready. "We've received a number of calls from families that are concerned about what the fall is going to look like and how they're going to be able to continue in their jobs," says Costelo. "We're happy to offer families options to meet their needs including our Excel Academy at select elementary schools throughout our service area as well as a new Outdoor Academy program at Camp Gwinwood in Lacey."
For parents who may be struggling to care for children while working from home, our programs are an excellent option, he notes. "It's hard to balance your child's education and social/emotional needs with a full-time job. Our new Y Academies offer a safe and fun environment for kids to go, where they can also receive the academic support they need to stay on track."
Costelo understands that some question why childcare programs are allowed to open when schools are not. "First and foremost, this is an issue of equity. Many families have one parent at home that can serve as caregiving and teacher, others have the financial ability to pay for private school or tutors. Many families, do not have this privilege. The reality is that children need a safe, nurturing place to be during the day – and for a lot of families, we are that option." He adds that "the risk of spreading airborne illness in small childcare programs with 20-50 kids in a building is substantially lower than the risk of having 200-500 kids in a building."
If any parents are unable to keep up with childcare costs, the Y offers guidance and support. "We recognize that there are more financial needs in the community now than ever, with uncertainty and unemployment," says Costelo. "As a nonprofit, we are generous with our financial aid and can also support people to pursue pathways to receive state subsidies." He then goes on to state, "the goal of the Y is to ensure all families in our community have access to the high-quality care and academic support necessary for the success of our kids and our community."
There are many ways to get involved with the Y. Learn more about how you can become a member, become a volunteer, or donate to support community programs.
Sponsored