Her hope is "one good brush stroke that sings." Olympia artist Nicki Weber, who loved her 40-year career as an interior decorator, finally retired and moved on to painting with watercolors. She has been developing her talents over the past 16 years, while embracing the challenges and joys of painting. Nicki is modest and intent about her works and maintains a zestful acceptance of her developing talents.
The segue from interior decorating to painting was an ideal way for Nicki to continue to utilize the skills that kept her business, Nicole Buchanan Designs, prosperous and energizing. Her business brought light, color, tone, texture and life to people's living and working spaces both inside and out. Painting, like interior design, is meant to evoke feelings and moods. Nicki thrived on pulling together the many threads of design. Now she can leave the endless details of a job behind while focusing on the painting in front of her. She still needs to achieve perspective and flow, but the schedule is less demanding.
Looking back, Nicki expresses gratitude at finding a career that provided so many levels of satisfaction. "It suited me," she says. Her degree in design from Washington State University included some art composition, but was otherwise limited. Over the years her appreciation for viewing history through artistic objects deepened her education. Now her attention is directed to the paint, brushes and paper in front of her.
In 2004, a friend introduced her to the Olympia Art League. This organization has been a significant source of her continuing education, exposure to techniques and new friendships. "It's a wonderful group and we encourage each other," explains Nicki. One activity (before the pandemic) was to show a piece of art at a meeting for others to offer gentle critiques. It was a safe place to give and receive feedback. There were also artists who gave demonstrations to showcase different materials. Nicki found inspiration for her emerging works. She has stayed with OAL all these years, serving as president from 2018-2019.
She started to take art lessons in downtown Olympia including from artist Ann Breckon and learned about painting with photographic realism. Nicki and three local art friends made the trek north together to participate in demos and classes put on by the Northwest Watercolor Society. "We enjoyed that immensely," remembers Nicki, and those trips encouraged each of them to be independent in finding their own painting paths. Now, there are many ways to learn and discover art techniques online. It's important to find avenues that work for you to expand your exposure to different artists and different styles. Nicki says that she continued to keep plugging away.
Nicki pursued classes, workshops and demos at Daniel Smith Stores in Seattle. She also experienced a class from Thomas W. Schaller, a watercolor master, award-winning artist, architect, author and instructor. He is known for his expressions of light and contrast and dynamic interplay of the real and imagined. Nicki also had the pleasure of being in a class taught by Alvaro Castagnet. His impressive interpretations of light effects and moods are meant to connect you to the soul of the subjects he paints.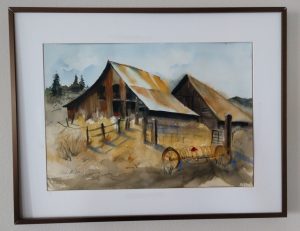 Nicki and her architect/artist husband Ed Weber recently settled into a home in Jubilee. Each has a work/art space. They joke: she's Picasso and he's Michelangelo. Nicki is delighted to have a well-lit studio with all her art supplies at hand. She has collected her photographs from years of travel, which await her in a drawer to be selected for the next painting. Her desire is to paint images that infer its identity but without absolute realism. Every painting is an opportunity to learn.
Nicki encourages others to explore interests that might have been put on the shelf for any number of reasons. Pursuing interests at any age opens doors to new adventures. She paints because she likes to do it and appreciates the satisfaction of deepening her abilities.
The Olympia Art League serves the larger South Sound community as well as its members, regardless of their ability levels. Read more in the monthly newsletters. Maybe it's time for you to pick up your paintbrushes, oils, watercolors and paper. You can find all sorts of art supplies at Olyphant, a local Olympia business. Nicki suggested an excellent place to start is with good drawing pencils and paper. Work on scale, proportion and contrast. Enjoy your explorations.