Several months into quarantine, many of us are experiencing a little too much togetherness. We're working from home, the school year concluded at home, and most vacation plans now take place…you guessed it…in or around our home. But for many families, resources are tight and they need extra help to keep kids safe, housed, fed, connected and cared for during these trying times. This is where TOGETHER!'s mission to help Thurston County's kids makes a world of difference.
Over the last 30 years, TOGETHER! has grown and adapted into "a grass-roots campaign to mobilize the communities of Thurston County into a coordinated effort to support kids and families to reach their goals through basic needs support, collaboration between schools and community organizations and efforts to advance social, health & educational equity.
During the COVID-19 shut-downs and restrictions, they're still working hard on behalf of Thurston County's children. "When the government issued the stay at home notice, many nonprofits, government agencies, and medical centers closed when people needed them the most," says TOGETHER!'s Director of Community Schools Michael Dennis. "With the support of our community partners, TOGETHER! Community Schools program is able to provide food and housing support for hundreds of families in the cities of Yelm and Tumwater." Community Schools is a program that places staff who connect with targeted students and families and provide case management to help them meet their goals and connect to their community.
To do this, they've reached out to their dedicated network and beyond. "We currently have funding streams to help keep families in their homes but once the rent moratorium ends in early October we are expecting a flood of new rental support request," says Dennis. "As an organization, we will need more financial donations so we can have the flexibility to address the unique needs of our families and students. We would love to invite interested community members to donate, sponsor and participate in the TOGETHER! FORE KIDS Golf Tournament."
TOGETHER! also traditionally offers programming in local schools. "Since the Covid-19 shut down, the Community Schools program has done our best to adjust to the new realities of providing wraparound services to students and families in need," says Dennis. "One of the benefits of a school-based support program is that we are able to build lasting relationships with students and families within a friendly school setting." These lasting relationships, paired with the flexibility of a nonprofit, TOGETHER! is bridging the gap of services students used to be provided when school was in session. Staff reach out, meet in person, deliver food, pay rent, listen and check in with families who were faced with challenges even before the Pandemic. For many, the Pandemic has intensified their challenges and/or disconnection. Families are faced with unprecedented choices around childcare, education and making an income. Where some higher income families are able to stay home to work, many families have to leave home to work to keep our grocery stores, restaurants, coffee shops, hospitals and farms open, leaving families with very little support, time or choices.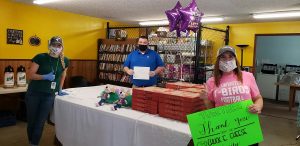 But more than just checking in and building relationships, Dennis and his team help any way they can. "Many students and families have voiced that they feel intimidated when they have to access state and federal resources. We are able to walk them through the community resources referral processes, advocating for them while empowering them throughout, in addition to providing regular checkups."
Another TOGETHER! also provides before and after school programming to students at 4 schools in North Thurston Public School District. When schools closed, Club House Before and After School programming adjusted quickly to provide support to students virtually. As for all of us, these changes have been tricky, admits Club House Director Kahlo Flores. "Since Covid-19 shut downs our Club House programs have been affected by the inability to assist youth with individual educational growth, social activities, movement, physical activities, hands-on projects, and one-on-one mentoring or counseling. Club House Programs have shifted focus to include in-depth focus on social and emotional learning, as well as working collectively to ensure extra creativity regarding lesson plans to include all youth."
Club House programming was another vital part of TOGETHER!'s youth support opportunities. They have now switched to creating weekly take-home crafts and project kits that families can pick up at local schools. There are also live Zoom meetings and supplementary activities broken down by age group.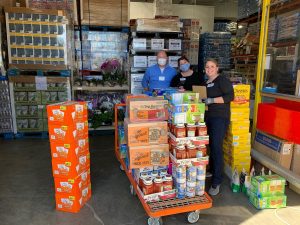 "​TOGETHER! works with all Club House youth and their families in hopes of building solid educational goals for not only the youth, but their families as well," says Flores. "TOGETHER! partners with local and statewide organizations such as the Puget Sound Estuarium and Olympic National Park. Partnering with great organizations ensures that all Club House participants gain geographical and environmental awareness of their county and state. The Club House branch of TOGETHER! has been preparing to solidify and immerse Spanish into our Club House before and after-school programs as well."
Want to help? Contact your local Club House team or donate online to the organization as a whole. Once social distancing restrictions are reduced, consider becoming an employee or volunteering with the group. There are many ways to become involved and future generations will need extra support to grow through these challenging times and their legacy.
Our kids are adaptation experts. But we all grow stronger and more resilient when we rely on one another and spend valuable time together. Help friends, neighbors, your own children and the region as a whole by dedicating a few extra minutes. TOGETHER! everyone benefits and that's a win/win.
To learn more follow them on Facebook or visit the Thurston TOGETHER! website.
Sponsored