Nothing says summer like playing in the Sound and sleeping under the stars. If you are looking for camping around Olympia that really gets you out into nature, Hope Island State Park, Located right in the Squaxin Passage, is a gem waiting for you to discover it.

Hope Island State Park is 132 acres of forest consisting of Douglas fir, cedar, alder, hemlock and maple trees. The island also has some areas with orchards that have been developed, and of course, plenty of beach front access. You can find all kinds of wildlife for those looking to watch or photograph nature.  Hawks, herons, seals, whales and other wildlife are common sights. The Island is also a popular spot for shellfish digging during the seasons.
Dogs are not allowed on Hope Island State Park. The park has two vault toilets and four unsheltered picnic tables. There is no potable water on the island, so be sure to pack in our own!
Getting to Hope Island State Park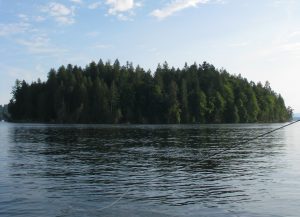 Getting to Hope Island State Park is an adventure in itself, as it is only accessible by watercraft! If you have a boat, you can easily cruise right over to the island, and use one of their five bouys to moor your boat. Then just hop in a dingy, kayak, paddleboard, or whatever other small craft you have, to head to shore. Moorage fees are charged year-round from 1:00 p.m. to 8:00 a.m. Permits are available by calling 360-902-8844. There is a three-night-stay max on bouys.
If you don't have a boat, you definitely have some options for renting something to get you to Hope Island. Boat rentals in Olympia include the Boston Harbor Marina (kayaks, standup paddleboards); Zittel's Marina (boats that hold 3-8 people); and Tugboat Annies (Kayaks) are a few places to look into renting a craft that meets your needs for a trip to Hope Island State Park.
Camping at Hope Island State Park
Camping at Hope Island State Park is rustic. It has eight dry campsites open to anyone, plus an additional campsite (the Cascade Marine Trail site) open only to canoers and kayakers. You will need to pack in with you everything you could need for the night – do not forget a flashlight! Campsites are reserved first come-first serve and you register on the Island. You can stay for up to 10 nights at a campsite. Check-in time is 2:30 p.m., check-out time is 1:00 p.m.
Campfires are never permitted on Hope Island. "Camp stoves are permitted, unless there's a burn ban," says Toni Droscher communications manager for Washington State Parks and Recreation.  You can check for current burn bans here.  The rugged campsite ensures an unobstructed view of the stars and moon at night, allowing for great constellation searching and of course, amazing sunset and sunrises. It's definitely worth getting away from it all for a few nights.
Hiking at Hope Island State Park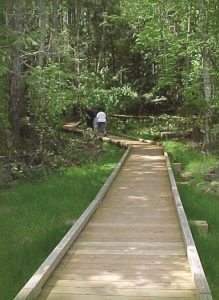 Whether you are visiting for the day or a few nights, Hope Island State Park affords some great outdoor fun. The park has two-miles of hiking trails. "Trails are easy to walk; expect some trails areas to have roots and other minor obstructions," says Droscher. And while it may be tempting, remember to stay on the trail. "Off trail exploration is always discouraged in state parks," she continues, "however, much of the island is 'developed' with pastures/orchards and other open areas that call for some exploration."
Of course, you may just spend most of your time walking along the beach! There is plenty of beach with soft sand. During shellfish season you can clam, and you are allowed to fish for saltwater fish at Hope Island State Park. You do need the appropriate licenses for clamming or fishing. You can get these on the Washington Department of Fish and Wildlife website.
Feel free to bring games with you to play, such as volleyball, though Droscher warns that some games, like horseshoes, can be damaging to the grounds and are therefore prohibited. "There are also locations on the island that this kind of activity would be discouraged due to historic preservation or protection of flora and fauna." She suggests you check with the staff at Jarrell Cover for any specifics before heading out to the island at 360-426-9226.
Pack your bags and get ready for a fun weekend in nature. Sometimes "roughing it" is just what we need to recharge our batteries. For more information on visiting Hope Island State Park, check out the Washington State Park and Recreation website.