Although far away travel is temporarily on hold, Thurston County is a bountiful day trip destination, with endless options for local cuisine, scenery and attractions, all unique to the South Sound region. During this time, there is an opportunity for locals to become tourists and discover the spirit of the community. Within Thurston County lines, memorable moments and outdoor adventures await local travelers, even while maintaining six feet of distance.
When cases COIVD-19 increased throughout Washington State, many local businesses, attractions and artisans adapted their operations to best serve the community. In Thurston County, Sandstone Distillery, Evergreen Valley Lavender Farm and vendors at the Olympia Farmers Market all altered their usual operations, to provide new essentials, like hand sanitizer and cloth masks to locals during the pandemic. As these businesses and attractions re-open under Phase 3 of Governors Jay Inslee's Safe Start Washington, though, these businesses are now available to explore as part of a local daycation.
At a time where Thurston County residents are beginning to leave their homes to explore the local sights, activities and cuisine, Experience Olympia & Beyond has released a safe travel guide, to ensure the health of local tourists and employees. In accordance with federal, state and county public health guidance, it is important for travelers to postpone vacation plans and remain at home if they are feeling ill.
In addition, for travelers there are new essentials on the packing list, including hand sanitizer, a cloth mask and a thermometer for daily temperature checks. Aligning with statewide requirements, masks or cloth face coverings are required when in public indoor spaces, or outdoors when six feet of distance can't be maintained. When possible, make arrangements ahead of time if planning to visit local attractions. Help to keep the Pacific Northwest a friendly place and respect local employees, including hospitality staff, servers, park rangers, and business owners, by following any safety and health guidance provided.
Experience Olympia CEO Shauna Stewart says that for local attractions like Sandstone Distillery, Evergreen Valley Lavender Farm and the Olympia Farmer's Market, their contributions during the pandemic have provided a personal and local experience to necessary, but sometimes perfunctory protective measures. "These businesses have been able to make PPE, but make it with a personal flair," she says. "There is a sense of community for something that could otherwise be very sterile and uninviting."
Family owned, Sandstone Distillery is based out of Tenino. From whiskey, to vodka, to gin, Sandstone produces small batch spirits from grains grown in Washington State. As cases of COVID-19 spread throughout the state, Sandstone Distillery temporarily shut down production of their spirits to produce hand sanitizer for the community. Now that Thurston County is in Phase 3 of Safe Start Washington, though, Sandstone Distillery's Tasting Room is now open to the public for one-hour, five-flight tastings. Distillery guests in groups of four or less can sip and savor Sandstone's hand-crafted spirits, with bottled water and light snacks to accompany the experience.
Located on the outskirts of Olympia Evergreen Valley Lavender Farm, cultivates 13 varieties of lavender in their fields for culinary and aromatic use. During a visit to the city of Sequim, Evergreen Valley Lavender Farm owners, Thane and Peggy Bryenton, were inspired to open their own lavender farm in 2008. Over a decade later, farm visitors can wander the extensive lavender fields, or take in the floral ambiance from one of the farm's many sitting areas. The Evergreen Valley Lavender Farm works both as a fun daytime excursion, or as a stop while touring the Thurston Bountiful Byway. "At Evergreen Valley Lavender Farms, you can do this beautiful tour of lavender," says Stewart. "It's stressful right now and it is so nice to be out there in the sun shine, smelling beautiful lavender, enjoying the peace and quiet of beautiful, natural serenity."
The farm also harvests lavender for multiple floral-based products, including lavender essential oils, soaps and lotions. As COVID-19 spread throughout the region, Evergreen Valley Lavender Farm worked with Sandstone Distillery to create their own variety of hand sanitizer, infused with lavender from the farm's fields. Stewart says that the lavender-infused sanitizer from Evergreen Valley Lavender Farm takes routine hand cleansing and adds a special local element. "You can cleanse your hands and then you have this scent of beautiful lavender," explains Stewart. "So, you can also have some calm and find some peace in this very crazy time."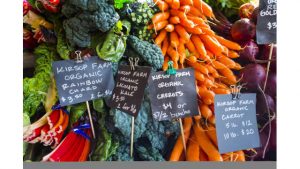 Since 1975, the Olympia Farmers Market has been a staple of Olympia's downtown. Vendor owned and operated, the Olympia Farmers Market is home to over 100 vendors and accommodates almost 400,000 guests per year. A proponent of local agriculture and art, many vendors cultivate and create within Thurston, Lewis, Mason and Grays Harbor Counties.
While wandering the market corridors, visitors can find fresh pastries, small-batch jams, fresh produce, garden plants and handmade jewelry. Most recently, local artisans are also creating hand-crafted cloth masks, including folk clothing designer and market vendor, Trnka, who offers reversible cotton masks from vintage woven textiles.
Across the South Sound, many local businesses and attractions have adapted their services to best serve the community during the COVID-19 pandemic. As local attractions welcome guests back into the region, there is an opportunity for travelers to explore the landscapes, activities and creations that make this region decidedly different, while also staying safe. To learn more about safe travel, daycation ideas, or to plan a local travel itinerary, visit the Experience Olympia & Beyond website.
Sponsored