Friends of Capitol Forest (FOCF) is a nonprofit group of mountain bike enthusiasts who volunteer their time and skills to make sure there are plenty of opportunities to stomp, pump and shred in Thurston County.

FOCF works closely with land owners and land managers like the City of Olympia, the Department of Natural Resources and Manke Timber Company. They advocate for mountain bike access, and help design, build and maintain trails. Thanks to their efforts, mountain bikers have more options than ever in our area.
"The FOCF really got started in the Falls Creek area," explains Lauren Magalska, current FOCF board president. "That started off with doing a lot of trail maintenance out there." With all the rain in our region a lot goes into making sure there is adequate drainage. "If you maintain the trails well, they do stay fairly accessible for most of the year."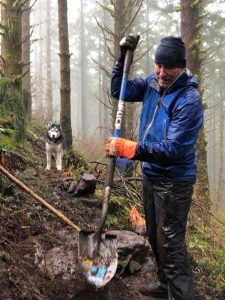 Lauren stays informed on what is happening within the biking community. She works closely with the other board members and a core group of engaged and active volunteers. "There are a lot of people who are very passionate about all of the different projects we have going on," Lauren shares. "I'm the hub and they are the spokes that are making things happen."
Little Larch Mountain was the first trail in Capitol Forest designed specifically for mountain biking and includes log rides, jumps and bermed curves. It remains a popular trail for bikers and hikers alike.
On the north end of the forest, called the North Slopes area, newer downhill-only mountain bike trails, like Scoby and Down-N-Rowdy are described as "the crown jewels" of the downhill-only runs on the FOCF website. "It's some of the most technical riding in the forest," Lauren assures. "It's definitely for the more advanced riders out there."
Having the right bike and the right gear does make a big difference when venturing off pavement. Mountain biking has really progressed from its humble beginnings in the 1980s, when road bikes were first converted for mountain bike applications. Those bikes didn't have shocks or hydraulic brakes. People wore helmets and pads designed for other sports, if at all. Now bikes have sophisticated shocks and braking systems that make riding a lot safer and less jarring. "The sport has come a long way," says Lauren.
New Kaiser Woods Trail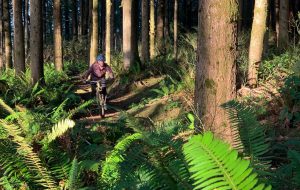 "It's becoming a really family friendly sport too," she notes. "To get kids out there and get them outside, that is definitely one of the reasons we are really excited about the Kaiser Woods."  One of the City of Olympia's newest land purchases between Kaiser Road and Black Lake Boulevard is a proposed biking and walking park currently known as the Kaiser Woods. "It's super accessible, close to town, easy to get to," she adds. That park may include some trails and features that allow for mountain bike skills progression, providing a great place for beginners and kids to get comfortable and practice entry level mountain bike skills. It will also be a great place to just get out in nature for a nice walk in the woods.
"We just really want to support people getting outside, ideally on a bike, because we all love bikes," stresses Lauren. "So, if there is anybody who is new to the area, or has lived here all their life and they always wanted to try mountain biking, reach out to the group and express your interest. There is always somebody willing to give a tour of the trails, or to get someone started in the right direction."
Future Plans
FOFC is looking well into the future with 1-year, 5-year and 10-year plans. Their immediate goals include building their membership, and working with the City of Olympia and Manke Timber on trails closer to town. They will continue working to expand the North Slope Trail system in Capitol Forest, and plans are in the works to build a shelter at the Falls Creek parking area.
"The shelter has been designed to be a hundred-year structure," shares Lauren. "It's going to be pretty heavy duty, but we are hoping that will mean it'll be low maintenance and will withstand the weather conditions in Capitol Forest." The shelter will provide a great gathering place for everybody who likes to start their journey into Capitol Forest from the Falls Creek parking lot.
Volunteers are always welcome to join FOCF even if trail building is not their forte, Lauren encourages anyone to reach out through their Facebook page. "Whatever your passion is, if it's something that you feel would be useful to the group," she says, "we are always looking for new ways to bring people into the community."
Check the Friends of Capitol Forest website for trail guides, maps, and events calendar.