For decades, Senior Services for South Sound has pursued their mission to care about seniors in the communities of Thurston and Mason counties. Over the years they've developed programs and events to provide everything from education to entertainment, but the COVID-19 crisis has presented new problems for Senior Services to tackle, and it brought them back to the very basic essentials including food, hygiene supplies, and human relationships.
Current knowledge about COVID-19 indicates that individuals over 65-years-old are the hardest-hit age group across the board in terms of mortality and long-term effects from the coronavirus. Recent data suggest seniors over 70 are ten times more likely to die from this virus. Until widespread treatments or an effective vaccine becomes available on a massive scale, many seniors plan on increasing their physical distance in society to prevent contracting the disease. This is why Senior Services of South Sound has begun their initiative, "Do You Know a Senior in Need?"
When COVID-19 hit Thurston County, Senior Services for South Sound's operating environment changed, but their mission never did. "Our mission is to improve the quality of life for people as they age," says Brian Windrope, executive director. "We cannot yet say when we will open our doors, but our hearts have never closed to seniors."
As communal dining, educational and fitness classes, trips and events shut down, demand for other services, chiefly Meals on Wheels, skyrocketed. While connecting low-income seniors with programs like the food bank and Meals on Wheels is incredibly important, Senior Services realized that might not be enough. COVID-19 has changed the definition of what it means to be a senior in need.
While reflecting on the current needs of the community, Windrope read an article in the New York Times about an effort in England to mobilize the population to help seniors. "It inspired me and I knew that is exactly what we needed to be doing here." And that's how the "Do You Know a Senior in Need?" initiative began.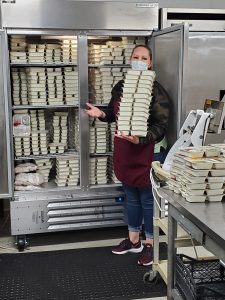 In line with their mission of improving the lives of people as they age, Senior Services brought it back to the basics, thinking about what seniors are experiencing right now, and what their most pressing concerns are. "We are thinking about the seniors out there sheltering in place, who are facing food insecurity because they are nervous about shopping, or going without their prescriptions because they don't want to expose themselves at a pharmacy," says Windrope. "Maybe they have simply run out of books to read or puzzles to do, because the libraries are closed, or they are just alone at home and they want someone to talk to."
"At Senior Services, we work with about 2,500 people on an ongoing basis, but census data tells us that there are over 95,000 people of senior age in Thurston and Mason counties," says Windrope. "Let's just imagine that one percent of those seniors are in need of some level of assistance, we need to reach them, and for that, we need the public's help."
With support from United Way of Thurston County, Senior Services for South Sound is asking you to get involved and help them find the seniors in our community that might need their assistance. Whether it's a friend or a neighbor, you could know a senior in need. "We need the public to help us get in touch with seniors that don't know we are here to help them," says Windrope. The help comes at no cost to seniors and no-strings-attached.
Besides helping identify seniors in need, Senior Services needs some big help in very simple and easy ways. "We need volunteers who can run those simple errands like grocery shopping or delivering prescriptions and supplies," says Windrope. Senior Services is also welcoming of financial donations that will help support this program.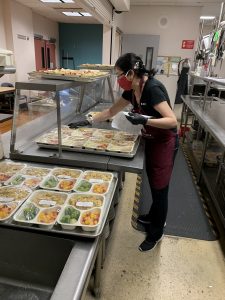 Senior Services volunteers and staff have already delivered groceries and prescriptions to some seniors in need. And they've begun connecting seniors with pen pals.
If you know a senior in Thurston or Mason county, or you are a senior, reach out to Senior Services of South Sound on their website through the online form. You can also give them a call at 360.586.6181 ext. 136 or reach them through email at SeniorNeed@SouthSoundSeniors.org. And if you aren't a senior, but you want to find out a way to help a senior in your community, Senior Services can use volunteers, especially right now, so please consider reaching out to volunteer and doing some good in your community today.
Sponsored