Representing a spectrum of local teams, sports and schools, the recipients of the 2020 Thurston County Sports Awards have demonstrated not only athletic success, but also perseverance and love for their community. As the COVID-19 pandemic affects many walks of life, including athletics, this year's award recipients still carry a dream and a love for the game as they reflect on current successes and future goals as local athletes.
"We think it's important to recognize all of the winners and nominees this year to provide some hope and inspiration," explains eff Bowe, senior director of tourism development for Olympia & Beyond Sports Commission. " All of the students lost their spring competition this year and all of the pomp and circumstance that goes with graduation and this life transition isn't going to happen as they had dreamed."
Men's Sports Star of the Year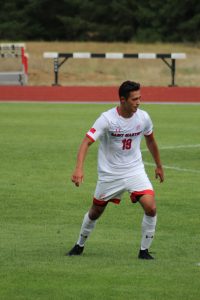 A forward for Saint Martin's University Men's Soccer, Brandon Madsen was an offensive star during the 2019 season, as well as a two-year team captain.
"I worked really hard to achieve the things I did," says Madsen. "It makes me feel happy about how I ended my college career. I had so many great memories at this school that I'll never forget."
After rising to the top of his game as a leading scorer for the SMU soccer team, Madsen is now looking ahead to stepping back from the game and exploring potential career options.
"Right now, the next step I'm taking in life is looking for a good career," explains Madsen. "I've been playing soccer for a majority of my life and after this season, I decided that It was time to stop playing and figure out what I wanted to do outside of the sport."
Women's Sports Star of the Year
A junior at the University of Washington, Taylor Buell competes for UW Women's Rowing. With a reputation for leadership, commitment and sportsmanship, Buell obtained a spot on the university's varsity rowing team her junior year. Living with fellow rowers, and getting out on the water to practice twice a day, Buell has an unwavering commitment to perfecting her rowing craft.
"I feel honored," says Buell. "Rowing is really all about pushing yourself for the girls around you and I love being a part of the team. Without my teammates, I really wouldn't be able to achieve what I have so far and I hope I can do the same thing for them. I strive to do the best I can in all parts of my life and stay super positive to bring people up with me."
Looking to the future, Buell is gearing up to try out for the U-23 US Rowing Team for the summer of 2021. Slated to graduate with a degree in Bioresource Science and Engineering, Buell hopes to work with the National Oceanic and Atmospheric Administration, conducting climate research and helping the environment.
Girl's Sports Star of the Year
A triple-threat basketball, soccer player and dedicated student, Black Hills High School graduate, Megan River served as captain for both the basketball and soccer teams her last two years of high school. River was also an active participant in her school community as an ASB officer, facilitating multiple school events, including Homecoming and assemblies. Black Hills High School Principal, Dave Myers, said River was the type of student athlete that only comes along every seven to ten years.
"Having my principal say I'm the type of student and student athlete that comes along every 7 to 10 years is a huge honor," says River. "It's very humbling to hear this is how others see me."
In the fall, River will attend Willamette University as a student athlete in the basketball program. She intends to study exercise science and one day become a physical therapist.
Boy's Sports Star of the Year
Boy's Sports Star of the Year, William Christenson is a student at Olympia High School and a two-time USA Swimming Scholastic All-American. In addition to being a national swimming competitor, Christenson is a dedicated student and involved community member, participating in volunteer opportunities to preserve local ecosystems including with the Stream Team and in Native Plant Salvage Foundation events.
After high school, Christenson plans to become a student athlete at the University of Minnesota as a Division I swimmer while also studying biomedical engineering. Eventually Christenson intends to pursue a career in the field of mathematics or biology. Olympia High School English Teacher, Robert Bach, said Christenson is not averse to hard work and based on his academic and athletic dedication, Christenson is well prepared for any future university plans.
"Hearing such strong words of recognition about what I have worked for and accomplished in the pool and in the classroom makes me proud of my effort and achievements," says Christenson.
Contributor of the Year
The 2020 Contributor of the Year was awarded to Bill Beattie, the football coach for Tumwater High School. After leading his team to 2nd in State in 2017, the school became state champions in 2019. A longtime football coach, Beattie previously coached at Tenino High School, Elma High School and Olympia High School before becoming head coach at his alma mater, Tumwater High School. Beattie says returning to Tumwater High School as a football coach was a full-circle moment for his career and credits the football program's continuing success to the legacy and philosophies of Tumwater football legend, Sid Otton.
"The reason Tumwater Football has stayed so successful is because of Coach Otton's vision for the football program, school and community," says Beattie.  "Keeping that foundation reminds us that each year is unique to our team and program, this is why we start each season with the same goals, philosophies and values going forward. We realize that each year is an opportunity to leave our mark on the great legacy of Tumwater Football."
Sports Moment of the Year
A come-from-behind victory, Saint Martin's University Men's Baseball defeated the #2 and #3 teams in the Great Northwest Athletic Conference (GNAC), reaching the team's first and only conference championship game.
"It was a back and forth 24-hour stretch of going through a tough loss to Billings the night before, to bouncing back to winning a close game, taking a break, then getting an offensive explosion for the night cap," says SMU Baseball Coach, Kelly Gau.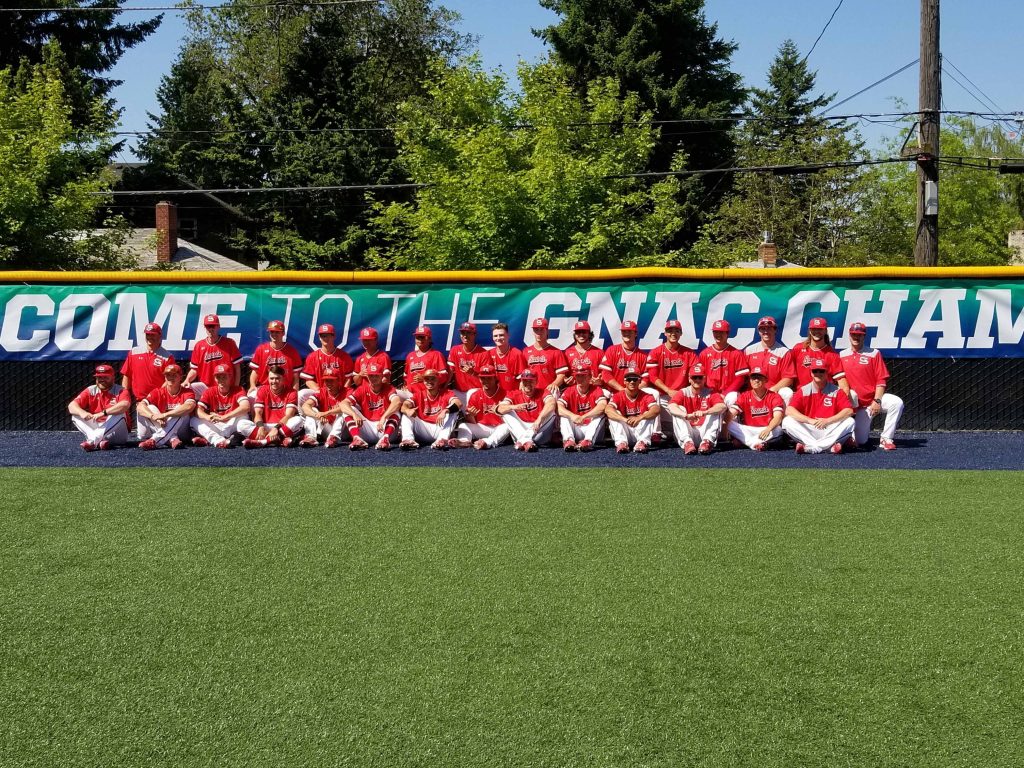 Gau said the team remained resilient throughout their baseball careers at SMU and a credit to their tournament success were players stretching their last ounces of energy to get the job done. With the ultimate goal of a GNAC Championship win, Gau wants to continue the team's momentum in the future by emphasizing the solid pitching, consistent defense and steadfast hitting that made the 2019 team successful.
"Each team will never be exactly the same, but we will strive to keep emphasizing the traits that have allowed us to be a competitive team within this conference," says Gau. "It was disappointing to not be able to see this 2020 team through, because we really felt they had a chance to be as good or better than our 2019 group. We are excited about the team culture of our recent teams, and will work hard to keep moving forward as a family."
Thurston County Sports Legend
Founder of the Oly Town Artesians, Tim Smith, is the 2020 Thurston County Sports Legend. As a resident of Thurston County for over three decades, Smith was a longtime youth sports coach before establishing the semi-professional soccer club, the Oly Town Artesians in 2014.
As the founder of the Oly Town Artesians franchise, Smith continues to model the team around a central vision, "Give your all.  Love your teammates.  Respect your opponents." This vision was created in 2016, in the wake of the tragic drowning of then Team Captain, Austin Kelly. Smith and the Oly Town Artesians continue to honor Kelly's memory by hosting annual fundraisers and by presenting the Austin Kelly Trophy annually to the player who best embodies the team vision.
"Austin was our Team Captain, but meant so much more to all of us," says Smith. "He really was the soul of our club—who we wanted to aspire to be and what we wanted the club to represent."
And with the Artesians, Smiths wants to continue to provide local players with the opportunity to pursue their athletic goals and to provide local residents the opportunity to experience the highest level of sports available in Thurston County.
"Sports has the unique ability to fulfill an individual's physical, mental, emotional and spiritual needs," says Smith. "And if you participate, and facilitate the participation of others, you are providing a foundation for success in a career, relationships, and life for yourself and the people you compete with and against."
Special Recognition
This year, the Sports Commission Advisory Committee presented special posthumous recognition to Father Gerard Kirsch, a longtime Saint Martin's University booster.
"Father G supported all our student athletes and attended as many games as he could and whatever sport was playing," says SMU Athletic Director, Bob Grisham. "Our former women's basketball coach, Tim Healy, had a memory of Father G at basketball games where he sat in the same seat for twenty years and when he felt the officials made a bad call, he would lead the crowd in his chant 'we are not worthy.'"
For over 30 years, "Father G" demonstrated unwavering dedication to Saint Martin's University athletes and teams. From attending every volleyball, basketball and baseball game, to pregame pep talks, "Father G" helped to create meaningful moments for student athletes, by not only celebrating victories, but also by supporting athletes through athletic challenges.
To learn more about the Thurston County Sports Awards nominees and winners, visit the Experience Olympia & Beyond website.
Sponsored