Southwest Washington's local O Bee Credit Union launches a "Color-for-Cash" contest to put money in the pockets of the community, two local food banks and to help provide an avenue to positively affect people's mental health during the COVID-19 pandemic.
A Brief History of O Bee Credit Union
O Bee started in a shirt pocket—it's true! Back in 1955, Ted McGill, a worker in Bottle House "A" at the Olympia Brewery, heard about credit unions and thought it would be a good idea for the brewery workers to start one. He was a smart guy with a considerable gift for persuasion. After time and effort, the credit union was formed. In the early years Ted McGill was the credit union. He would walk around the brewery with membership cards, loan applications, and receipts stuffed in his shirt pocket. Some say it was like the whole credit union was in that one pocket.
Ted also gave out share withdrawals and loans right there on the bottle house floor. The credit union was named "The Olympia Brewing Company Employees and Families Credit Union." Ted, who was afraid he would have to write that name by hand "at least 40 million times," objected strongly and countered with "O Bee Credit Union." The name stuck and history was made.
In the 1960s and 70s, Olympia beer gained increasing popularity and was featured in films with actors like Dustin Hoffman, Paul Newman, Jack Nicholson and Clint Eastwood. Throughout that time of growth and accelerated awareness for the brewery, O Bee thrived as well and offered increased services to its employees and their families. In 2002, O Bee's Field of Membership expanded to include anyone who lives or works in the State of Washington and membership grew further.
Color-for-Cash Contest
We are all experiencing an extremely volatile time, as the COVID-19 pandemic has swept through our lives and the lives of those we love. O Bee Credit Union is doing their part to help bring the community together and support two local food banks through their Color-for-Cash Contest.
To participate, fill in the entry form and color one of the Washington-inspired coloring pages, then post it to Facebook or Instagram and tag @obeecreditunion. Winners will be picked at random—don't worry, this isn't a contest of artistry! You will have a chance to win one of six cash prizes — $750, $650, $550, $450, $350 and $250 — for a total of $3,000. The contest begins, Friday, April 24, 2020. Winners will be randomly drawn on Monday, June 1, 2020 at noon. O Bee will also donate $3,000 each to Thurston County Food Bank and Nourish Pierce County for a total of $6,000.
O Bee has had a hand in community outreach since their inception. They live by the credit union philosophy of "People Helping People." While their first responsibility is to their members, being part of a cooperative movement means looking beyond their walls to the larger community. This outlook drives them to support worthwhile charitable and social causes. Their team members regularly volunteer at the local food banks, and are eager to help the community in whatever ways present themselves.
The Color-for-Cash Contest is just another extension of this philosophy and a reminder that we are all in this together. "This is about helping the community and letting people know we are here for them," says Lee Wojnar, VP Marketing for O Bee Credit Union, "and not just on a financial level, but also to help reduce some of the stress. The benefits of coloring have been well established. It actually relaxes the brain. And if you think about this struggle we are all in, we have been busy focusing on taking care on an economical level, but we also need to focus on a whole-health approach and mental health is crucial. What better way to do this then to offer a coloring contest that also benefits the local food banks?"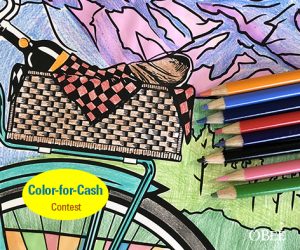 Wojnar passionately expressed the importance of reducing stress during this difficult time and how coloring can be a simple tool to help:
Your brain can experience rest by entering a meditative state.
Stress and anxiety levels have the potential to be lowered.
Unplugging from technology can promote creation over consumption.
Coloring can be done by anyone, not just artists or creative types.
Coloring is a hobby that can be taken with you wherever you go.
*To read further about the therapeutic value of coloring, see the academic studies linked in this article.
To participate in the Color for Cash Contest, find all the information and coloring page at the O Bee Credit Union website.
 Sponsored