While we're away from our beloved WET Science Center and guests, we're posting science activity Monday through Saturday at 9:00 a.m. on our Facebook and Instagram. Activities are designed for elementary school to early middle school students and can be done at your convenience. Keep practicing science, and engaging with the natural world!
Explore Water with STEAM

How do you tune a water xylophone? How do we generate power from water? How much wastewater do you use? Dive into these questions with us for a week of STEAM Water. No, not steam from water; STEAM stands for science, technology, engineering, art, and math. Using STEAM principles, we'll explore water in different ways.
This week, Monday-Friday activities follow each letter in STEAM. Saturday you'll get STEAMing outside:
Science: Experiment with the density of liquids and objects.
Technology: Create energy by spinning a wheel with water.
Engineering: Design a boat to move independently.
Art: Wake up the right side of your brain by configuring and playing a water xylophone.
Math: Calculate how much water you use with the wastewater tracker.
We want to see the science activities you do! Share with us by emailing info@wetsciencecenter.org or tagging us on social media. If you live in Thurston County, you'll be entered into our weekly raffle! This week's winner will get a solar paper printing kit.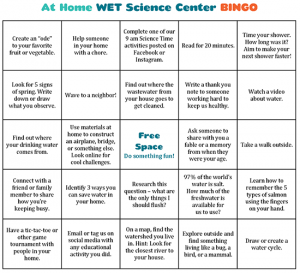 Join us for WET Science Center Bingo
The fun can continue while you're at home! Keep your curious scientist minds churning with our special bingo game. Find the bingo sheet and instructions at www.wetsciencecenter.org/bingo.
Tell us what you want!
How can we keep supporting you? What kind of activities and programs gets you really excited? Share your ideas with us at info@wetsciencecenter.org.