Submitted by FIT4MOM Olympia
Part of the nation's leading prenatal and postpartum fitness and wellness company — has decided to go virtual in the coming weeks, offering online fitness classes and kids playgroups to give their community a way to stay healthy and connected during the COVID-19 quarantine.

This is one way the company wants to help its moms stay healthy, both physically and mentally, during these challenging times which are putting stress on many families with young children.
One of the things that differentiates FIT4MOM from other fitness programs is its strong community, which traditionally offers weekly playgroups for moms and their kids, along with Moms' Night Out social gatherings for both members and non-members.
In these uncertain times, FIT4MOM feels it is especially critical to continue to provide community for moms; which is why the company has completely transformed its business from in-person classes and community to virtual classes and online events in a matter of days.
"In the past week, we have completely shifted our business focus," stated FIT4MOM Founder Lisa Druxman.  "My team and I spent the weekend filming workouts to share with our communities nationwide; we are teaching our franchise owners how to use Facebook Live and Zoom meetings to launch online classes. It has been so inspiring to come together and use the tools we have to keep our community strong and connected during these uncertain times."
FIT4MOM Olympia Owner, Kat Alves, also felt it was critical to find a way to connect the moms in her Village; while keeping all the moms in our community safe and following the recommendations for social distancing set forth by the CDC, WHO and federal government. We are currently offering online workout classes 7 times per week for all of its paying members and free playgroups 4 times per week for our village members. In addition, new moms are invited to join the community and get access to all of the following workouts and playgroups.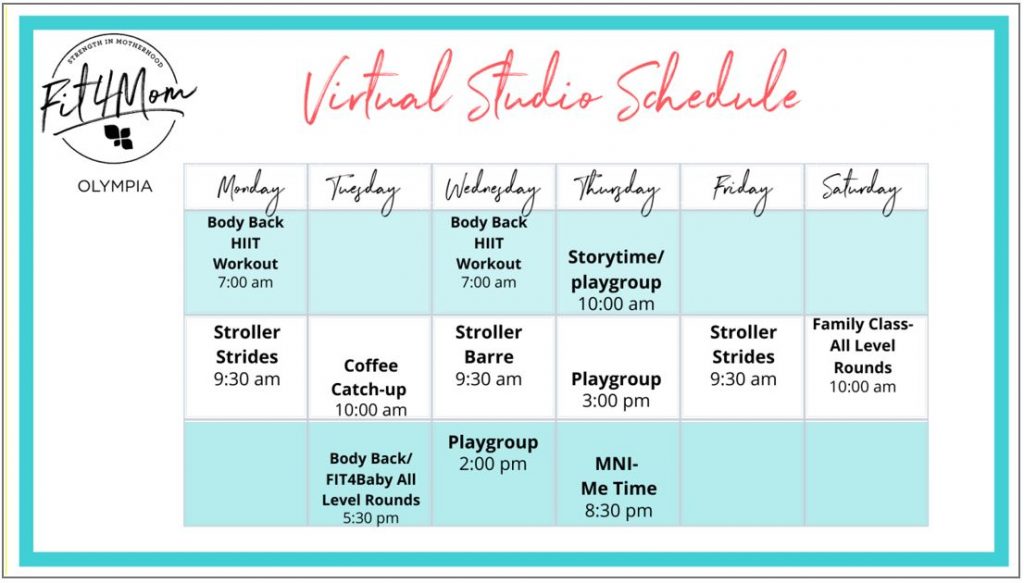 We are so happy to be offering something that helps moms stay connected and make this time of separation a little easier to handle. FIT4MOM Olympia has always been about 'Our Village'. Mamas supporting mamas.  We are more than just a workout.
FIT4MOM Lacey is also offering online classes.
For more information, visit www.olympia.fit4mom.com or email Kat Alves at olympia@fit4mom.com.
About FIT4MOM
FIT4MOM is the nation's largest wellness company designed for moms, by moms. Dedicated to the Strength In Motherhood, FIT4MOM provides programs, classes and support for mothers throughout every stage of motherhood.  In more than 2,600 locations nationwide, FIT4MOM is the nation's leading provider of prenatal and postpartum fitness programs. For more information visit www.fit4mom.com or follow us at Facebook.com/FIT4MOMHQ or @FIT4MOMHQ on Instagram.