Submitted by Providence Medical Group
Patients who suffer from AF and are at an increased risk for stroke are commonly treated with blood-thinning warfarin therapy to minimize the risk of stroke. However, despite its proven efficacy, long-term warfarin therapy carries a significant risk for bleeding complications.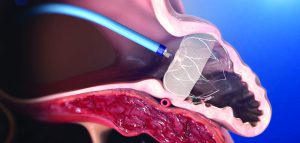 Cardiologists at Providence St. Peter Hospital now offer these patients Watchman, an implantable device that provides an additional option for patients who need protection from non-valvular AF-related stroke. This procedure, known as Left Atrial Appendage Closure (LAAC), may eliminate the need for long-term warfarin therapy for appropriately selected patients. Patients with AF are at a significantly greater risk of having a stroke due to migration of clots that typically form in the left atrial appendage (LAA). By securely closing off the LAA using a Watchman LAAC Device, the risk of stroke is reduced without the need for anticoagulation and the bleeding risk that comes with it.
"Anticoagulants and Watchman are both intended to do the same thing, which is lower the risk of stroke from blood clots," said Robert Wark, M.D., cardiologist, Providence Cardiology Associates. "Watchman is an alternative for people who cannot take anticoagulants. It is also an option for those who do not want to continuously take anticoagulants."
A life-changing alternative:
FDA Approved
Permanent implant
Average size is 27 millimeters
Light as a feather, small as a quarter
Average hospital stay is 24 hours
Typical procedure time takes less than 60 minutes
Providence Cardiology Associates
500 Lilly Road NE, Olympia
Memorial Medical Plaza
360-413-8525