Americans love HGTV. The network launched in 1994 and showcases home and garden renovations, improvements, and hands-on handyman programming for viewers of all ages and backgrounds. Whether you're a homeowner looking for inspiration or Saturday afternoon hobbyist, there's sure to be a show for you. And this spring, the City of Tenino is aiming to become the next big HGTV star, thanks to the hard work of Mayor Wayne Fournier and his community.
Architectural Digest reports that HGTV's lineup "chronicling the triumphs (and tragedies) of houses hunted, flipped, fixed and transformed is…primal—eminently watchable. In 2018, HGTV shows in prime time averaged 1.3 million viewers, fourth behind Fox News, ESPN, and MSNBC. What began as a how-to home improvement cable upstart is now, as it celebrates its 25th anniversary, an American institution, a multimedia empire that has upended how we talk about—and what we expect from—our homes. Granite countertops and stainless steel appliances are now as much a part of real-estate calculus as school districts and property taxes. Weekend warriors are now all-in on complex repair or build projects."
To capture some of the enduring excitement, Mayor Fournier and the City of Tenino are applying to participate in a large-scale new HGTV offering. "We are swinging for the fences here in Tenino on this one," says Fournier. "HGTV is launching a TV show were they will come in and do renovations throughout an entire small town and we feel that Tenino fits the bill for what they are looking for: a historic downtown, tons of character, small size and a classic main street."
In participation with Ben and Erin Napier of the popular show Home Town, this nationwide contest is looking for small towns to give something of a face-lift. Instead of a Home Town Takeover, it's time for a Washington State #StoneTownTakeover.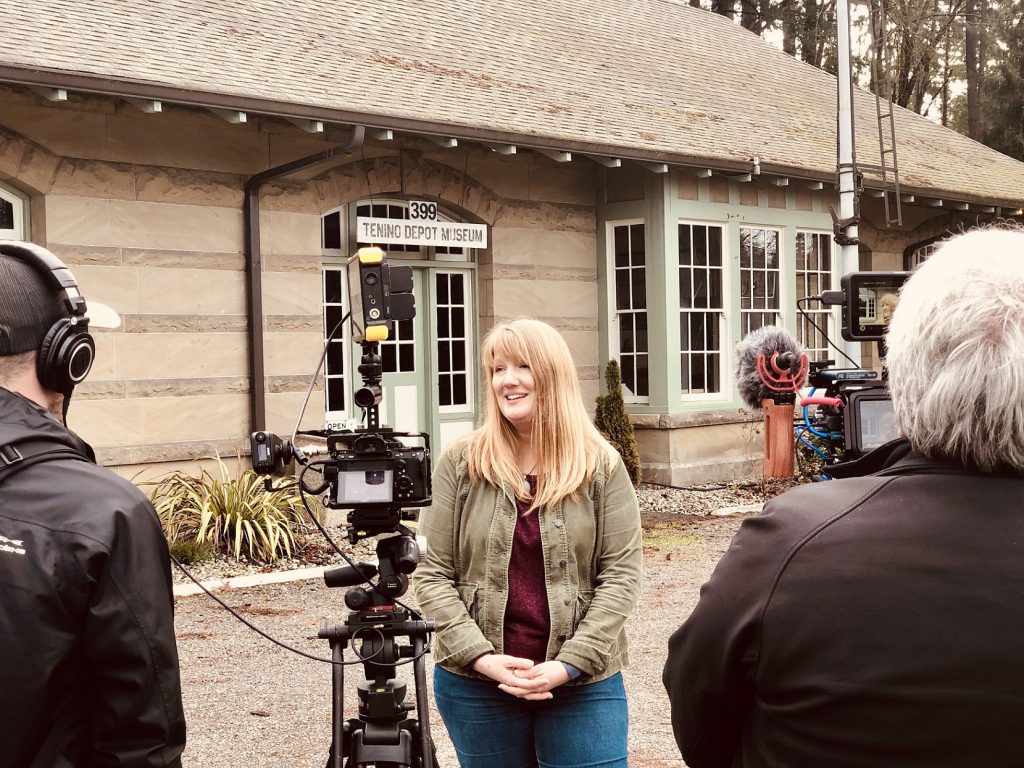 With a little luck, this Pacific Northwest gem hopes to reap national celebrity. "Tenino, with its rich history and big heart will be a great candidate for the show," believes Fournier. "We've done a lot of work over the last few years to spruce up and revitalize the City and historic downtown, that is constructed primarily from Tenino Sandstone cut from the surrounding hills, but we feel like we could use some outside help getting to the next level of design and with creating a cohesive look and feel that compliments the historic nature but also makes it pop."
In their effort to win over producers, the city has teamed with the Tenino Chamber of Commerce, the Visitor Convention Bureau, and the Thurston Economic Development Council in producing a video introduction which highlights all the region has to offer.
The video is being crafted by Olympia's Flowstate Creatives, an organization that considers itself "an independent creative agency of dreamers and doers, passionate folk who enjoy collaborating to affect change and grow brands." They've created informational projects for such regional institutions as the Port of Olympia, Summit Pacific Medical Foundation, and Thurston County Chamber of Commerce.
Flowstate CEO Nate Burgher was approached by Fournier and within a few short weeks cameras were rolling. The video was recorded on a Thursday and Friday, edited the following Monday, and submitted through the HGTV portal the very next day. "It's cool to see the whole town come together," Burgher says, especially as the project was funded—by local volunteers and excited residents—on the spot at one of their early exploratory get-togethers.
Thanks to HGTV—itself almost a buzzword of how-to craftiness—Americans are excited about DIY, subway tile backsplashes, square footage, reno timelines, stainless steel appliances, and celebrities like the Property Brothers or Chip and Joanna Gaines. Everyone has their own guilty pleasure show and we vicariously explore the country and the world through staples like House Hunters or House Hunters International. Fingers crossed that Tenino's exciting bid is accepted and the HGTV camera trucks roll into town. There's no better way to show off the historical small-town treasure that is Tenino, Washington. Follow the city's bid for stardom on their dedicated Facebook page for updates, details and more. Then drop by and explore downtown yourself. You're sure to feel the charm.
Watch the video here.