Laughing until you cry is the same as going to the gym, right? It's hard-hitting, gut-busting and way cheaper than a personal trainer. If you laugh hard enough, say at a comedy show, and your abs actually feel sore the next day – does it still count as fitness? (Asking for a friend here…) Regardless, you should be fitting this into your calendar, because the Washington Center for the Performing Arts in Olympia has a circuit of laughter this winter with gut-splitting comedy shows that are bound to improve your core strength.
The Good Humor Men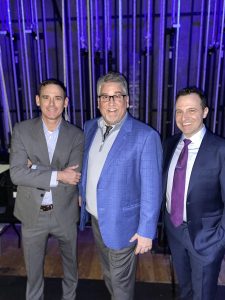 Hailed as "The rising stars of late night television," three of America's funniest comedians: Pat Hazell, Tony Deyo, and Andy Hendrickson join forces as "The Good Humor Men" on Friday, February 21 at 7:30 p.m. The show takes place on the Washington Center Main Stage and showcase's their original brand of humor in an evening packed with punch lines, clever writing and hair-trigger laughs.
The comedians have collectively, and regularly, appeared on "The Tonight Show," "The Late Show," and "The Daily Show," as well as "Gotham Comedy Live," NBC/Seeso's "The Guest List," and various different clubs and festivals throughout the world.
Good-humored Pat Hazell was declared one of the five funniest people in America by Showtime, and as an original writer for NBC's "Seinfeld," his 30 years of experience as a writer, producer, and director have made him a trusted name in American theater and comedy. He has a knack for genuinely funny Americana humor and salutes to nostalgia.
As a playwright, Hazell's first endeavor, "Bunk Bed Brothers," was optioned by Columbia Pictures, then gained the attention of the television industry and was filmed as the sitcom, "American Pie," for NBC.
Tony Deyo is a stand-up comedian known most notably for his sharp, quick material and near-perfect comedic timing almost certainly gained from his years as a professional symphony musician. In 2013, he made his late night television debut on "Conan."
Andy Hendrickson is no stranger to the late night comedy scene, as he's appeared many times on television and his clever and conversational style has been entertaining audiences for over 15 years.
In a "The Good Humor Men" online video recording of Hendrickson on "The Late Show with David Letterman," Hendrickson quips, "I'm trying to get in shape, I signed up for a half-marathon. I had to get the shoes! But these places are high-tech now. They put you on a treadmill, put a camera on you and feed data into a computer and recommend a shoe based on how you run.
I found out I run very expensively.
They want me to pay $180 for a shoe, I thought that was pretty steep. The guy goes, 'Well, all the marathoners use them,' and I said, 'Well, give me some for $90. I'm just doing half.'"
Thank goodness you'll be sitting down, because these stand-up comics will have you rolling around laughing. If you're looking to laugh off some winter doldrums – or are just ready for a work-out, don't miss this show. But be warned, your abs (or your cheek muscles) don't stand a chance.
Ladies of Laughter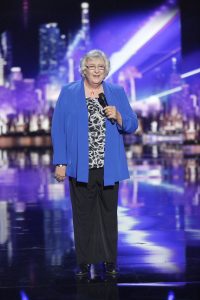 In an about-face – of gender that is – an all-female line-up will grace the Main Stage once again this year. The rollicking, "Ladies of Laughter" return Friday, March 6, for their second year at the Washington Center for the Performing Arts with an all-new line-up of comediennes.
The "Ladies of Laughter" program was born in 1998 in an un-airconditioned YWCA in Ridgewood, New Jersey and was soon sponsored by Bud Light (Anheuser-Busch) and ushered into comedy clubs, Atlantic City Casinos, and even Madison Square Garden. Nowadays, hilarious ladies perform in the U.S., Canada, England and Australia with a rolling cadre of the funniest women in comedy.
This year, Julia Scotti, Jocelyn Chia, and Karen Rontowski will grace the stage. Scotti recently appeared on "America's Got Talent" in a comedic-turned-heartwarming audition where she wowed, and then wooed the judges by revealing that she, for the first 28 years of her life, was better known as comedian Rick Scotti. Julia has the distinction of being the first transgender comedian to ever perform on network television and was named one of the Top Five Transgendered Comedians in the country by "The Advocate."
Jocelyn Chia is the "Ladies of Laughter" National "Newcomer" Winner, and it's easy to see why with her striking comedy blows the second she sets foot on the stage. "Hi everyone, I'm from Singapore. I came to America for college – in Indiana – because I suck at life choices."
But what doesn't suck is Chia's unique background as a lawyer-turned-comedienne, and having lived most of her life in Asia, draws from that experience and entertains audiences with hilarious anecdotes and humorous observations.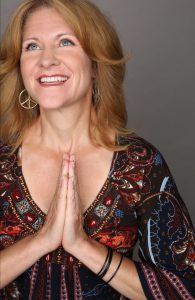 Karen Rontowski takes perhaps one of the most unique angles on comedy – her approach is anything but normal. It's paranormal. She blends her talents as a Paranormal Investigator, Tarot and Reiki Master into endearing, self-effacing comedy genius that is fast-paced, quirky and charmingly optimistic.
Not just an apparition of comedy, she's appeared on the "Late Show with David Letterman" and many more houses of hilarity, and has also created a hilariously odd web series and corresponding called "Paranormal Karen."
Her unique brand of comedy is now featured in a new line of greeting cards sold at Target called Frank and Funny.
Frank, funny, clever, symphonic, paranormal – even Seinfeldian – these six comedians and comediennes, (get it right), will have you laughing into the aisles. You'll be ushered back in to your seats (literally) with the notion that the next laugh is coming; and you'll want to take a seat for it. Unless, of course, you've already got the core strength from laughing last season.
The Washington Center for the Performing Arts
512 Washington Street SE, Olympia
360-753-8586
boxoffice@washingtoncenter.org
The Good Humor Men
February 21, 7:30 p.m.
Washington Center Main Stage
Ladies of Laughter
March 6, 7:30 p.m.
Washington Center Main Stage
Sponsored