Jimmy Belleville didn't experience too many losses during his high school days. The former Black Hills standout is arguably the best wrestler the area has ever produced.
Need some proof? Well, during his four years in a Wolves singlet, he amassed a career record of 166-8 and capped his senior year, when he went 42-2, by becoming just the fifth wrestler ever to win four consecutive state championships.
All he knew was success on the mat.
When Belleville was leaving the high school ranks, he graduated in 2009, the Capital High School wrestling program was in the beginning stages of what would prove to be a lengthy winless streak.
After being toothless for nearly a decade, however, the Cougars are now trending upward under Belleville, who took over as Capital's head coach last year and has helped bring excitement back within the program.
"We've made a huge jump this year from last year," said junior Joshua Halpin. "The attitude has completely changed since last year. People are starting to love the sport here. It's not like they have to do it, they want to be here,"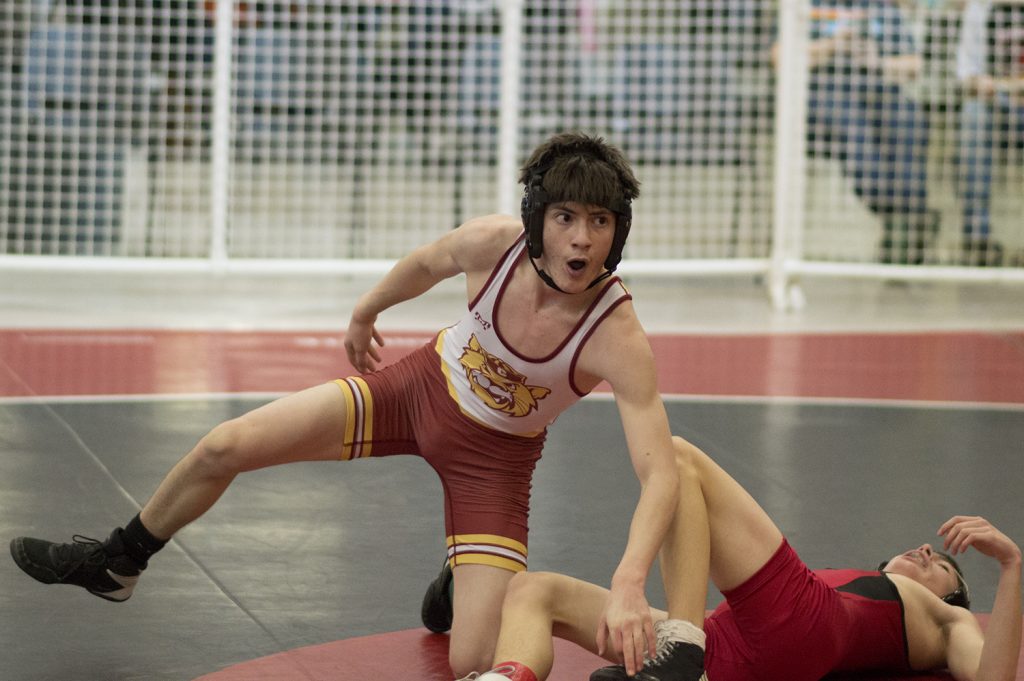 The Cougars opened the season by knocking off North Thurston, 48-33, in its 3A South Sound Conference opener. It marked the first time in 13 seasons Capital was victorious in a dual meet.
"It had been 2006 or something since the last time we won," Halpin said. "I didn't know it had been that long. Some of the guys on the team knew it and were celebrating. After the dual coach Belleville huddled is all together and told us how proud he was of us. Everything kind of kicked into gear for us as a team after that."
Turnout is at one of its highest in recent years as the Cougars have approximately 26 wrestlers on the team, many of which are underclassmen.
The team failed to post a second dual meet victory, but proved to be extremely competitive every time they stepped onto the mat. The Cougars dropped close dual meets to Shelton (42-38), Timberline (43-33), Central Kitsap (48-30) and Gig Harbor (43-42), leading one to expect the program will hardly have another 10-year window between victories.
"I have mentioned to the athletes it is possible for us to win duals and actually be a team who can compete," Belleville said. "The wrestlers were very excited and are improving every day. I believe we will be able to add some more wins to our resume in the future, whether it be this year or next year."
That seems more than likely considering Belleville's track record in the sport, something that is not lost on his wrestlers.
"When he talks, everyone in the mat room is listening. We definitely don't take what he says with a grain of salt," Halpin said. "He's really supportive. He's really tough on me, which helps me grow as a person. It's just been awesome having him as a coach. (What he accomplished) is a lot to live up to, but it just makes me care so much more about wrestling and about this team."
The Cougars roster features just four seniors this year in Mika Brownell, Tyghler Fiola, Cade Kaufman and Noah Neal. Belleville was quick to point out the impact the class has been on the program's improvement.
"Our seniors are focused on helping everyone holding themselves accountable and not cheating themselves during workouts," Belleville said. "The seniors as well as the entire team knows Capital wrestling is improving and we can compete with other teams."
Halpin is one of 11 juniors on the team, while Solid Heaston, who is ranked among the top 10 170-pound wrestlers in the 3A classification, leads a strong pool of sophomores.
"It really is the greatest individual sport in the world," Halpin said, "but it's also really awesome to grow as a team with all your brothers. Next year we're coming back even better than before."
Before that happens, the Cougars will look to close out 2020 on a high note. Capital will host the sub-regional tournament February 7-8 with the top placers advancing to the regional tournament at Rogers High School in Spokane on February 15.
The high school state championships will be February 21-22 at the Tacoma Dome.
"The one experience that stands out to me is watching the kids grow as wrestlers," Belleville said. "I've enjoyed watching each kid get a win. Having each wrestler get a win during the season is great to experience. Seeing the joy they have after a win after many loses makes me happy as a coach and tells me the coaching staff we have is doing their jobs correctly. For me watching kids get their one and only win or multiple wins is the best experience I have had and could ask for."