Submitted by City of Yelm
Commuters far and wide are all too familiar with the ramifications of closing either direction of Interstate 5, which presses four lanes of traffic from the Pacific Northwest's busiest roadway through a one lane hour glass, causing a gridlock in Yelm and the entire South Sound Region.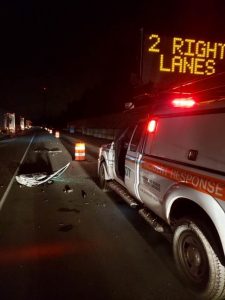 In the wake of more frequently occurring traffic related emergencies that force the Washington State Department of Transportation (WSDOT) to shut down I-5 for multiple hours, the City of Yelm is expanding efforts to revamp an emergency plan with regional partners, including Washington State Patrol (WSP), Thurston Regional Planning Council (TRPC), Joint Base Lewis-McChord (JBLM), and WSDOT to improve flow when the interstate is shut down.
These gridlocks not only cause frustration for commuters, but create an emergency as these gridlocks significantly delay emergency response times, which could mean the difference between life and death for someone suffering a heart attack, involved in a vehicle accident, or needing rescue from a burning building.
An emergency is now defined as a closure anticipated to last an hour or longer during hours when the roadways are most active. An hour long closure between 1-2 a.m. might not constitute an emergency, while a closure from 4-5 a.m. would activate the emergency response system. Closures anticipated to last four hours or longer will also involve JBLM opening the perimeter road to add an additional lane of north or southbound traffic.
The first hour after the closure is critical in alleviating the gridlock, which begins in Pierce County at the intersection of State Route (SR) 507 and SR 702, due to a lack of a roundabout. The traffic begins to backup up through Roy heading southbound and through Yelm heading northbound. Closures can happen at any time and Murphy's Law ensures the emergency will take place during the wee hours of the night, and to account for that, the City requested that WSDOT and the WSP establish multiple points of contact to ensure local governments, including Yelm are notified in a timely manner.
In an effort to stay ahead of the gridlock, the City also requested for the WSP to issue an alert to make semi-trucks aware of the closure and additional routes through Lewis County, including State Route (SR) 12 and SR 7 before they are funneled through SR 507 and SR 510. Collaboration with Thurston and Lewis County will help promote an additional route through Mossyrock, Elbe and Eatonville to help keep traffic moving north and southbound by promoting existing infrastructure. There is also an alternate route that utilizes SR 101, SR 103, and SR16 along the peninsula but the route is not frequently used and requires a toll at the Narrows Bridge or a ferry fare further north.
At the same time of the freight alert, WSDOT will manually extend the timing of traffic lights to favor northbound and southbound traffic.
"As soon as the City receives the notification of an emergency blocking a direction of I-5, we will issue an alert to everyone who has signed up through Thurston Community Alert to notify them of the closure and expected impact to traffic," said Police Chief Todd Stancil. "We will then establish an Incident Command Center at the Public Safety Building to increase efficiency and communication internally, which will help to keep the community informed as updates become available."
From there, the City of Yelm has established an integrated incident command structure that now includes Yelm Police, Public Works, and Southeast Thurston Fire Authority (Yelm Fire). The Incident commander will dispatch personnel to manually direct traffic at certain intersections, including Yelm Avenue and First Street, Vail Road and SR 507, and SR 702 and SR 507.
Along with manually directing traffic at strategic intersections, the City will place portable reader boards at various locations to warn commuters of the situation and encourage them to reconsider their travel plans before getting stuck in the gridlock. While the response will continue to improve during these emergencies, the best way to help mitigate the impacts is to stay home if you can during these events.
For travelers already past the point of no return, TRPC recently identified a list of alternative routes for every mile of freeway in Thurston County and will now collaborate with WSDOT to implement detour signage along those routes. One of the inherent problems with Google Maps is that the software will continue to point travelers on the main roads through Yelm but with proper signage, TRPC believes commuters will be more likely to utilize additional side roads, rather than relying solely on Google Maps.
Yelm is unique in that it has two state routes that run through the center of it and while the City is doing everything to keep traffic moving with the infrastructure that we do have, one of our most urgent priorities is to work with the state legislature to complete the Yelm Loop to help regional traffic bypass downtown. Construction to the second phase of the Yelm Loop will begin in 2022 and is scheduled to be complete in 2023, assuming the project remains unaffected by the passage of Initiative 976.
"No matter what we do, shutdowns on I-5 will always put enormous stress on State routes 507 and 510, along with the entire South Sound region" Stancil said. "These events are always going to be problematic for travelers but we now have a system in place to alert those who can avoid commuting and help reduce travel times for drivers who must commute through Yelm."