Paper maps may seem old-fashioned, but they're just as vital as ever. A reliable map, though notoriously difficult to re-fold, can outlast cell phone, GPS and flashlight batteries galore. And thanks to decades of use by the U.S. Army as a training tool, the city of Tenino maintains global cartographic recognition.
Scientists at the Smithsonian warn that "many of us have stopped paying attention to the world around us because we are too intent on following directions. Some observers worry that this represents a new and dangerous shift in our style of navigation…Is it possible that today's global positioning systems and smartphones are affecting our basic ability to navigate? Will technology alter forever how we get around? Most certainly—because it already has. Three thousand years ago, our ancestors began a long experiment in figuring out how they fit into the world, by inventing a bold new tool: the map."
Within the Army, maps are scrupulously taught for many training scenarios. Even the Army's youth ROTC (Reserve Officer Training Corps) teaches mapmaking because: "Being able to know where you are at all times is an important basic military skill. It is crucial for our future leaders to learn the fundamentals of map reading and land navigation in order for them to effectively lead their soldiers on missions and operations."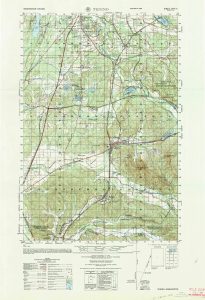 Tenino's geography makes it ideal for such use in training. "What folks might not know about Tenino is that for many years after settlers first moved to the area, Tenino was a much larger community than Olympia and, due to its location along what we map-readers know as 'natural lines of drift,' the city has been at the heart of what we now call 'interstate commerce' almost from its founding," says John Millard, the city's clerk and treasurer.
Millard explains that until approximately 2012, a 1:50,000 scale map of Tenino was part of the Army's comprehensive map training. Thanks to this, soldiers worldwide can claim a detailed knowledge of Tenino's hills, valleys, nooks and crannies. Himself a proud veteran, Millard now lives on a grid coordinate he studied as a new enlistee back in the 1980s.
Washington-born, California-raised veteran Stephanie Browning—today a fierce member of OlyClaw's iconic arm wrestling team—joined the Army in 1993. She recalls that: "This map was used in my basic training, which I completed at Fort McClellan, Alabama." Though she admits that "map reading was never a strong suit of mine…Between just the basic learning map (the Tenino map) and a map of the base at Fort McClellan, my best memory is of learning to read it with the red lens from my issued flashlight. I was just a kid!"
Vancouver, Washington, veteran Dan Mullen enlisted in 1985 and stayed until 1993. "The first time I used the map was for map reading classes during the Primary Leadership Course that I attended in Germany in 1991. I knew the town was real because I was stationed at Joint Base Lewis-McChord (then Fort Lewis) in the late 1980's and had to drive by Tenino to get there!"
And more than 50 years ago, veteran Glen Cronin of Los Angeles learned from it as well. "I joined the army initially in 1966," he recalls. "After that initial enlistment which ended in 1969, I was a civilian for 16 years. I re-enlisted in 1985 into the Army National Guard, where I stayed mostly part-time until I retired in 2008. I first encountered the Tenino map in basic training at Fort Ord, California. I was re-introduced at Fort Lewis during infantry AIT (advanced individual training). This was in 1966. Oddly enough, I saw Tenino again after my 1985 re-enlistment when I attended Signal Corps AIT at Fort Gordon, Georgia. In all, I believe that I used the Tenino map at least a dozen times in various courses during my military career."
"As I recall, when I first saw Tenino on a map I did not know if it was a real place or a notional map name made for the U.S military," Cronin admits. "When I saw the same map at Fort Lewis, I was inclined to the second theory, until I discovered that there was a real Tenino from a gas station road map purchased for a day trip. If I had been stationed somewhere other than Fort Lewis for my AIT, who knows how long I would have been in the dark about the real Tenino?"
No-one may know exactly when and how Tenino was chosen by the Army. But thanks to their rigorous training program, soldiers past, present and future will continue to discover this nearby gem. And who knows? Maybe, like John Millard, a few will even come to call it home thanks to what he says is its abundant "turn of the (20th) century charm."
Read more about Tenino's nearly 150 year long history as compiled by the city's historian or find plenty of upcoming events, activities and local news for your next visit. With a name meaning "meeting place," it could soon become your favorite place to explore, enjoy, and settle down.