Game shows, whether on the radio or television, are a grab-bag of trivia, puzzles, games and prizes. The first ones aired in the late 1930s and quickly became a weekly addiction for families around the world. On February 12, head to Shelton's Little Creek Casino Resort to celebrate America's Greatest Game Shows hosted by the one and only Erik Estrada.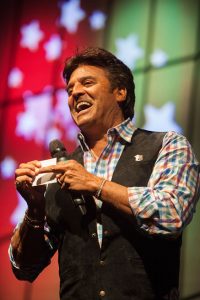 Early versions started as quiz shows based on obscure knowledge and random information. But in the 1960s, panel games, usually with celebrities galore, took the lead. For the last several decades, there are game shows for every taste and nearly everyone has their favorite. The Price is Right began in 1956, Jeopardy started in 1964, and Wheel of Fortune kicked off in 1975. They've made household names of Vanna White, Pat Sajak, Bob Barker and Alex Trebek. Even IBM's Watson the computer took a turn on the winner's podium.
Erik Estrada, however, also needs no introduction. He's appeared on both stage and screen—big screen and small—since 1970. When not acting, he's partnered with many charities that combat internet predators, poverty, and violence, as well as organizations that benefit the families of fallen police officers.
But he's not the only showbiz great on the cast. The backstage producer is none other than Manny Davis, the youngest son of iconic Sammy Davis Jr. An actor, author, musician, dancer, and administrator of his father's estate, Davis makes delightful cameos throughout the show.
The show's Executive Producer, Jimmy Richards, founded the Game Show Hall of Fame in Las Vegas. He has also partnered with Ray Charles, worked hard to keep the White Sox in Chicago, and is active with the Illinois Special Olympics. Game shows are his true passion and over a long career he's worked with Chuck Woolery, Jamie Farr, Bob Eubanks and many others from the industry.
America's Greatest Game Shows hits town in February to play slightly twisted versions of well-known games. Tickets to the show will be awarded all January long via drawings, promotions and games at Little Creek Casino Resort. "All promotional winners for the month will win two tickets to the live event," says Jennifer Brines, promotions coordinator for Resort. "You can also win tickets for hotel stays and jackpot wins. The event is hosted by Erik Estrada and he plays some of the classic game shows with the live audience for a chance to win cash prizes and tickets to the live event.
There are four weekly promotions to win tickets.
$20K Slot Tournament Mondays
At 7:00 p.m. every Monday in January stop by for a chance at your share of the $20,000 prize. All participants will receive two tickets to America's Greatest Game Shows. It's free to play so bring your Players Club card or sign up online or on-site at the Players Club desk.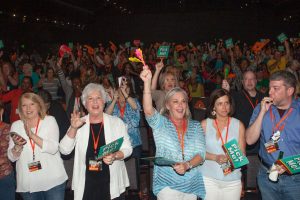 America's Greatest Gameshows Hot Seats
Wednesdays and Fridays from 12:00 p.m. until 10:00 p.m. players can win $50 cash plus two tickets to the America's Greatest Game Shows.
America's Greatest Gameshows Cash Giveaways
Thursdays from 1:00 p.m. to 9:00 p.m. play to win up to $1,000 cash and two tickets to the show every hour. You can earn one free entry each week as well as additional entries for gameplay on Thursdays.
Social Media Mondays
Participate in the weekly contest by liking, posting or commenting in response to the contest on one of Little Creek Casino Resort's social media sites. You could win a share of $250, resort prizes, and tickets to America's Greatest Game Show. Winners are announced each Monday. Find them on Instagram, Twitter, and Facebook.
When you visit, turn the America's Greatest Game Shows into a getaway staycation. Check out the many resort packages, which feature accommodation, food and beverage credit, sessions on the golf course or in the spa, or combinations of everything. Or bring your home with you and stay at the Little Creek RV Park for the afternoon, night or long weekend. Simply call 800-667-7711 to find the best option and book your stay.
Whether you prefer games of chance, skill or knowledge, there's always a show to meet your taste. And thanks to America's Greatest Game Shows arrival at Little Creek Casino Resort, you can be in the front row and maybe even win a chance at cash and prizes. That just might make your 2020 the best year ever.
Little Creek Casino Resort
91 WA-108, Shelton
Sponsored