Autumn's splendor is in full swing at the Olympia Farmers Market. At Piece by Piece Farm, one of the produce vendors, you can purchase vibrant carrots, cabbages and potatoes along with other root vegetables ready for soul-warming recipes. Lush greens and various brassica such as broccoli, turnips, and kale are on hand. Many of these farm fresh vegetables can be stored for use throughout the dark days of winter.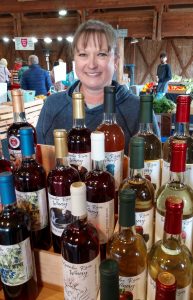 Add to your bounty with locally grown meats from Chehalis Valley Farm. Owner/operator John Hagara raises chickens in the pasture and pigs in the forest of his Elma farm. Utmost care is used in the care and treatment of these animals, including high quality non-GMO feeds, the absence of hormones and antibiotics and on-site processing of the chickens in the WSDA inspected facility. I can literally taste the difference of meat raised like this. An added benefit is being able to utilize all leftover skin, bones and bits to make a rich, nutritional broth.
Complete your meals with a splash or glass of wine from two wineries, Wynoochee River and Burnt Ridge. "We always have new flavors," reminded Denise Schupback, Wynoochee River Winery owner. Look for seasonal offerings such as blackberry and rhubarb and a cranberry blend just in time for the holidays.
Roasting Vegetables
Roasted vegetables have a notably sweet taste, which might incline people to relish them more frequently. It takes a few minutes to do all the chopping, but your pans of roasted vegetables you will provide a cornucopia of choices for your week's upcoming meals. Cut your vegetables into medium, bite-sized pieces. Put into a bowl, drizzle with olive oil and stir them up. Put the root vegetables (beets, carrots, potatoes) in one pan and the cruciferous ones (cauliflower, broccoli, cabbage) and onions and garlic on another pan. They take different baking times. The denser roots vegetables need around 40 minutes and the others only 25 or so minutes. Roast at 400 degrees.
Soon enough you can admire your pans of remarkable roasted vegetables, cozy up to a delicious dinner and maintain bragging rights that you ate a rainbow of healthy colors.
Preparing your vegetables is an investment of time that pays off later when you are tired and hungry. For example, top a bowl of pasta or grains with your veggie mix. Broil a piece of fish or meat and have a side dish of your veggies. Add some broth for a hearty soup or stew. Put cooked sweet potato to your morning smoothie for a thicker shake. Scramble eggs with your vegetable assortment.
The Olympia Farmers Market has shifted to into the late fall season schedule, which means it is open only on Saturdays and Sundays, but the time remains the same – 10:00 a.m. to 3:00 p.m.  Entertainment and events are on-going. There is always information at the Olympia Farmers Market website.
The Olympia Farmers Market
700 Capitol Way N, Olympia
360-352-9096
Sponsored