In the 1970s, if you asked longtime Olympia resident Andy Crooks what the best restaurant in town was, he would tell you that it was the Davis' Brown Derby (1001 Capitol Way S). My grandfather, who worked for the U. S. Forest Service, would walk there for a cup of coffee and an occasional piece of pie during his coffee breaks. Founded by George E. Davis in 1935, the restaurant was a local landmark until its 1980 closure and is now home to Poppet Kid's Resale Boutique.
George E. Davis was born in 1901 in Missouri and moved to Centralia in 1919. In 1923, he opened the Davis Filling Station restaurant at 703 Tower Avenue in Centralia. It was a humble start, Davis recalled decades later to the Seattle Times. With just a 5-cup percolator, 10-inch skillet, pies and cakes his mother baked on a wood stove and $20 in his pocket, Davis bought two pounds of hamburger and made them into patties. When they sold, he went to the butcher shop for more meat.
After opening the restaurant, George Davis married Beulah. They had one son, George C. Davis. The couple sold the Filling Station in 1932. The restaurant continued under different management for many years.
The Davises decided to try their luck in Olympia. Construction began in November 1935 and their new lunch counter restaurant, the Davis' Brown Derby, opened for business on Saturday, January 11, 1936.  It was very small, with a lunch counter and tables. The Brown Derby likely took its name from the Brown Derby chain of restaurants in Los Angeles, long since closed.
The Davis' Brown Derby catered to nearby state employees, downtown workers and travelers. It was initially open from 10:00 a.m. to 1:00 a.m., but soon shortened its evening hours. The family lived next door to their restaurant.
On February 4, 1942, the Brown Derby was listed among local restaurants in the Daily Olympian as welcoming soldiers visiting the city's new USO Club. The restaurant soon closed when George Davis joined the military. Once he returned, the restaurant re-opened in early 1946.
In 1950, George E. Davis married Doris Martha Vogel in Olympia (he had divorced Beulah). Ironically, Martha Davis had worked for the U. S. Forestry service in Oregon and Washington, a similar career to Andy Crooks.
George and Martha Davis became local legends, known for their service and generosity. George was called Olympia's "pie plate philosopher," in an interview with the Seattle Times on May 15, 1960. "I enjoy seeing people eat good food," he told the newspaper. "I've operated under the philosophy that I never went into this business just to make money, but that if I gave quality food and good service, the money would make itself. It has. And I've never worried about competition. Matter of fact, I've never had any."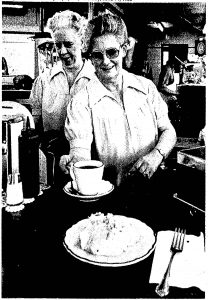 Davis pulled 14 hours days and his wife Martha rose at 4:00 a.m. to start baking. In an April 4, 1978, interview with the Daily Olympian, she described how she baked dozens of loaves of bread, pastries, cakes and pies each day, including special orders. Her personal favorite pies were blackberry and lemon meringue (her secret to a huge meringue layer, according to a friend of mine, was 12 egg whites per pie). Martha's pie repertoire also included apple, banana cream, chocolate, coconut, maple nut, peanut butter and pecan. She also made white cakes with applesauce, banana or chocolate fillings.
George E. Davis retired in 1960. His son George C. died in 1969, and his widow Agnes took over operation of the restaurant. George E. Davis passed away in 1971. This began a long legal battle. In the end Martha Davis, widow of George E., was awarded the restaurant while Agnes Davis inherited a hotel she and her husband had built at 9th Avenue and Capitol Way.
Martha Davis had the Davis' Brown Derby remodeled. It reopened in August 1972 under the management of Jim and Sandy Brown. Martha later took over management with friend Rayma Sullivan, a retired teacher and librarian. Davis baked and Sullivan made soups and coffee.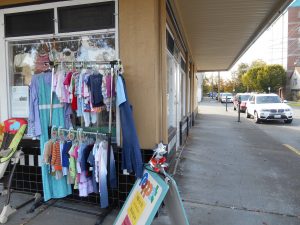 The business partners retired, closing the restaurant on June 24, 1980. They had a rush of special order pies before closing. The Fancy Shoppe, a gift store, opened in the building. The iconic Brown Derby sign has been preserved onsite and was even listed as one of the "Seven Wonders" of the Olympia-Tumwater-Lacey area by the Olympian in March 1994. Brown Derby Antiques operated in the location until consolidating with its Tumwater location (4800 Capitol Boulevard). The Brown Derby is now home to Poppet Kids' Resale Boutique. The owners are happy to talk Brown Derby history.
Martha Davis passed away in 1996 and Rayma Sullivan in 2000. Still fond memories survive of Davis' Brown Derby, once a place appreciated by both top government officials and ordinary people for its good food. Perhaps higher praise was what my uncle Marc Crooks had to say about how my grandfather felt about the restaurant: "It was a place he felt welcome."