When former Olympia Mayor Stephen H. Buxbaum's Indigenous Peoples' Day Proclamation was presented in the summer of 2015, the sun was shining on Heritage Park. Folding chairs fanned out from the walkway and a group of enthusiastic native and non-native supporters were in attendance. Interim Mayor, Nathaniel Jones, read the proclamation as the crowd listened intently until the end – when cheers and applause broke the silence.

Four years later, the whereas and henceforths have gone silent, replaced with quiet voices as the smell of burned sage and sea air intermingle. Hesitant guests approach Percival Landing's Harbor House, a new location and hasty organization put together in uncertain times.
"This year we waited for a while to see what would happen," says organizer, Noel Parrish. "We went to the City Council last week and put forward a letter and request for support and partnership but none of the community organizers were able to make that meeting and, well, it just wasn't prioritized."
Noel Parrish, Brian Frisinia, aka Raven Redbone, and Cheryl Wapes'a-Mayes, along with a handful of others, have put in many hours the past few years in organizing The Indigenous Peoples' Day events. "We hope in the future Indigenous Peoples' Day will be planned earlier," says Noel "and in collaboration with inter-governmental agencies and the local tribes."
Ways of the Ancient: Weavings of our Future
The theme of this year's Indigenous Peoples' Day was "Ways of the Ancient, Weavings of our Future." An elder speaker, Nancy Shippentower, had her three granddaughters in the audience. She brought them along, she said, "to learn some of the history and see what I do in my life." Nancy's parents were deeply involved in the Fish Wars that took place on the Nisqually River in the mid-60s. Her memories of those times and reflections of her Grandmother and parents underscored the day's theme. "It's the ancestral weavings and our future," explains Noel, "and how that is relative to basket weaving."
Something Different in Today's World
"I picked up weaving because I have a daughter," says Chehalis basket weaver Walter Lewis. "I really wanted to put something in her life other than what society had to offer in today's world." Surrounded by his work, Walter is humble and soft spoken. He has learned from over a dozen teachers throughout his lifetime. "I've only gotten to sit down with them for a very minimal time, enough to learn from all my teachers," he says. "Bruce Miller was pretty influential and he showed me a lot of things. He actually took apart some of his old work to show me how it was made." Walter nods his head at the memory. "A Skokomish tribal member, he was one of the spiritual and hereditary heroes of the Skykomish Nations."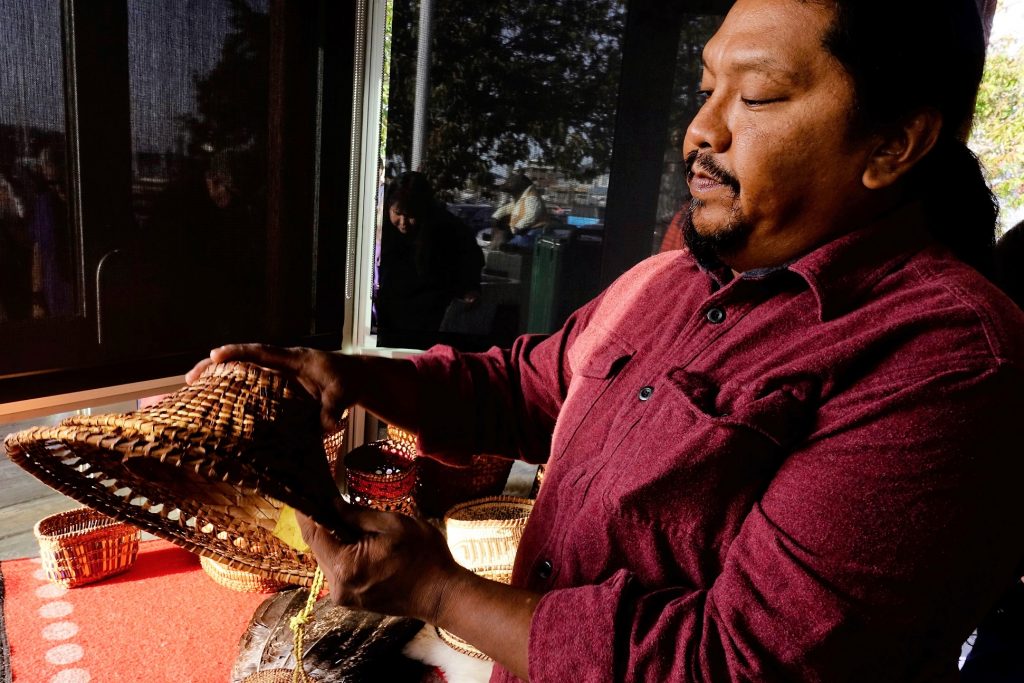 Many Tribes to Weave Together
Selected elders came as guest speakers as well as tribal members working to encourage ancestral knowledge and cultural sovereignty. Some of the speakers included Rhonda Grantham of the Cowlitz Nation who also provided warming tea and tinctures from Canoe Journey Herbalist, Colleen Jollie of the Chippewa Nation promoting Native Voting Rights, Carolyn DeFord of the Puyallup Nation spoke on the Missing and Murdered Indigenous Women epidemic and Jeremiah George, of the Squaxin Island Tribe opened the event with a welcome and prayer.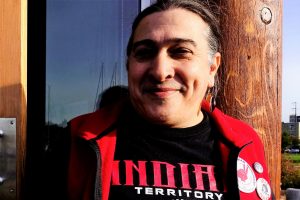 This area of Budd Bay has a long history for the Squaxin Tribe. Then known as the Steh Chass, tribal members lived all along the inlet until the arrival of settlers. Jerimiah is the assistant director of the Squaxin Island Museum and is well-versed in local knowledge. He welcomed all guests, Coastal, Plains and Prairie, native and non-native, to the fourth Indigenous Peoples' Day.
Respectful Support from Non-natives
"Olympia is a hub and sometimes the non-tribal community gets mixed up as to what indigenous people are tied to," explains Jeremiah. "I think people don't want to offend and so we are trying to improve how we educate our surrounding communities. I know there are different organizers in the Olympia area so just being as proactive as possible to try to work directly with indigenous people. Making sure that it is in the best interest of the tribes."
Local non-native supporter, Wendy Eklund, agrees. "A key to being an ally is listening and learning and following their lead," she says. Wendy is involved with the group, The Learning Right Relations, which hosts native speaker forums, documentary screenings and hands on volunteering. "One project, Since Time Immemorial, is working to have schools incorporate the program," says Wendy, "it's an excellent opportunity created by the Office of Native Education."
Roots Run Deep
Jerimiah recalls school history lessons as being a "bombardment of dates and details for the test." But his view has changed as the culture has changed. "The modern question now, and it is something positive, is can the broader non-tribal community be more likely to find their ancestor's experience in the newer curriculum?" Jeremiah pauses thoughtfully, "People might be able to identify pieces of their history in there."
As a grass roots event, this year's Indigenous Peoples' Day was a success. "I feel it is so important to have the unity of so many tribes together," Noel shared. "Having us welcomed in unity, love and honor and respect for each other. Even though we are still working things out," she adds with a laugh. "It is still really good that we do these things and come together as one and share our culture."
Indigenous Peoples' Day happens annually the second Monday of October.
The organizers thank the Washington Indian Civils Rights Commission, the Olympia Food Co Op and Healing Arrows Indigenous Social Justice and Wellness for sponsoring this year's event.