Stacey Waterman-Hoey had just returned home to Olympia from a trip to the Port Townsend Fiddle Tunes Festival inspired to harness the energy around the revival of American folk traditions to fight climate change.
"I was blown away because over the course of the week there were 10,000 people that came up there to learn traditional American fiddle tunes," said Waterman-Hoey.
It was 2012 and as one of Washington's top experts on climate change — she'd spent nearly two decades trying to influence the public's understanding of it through data. But it didn't seem to be working.
"I discovered that all the data and information in the world is not enough to change people's minds," said Waterman-Hoey.
She returned to Olympia, quit her job and went about founding the state capital's first folk school.
Folk schools have roots in 19th century Denmark where they were developed to inspire cultural pride and to help the country transition to democracy. They began springing up in the United States in the early 1900s as American communities were struggling to bring together economic, political and educational experiences to empower citizens.
Waterman-Hoey says, they are even more relevant today, in the face of the growing climate crisis.
"The school is really directly linked to my concerns about climate change and the disruption of the global economy," said Waterman-Hoey.
She called the school Arbutus, after the Latin name for the Madrone tree of Western Washington.
With no experience running a nonprofit, The Evergreen State College alumna Waterman-Hoey, '94, credits her interdisciplinary education with her ability to work across communities, crafts, and disciplines.
Creativity and Hope
When you walk through its doors, the scent of wood and coffee along with a collection of antique wooden spinning wheels, greet you. A giant swirling cedar tree of life sculpture donated by an artist comes into view.
The school – beside Olympia Coffee Roasters in downtown Olympia – has core programs in woodworking, ceramics, metal arts, fiber arts, stone carving and in the folk music that inspired her to start it.
"We're really trying to connect the dots here between local resources and making things that are useful and beautiful," said Waterman-Hoey.
Sustainability
Most of the wood used to build things at the school is harvested sustainably from local forests in Thurston and Grays Harbor counties. The wool for spinning and weaving classes is from local sheep.
"I find craft a joyful way to move forward in an uncertain world," explained Waterman-Hoey. "These activities have served our social needs, our economic needs and our environmental needs for millennia. It's a very rewarding way to live your life – it's creative, its independent and it's one or two generations from being lost."
Connectedness
Besides preserving tradition, Arbutus connects rural communities with raw materials to artists and craftspeople. For example, carvers use local Tenino sandstone and Arbutus partners with a stone-working studio there, bringing students to learn from local masters.
It also connects Waterman-Hoey's alma mater, Evergreen, to the greater community.
Twenty-four-year-old Francis Fong, '19, runs the woodworking shop as an artist-in-residence.
"I think in woodworking in general there is a lack of interdisciplinary thinking, whether it be wood sourcing or recognizing cultural influences," said Fong.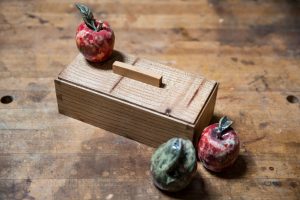 Now, he's thinking about how the wood finishes he applies affect the environment. Fong says that being an artist-in-residence at Arbutus is helping him to make the leap from college to work.
"The shop space at Arbutus … is going to give me the skills I need to build my own shop one day."
Waterman-Hoey says craftspeople like Fong are very intentional about creating objects to counter the mass consumerism that fuels the climate crisis. But she adds that everyone comes to Arbutus with their own goals.
"The thing about craft is that you don't have to care about climate change, in fact most people don't – they don't come in here because the world is falling apart and they need to know how to make their own dishes. They come in here because it's fun."
Sponsored