The 1938 vote, taking place as the Great Depression was nearing its close, marked the election of the first female Thurston County Treasurer. Beginning as an employee in the County Assessor's office 20 years earlier, Ruby Swan Young had worked her way up through the ranks, not letting previous electoral defeats deter her.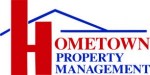 Born December 26, 1885, in Olympia, Ruby Auverghn Swan was the eldest daughter of Thomas and Minnie McLane Swan. The family, including siblings William, Martha Pearl and Emery J., lived in Olympia in a two-story house (which burned down in 1907 after the family moved) on Jefferson Street between 11th and 12th streets. Swan's parents divorced while she was still a child and she and her siblings moved with their mother to the McLane area in Thurston County while her father took up farming near Ellensburg. Her sister Martha died in 1901 at age 14.
Swan graduated from Olympia High School in 1905, announcing in the local newspaper that she planned on becoming a teacher by taking the teachers examination (most teachers in that era lacked formal training). Census records indicate she never attended college, but it is unclear if she became a teacher or not.
In 1908, Swan was hired as a clerk in the Thurston County Assessor's office, beginning her long career with the County government. In 1909, she was an assistant to Chief Deputy Assessor Frank Donnelly. By 1915, she was appointed a deputy assessor herself, serving through the administrations of four county assessors: S. Y. Bennett, J. C. Sams, H. N. Sticklin and George Gaston.
On December 25, 1911, Swan married Edward "Ted" Allen Young (1879-1926) at her mother's home at Mud Bay. Born in Olympia, Young was a ship engineer who had served on several steamships throughout the Puget Sound, including the Multnomah, Greyhound, Fairhaven, Harvester and Gleaner. He ended his career as secretary of the Capital City Tug Company, a tugboat company he ran with his brother Captain Volney C. F. Young and H. S. Ikerd. Ruby and Ted Young had no children.
Unlike many married women at the time, Young continued working, after a brief honeymoon to Eastern Washington. She started to become politically active and in 1912 led efforts to organize Republican women in Thurston County. Her political alliances shifted and in 1914 she unsuccessfully ran for office as Thurston County Clerk on the non-partisan ticket, sponsored by the Non-Partisan League. Young lost to Republican I. N. Holmes. Two years later, she lost the Democratic primary for county treasurer. Undeterred, Young ran again as a non-partisan candidate for county clerk in 1917, losing again to Holmes.
During this time, Young continued to work as a deputy county assessor. In 1923, she was acting secretary of the Thurston County Board of Equalization.  On February 6, 1926, her husband Ted died at age 46. Now a widow, Young continued working and in 1927, newly elected County Treasurer W. E. Britt appointed her Chief Deputy Treasurer. She would hold this position until 1935.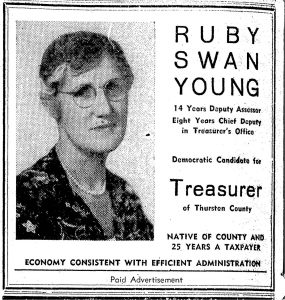 The fallout from the Great Depression rocked County government, as the public was dissatisfied by how the Republican-dominated body had handled the crisis. In the 1935 elections, Democrats ousted all but two Republicans. One of these Republicans was County Treasurer J. P. Johnston. In 1938, Johnston was coming to the end of his two-term limit and was planning to retire to play golf and grow cauliflower on his farm.
Young saw her boss' retirement as opportunity and ran as a Democratic candidate with the slogan "The one experienced, qualified candidate" with a platform of "efficiency and courtesy to the public." She defeated Republican candidate Lindley Morf in 1938 and took office in 1939. She won reelection against Republican H. C. Lucas in 1942.
Her tenure as County Treasurer saw the end of the Great Depression and World War II, but was rather uneventful. The County Treasurer is the County's bookkeeper. As Treasurer, Young was in charge of collecting taxes, accounting the County's revenue, distributing County funds as well as managing the County's cash, debts and investments.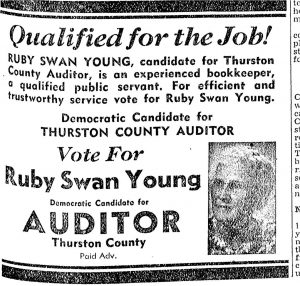 Nearing her eight year term limit as Treasurer, Young was not ready to leave County office. She ran as the Democratic candidate for County Assessor in 1946 and 1950, losing twice to Republican Ellis C. Ayer. She left office as Treasurer in early 1947.
Young was no longer in office, but remained active in the community. Throughout her long life, she was a member of many clubs: Business and Professional Women's Club, Daughters of the Pioneers of Washington, First Christian Church, Golden Age Club, Soroptimist Club, Sunset Club and the First United Methodist Church. She served as president of the McLane Club, a group of McLane school teachers and alumni, in 1946. Her husband was a navy veteran so she was also active in the auxiliary of the Charles M. Gridley Camp of Spanish American War Veterans.
Ruby Swan Young passed away on March 16, 1972, in Olympia and is buried in Tumwater's Odd Fellows Memorial Park alongside her husband. Her long career in Thurston County politics showed how women were able to enter political office through tenacity and determination.