Winning a fourth consecutive Class 1B/2B state boys cross country championship is still very much a goal for Northwest Christian seniors Noah Phillips and Garrett McSheffrey, but it's not their only goal.
"If you're a team and the norm has been making it to state, the next goal for the team is to win state," Phillips said. "If you're a team that has won state, you want to win it again. I think we're in a different place because we've done that."
The Navigators sure have. Again and again and again.
Northwest Christian enters the season as the five-time defending state champion, having won a pair of crowns prior to Phillips and McSheffrey even arriving on campus. Last year, the Navigators had one of their more dominating performances at the state meet, placing three runners in the top eight with Phillips claiming second, McSheffrey picking up fifth and fellow senior Cameron Nielsen finishing eighth.
All are back this year.
"It's not a huge goal of theirs to win state again," Northwest Christian coach Mike Michael said. "They have bigger goals than that this year. They want to run at the Nike Nationals. They want to have the fastest top five averages ever at Northwest Christian and the lowest score at state ever at Northwest Christian. And that says a lot because there's been some super solid teams here."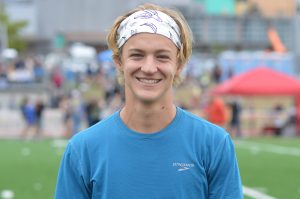 Of the seven total state championships the Navigators have won since 2008, the 2015 squad, headed by state champion Luke Schilter, had three runners finish in the top seven and posted a final combined team score of 47 – the lowest of any Northwest Christian team.
Both the 2008 and 2014 teams won state titles with a point total of 52, while the 2009 title team had the first- and second-place finishers in winner Lucas Graham and Justin Holden.
"We're competing against history," Phillips said. "You definitely want to leave a mark at this school, and this may sound weird, but you don't want to be washed in with the other guys."
Even if the other guys were state title teams.
"So, when we're at a meet competing, we're thinking about what these guys did seven years ago and we're comparing ourselves and our times to where they were are at during that point of their season," Phillip said. "Coach Mike talked to us about having a chance (to be the best team Northwest Christian has had), but we had actually talked about it amongst ourselves before he even brought it up."
Graduated from the classification is Adna's Austen Apperson, who had won the individual state title the past two seasons, and Tekoa-Rosalia's Gavin Merritt, last season's third-place finisher, which potentially opens the doors for Phillips and McSheffrey to duplicate the feat Graham and Holden accomplished a decade ago by running 1-2.
"He's pushed me so much," McSheffrey said about Phillips. "I would not be the runner I am today without him and Cameron pushing me. That's the team culture we have here. We're always encouraging each other and lifting each other up no matter how good of a runner you are."
One huge advantage the Navigator seniors have that no other school can claim is the fact that no matter the event, Phillips, McSheffrey and Nielsen will always be running against two of the state's top runners in the classification.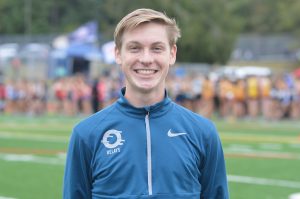 "We've been very fortunate that all of our great runners had great guys to run with," Michael said. "There's always someone there to push you. It helps a lot to have somewhere training with you who is the same caliber of runner you are."
Early returns point to Northwest Christian being significantly better than they were in 2018. The team competed at the Fort Steilacoom Invitational on September 21 with Phillips covering the 5,000-meter distance in 15 minutes, 50.3 seconds. His time was a near 50-second improvement over his performance at the event last year and would have been the top time at last season's state meet by 6 seconds.
He was not alone as McSheffrey trimmed 1:24 off his 2018 mark and Nielsen was almost a minute faster. All three of their times were better than what they did at state as juniors.
"Honestly, this year, if they're healthy and don't get sick or anything, they should be the strongest team we've ever had here," Michael said. "We should put four in the top seven at state."
That fourth member is senior Ryland McCullough, a transfer from Arizona who has fit in seamlessly with his new teammates as he also been putting up strong times during the early portion of the season.
"With the addition of Rylan and some really good underclassmen, I think we're very blessed to have the talent we have this year," Phillips said. "You never want to take anything for granted, but if we all do our job, at season's end we should have a good chance of being the best the program has seen."