The man standing at the counter in Lullabies Gift Shop wanted a baby blanket. Not just any baby blanket, but the one on the wall that talked about "On the Night You Were Born" by author Nancy Tillman and declared in prominent lettering, "You are loved." As he paid for his items, he shared what the blanket meant for his family.
"His wife had just passed away in one of our patient rooms in the tower, and his daughter was giving birth at that moment in our family birth center," says Providence St. Peter Hospital Gift Shops Manager Karen Burton. "He wanted to find just the right gift and the blanket was a way for his wife to wrap her arms around the baby. We call those sacred moments."
Such moments occur frequently in St. Peter's three gift shops.  Providence Corner, the Book Nook, and Lullabies all provide a refuge for both patients and those who come to visit them. Burton oversees the 40 volunteers who run the shops, and currently there are openings for several shifts, especially on weekends. "If you like giving back to the community, have basic computer skills and enjoy people, contact me," says Burton.
All proceeds from the shops go into a grant fund to purchase medical equipment that for the hospital from a capital needs priority list.  Different departments submit proposals and a committee of gift shop volunteers reviews the applications and decides how to allocate the funds. In 2018, the Volunteer Gift Shop Grant Fund gave Surgical Services $450,000 to purchase a variety of equipment for different types of surgeries. "The gift shops are a really important part of the hospital because we give back in the form of this grant money," says Burton.  This means a great deal to our volunteers.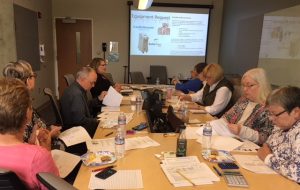 Located on the main floor, Providence Corner provides essential items for both patients and visitors, such as kits to assist with personal hygiene and getting dressed following surgical procedures, plus a wide variety of gifts, snacks, flowers, balloons and sundries along with rosaries, crucifixes, crosses and prayer tokens. Burton chooses inventory based on what sold well the previous year. She notes that the store has become popular with local shoppers, regardless of whether they have a friend or family member in the hospital.
"Our main shop is a destination for people in the community because they've gotten to know that we have really amazing gifts for holiday giving or birthdays," she says. "Our seasonal items do very well, and a lot of people come here just for those."
Lullabies, located on the lower level at the entrance to the Family Birth Center, caters to new mothers and families. The store provides Halo Sleep Sacks, which are recommended and used by the Family Birth Center staff as a way to prevent Sudden Infant Death Syndrome (SIDS) as well as lactation equipment for rent or purchase. "We have the only breast pump rental station of its kind serving customers in Thurston, Mason, Lewis and Grays Harbor counties," says Burton.
The Book Nook, also situated on the main floor, is a gently used bookshop that was started by the gift shop volunteers as a service for patients and visitors in need of something to fill their time while waiting for procedures or spending time in the hospital. Book donations are gladly accepted, says Burton, and can be placed in a metal book bin to the right of the main entrance door. The books are then available to patients, visitors and staff for a small donation.
Within the stores, volunteers function as more than just cashiers given the nature of their clientele. Customers include those who are coping with life-threatening illnesses or recovering from surgical procedures as well as the people who love them. "You have to be a people person and you need to have a lot of compassion because of the various situations customers are dealing with," says Burton. "The gift shops act as a respite. It's a place for the visitor to divert their attention while they might dealing with a serious situation with a loved one (patient) in the tower.  It's a place where they can just shop."
The mission of St. Peter's is to help the poor and vulnerable, and Burton believes volunteers play a central role. "If you can help just one person and really fill their need, whatever it is that they're coming into the shop for, I think that's hugely significant," she says.
To find out how to become a volunteer in the gift shops, contact Gift Shops Manager Karen Burton at 360.493.4591 between 8:00 a.m. and 5:00 p.m. Monday through Friday.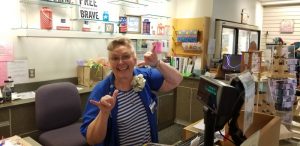 Volunteers looking to serve in other ways can find opportunities to escort visitors within the hospital, greet visitors arriving for procedures, assist with administrative tasks, and provide comfort care to patients at the Cancer Center. To learn more about Providence volunteer opportunities, contact Merrit Reed at 360-493-7482.
Visit the Providence St. Peter Hospital website for more information about the services provided.
Sponsored