In the Information Age, news travels quickly. Nearly everyone has their own personal pocket-newscaster, and social media now allows us a global platform to talk about what's happening in our daily lives. Connectivity has never been so pervasive, and often the news we read is sad, bad or even fake. There are times, though, that the stories shared are good. Even great. That is the best type of news and was the case last spring when a heartwarming story about a Thurston County Sheriff's Deputy, Mike Hazlett, was shared on Nextdoor.com, a private social network for neighborhoods.

Nextdoor is free to join. Users make a profile and are able to connect with their immediate neighbors (if they've joined the platform) as well as folks in surrounding neighborhoods. They can post about lost dogs, crime, items for sale – all manner of neighborly things.
Last May, a post popped up from a Mr. William Rubio. He had come to Nextdoor to share with the community about an encounter with a Thurston County Sheriff that changed his life.
Rubio's post began: "Although I've already thanked the man face to face, I felt the need to let our community know about why I'm thankful. My family and I have been living in Olympia for about a year-and-a-half now. Wife and three kids of our own moved here from Texas. It's been great, and part of the reason we came up here was to focus on our own family and leave the family drama behind."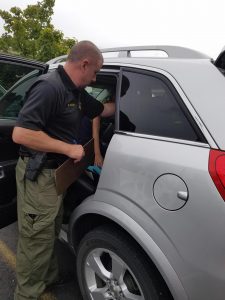 Rubio goes on to detail that he had recently become estranged from his father, and for good reason, as his father had stolen his identity and wrecked his credit.
"My father has three young daughters," Rubio writes, "that he was about to lose to Child Protective Services in Texas. So, without us knowing, he got a bus ticket and bused himself here with my baby sisters. Dropped them off Tuesday night and caught a bus back to Texas Wednesday morning."
Deputy Hazlett says he received the call from Texas and was dispatched to do a welfare check on the young girls. "When I made contact with William," Hazlett says, "I saw that the girls were happy, safe, in a good place and that there were no concerns as far as their safety."
But when Deputy Hazlett returned to his car, there were other safety concerns on his mind. It struck him that the Rubios had teenage kids, and probably didn't have car seats. Deputy Hazlett says Rubio told him, "Look, I love my sisters, I love having them here, but we just spent the last extra money that we had buying food for them."
Deputy Hazlett knows that car seats are expensive, and in an act of serendipity, happened to be one of the car seat technicians for his agency. He participates in Safe Kids Thurston County as part of the Thurston County Sheriff's Child Passenger Safety Team and knew that new car seats get donated to the program. According to the 2018 Thurston County Sheriff's Annual Report, the program assisted over 200 children, volunteers dedicated over 200 hours, and employees dedicated over 240 hours.
Deputy Hazlett obtained and delivered the car seats to Rubio right away, but still couldn't push the encounter from his mind. The next morning, he told Sergeant Odegaard, "I'm going to go out there and do something for this family."
The Sergeant suggested that Deputy Hazlett utilize gift cards that were available for the Department to distribute to families in need, "So I signed out $60 in Safeway cards for the family to go and buy food," Hazlett says.
But he couldn't stop thinking about how the three little girls had arrived here with nothing.
"I went to Walmart and purchased a Walmart card," the Deputy says, "and took that card, along with the Safeway ones, to help him out with his sisters."
Rubio writes, "This was HUGE for us at a time where we've got three more lives to take care of out of nowhere."
Deputy Hazlett then referred the case to our state's Child Protective Services, which he says will help the family get the benefits and resources they need. He reports that his sister-in-law followed along with Rubio's original post and shared that community members were stepping up to help the Rubio family gather the things they needed.
Deputy Hazlett has been making the Thurston County Sheriff's office proud for 20 years now. When he started with the force, social media didn't even exist. Nowadays, the stories and images that are thrown at us all-day-every-day can be too much, and other times, like this one, they are just right.
Deputy Hazlett fulfilled his call of duty. He did his due diligence, and what he found was a loving, and safe family, but one who needed a little help.
He didn't have to help them.
But he did.
"Over 20 years, I've pretty much seen it all," Hazlett says, "and have been able to help a lot of people over the years."
But it's William Rubio's words that may make the bigger impact here. "That was the kindest thing anyone has ever done for me or my family at a crucial time of need," he writes. "Thank you again, Good Sir. Not only are you an awesome person with a good heart, but you also made me proud to live in a community where we help each other. I'm going to pay it forward."
This article is part of an ongoing series highlighting the work and contributions of public employees. It's produced with support from WSECU.