The most important things in life don't require long speeches or fancy words. Phrases like I Love You, I'm Listening, and What Can I Do to Help? offer solace and much needed respite. But sometimes it's nice to treat yourself to a night out on the town with friends, family and your chosen community. And for that there are just three magic words: Sip, Savor, & Stroll.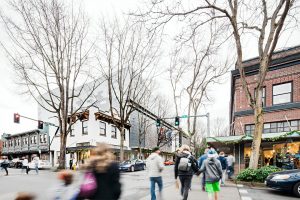 Considered an Olympia Downtown Alliance (ODA) premier event, this annual evening of food, drink, music, and more happens from 2:00 p.m. to 5:00 p.m. on Saturday, September 28. With only 240 tickets available, get yours today to enjoy 12 restaurants, six scrumptious desserts, and a behind-the-scenes look at Olympia's vibrant, growing culinary scene.
Tickets are $55 and include guided tours that make up a multi-course progressive meal. Diners are escorted throughout downtown Olympia on specially chosen tracks. "This event is an amazing way to try multiple restaurants for one low price," says Natasha Ashenhurst, event publicist. "When I went in the spring there were a lot of couples who made this a date night as well as co-workers out for a bonding event and groups of friends who wanted to do something fun together."
This year diners can choose one of three unique pathways. "The big story for the September event are the Vegetarian and Bars & Breweries tracks," says Ashenhurst. "This has not been done before and we're excited to give it a go!" The third option showcases downtown's eclectic best with a Variety track.
All three start at the Olympia Ballroom and finish at Rhythm & Rye. At the Ballroom, tour guides start their group's journey via four restaurants around town before meeting up again to share dessert and dancing at Rhythm & Rye.
With 18 participating restaurants, cafes, bakeries, and bars, there's something for every palate. A 21+ event, alcohol will be available for purchase so make sure to bring your ID and a little spending money. On the tour you'll have the chance to meet the location's chef, owner, or brewer, and sample signature dishes galore.
Have dietary restrictions? No problem. If you or someone in your party needs special consideration, email britk@redbarncommunications.com to work out the details. There's plenty of centrally located downtown parking as well.
It's recommended that you opt for comfortable shoes and check the weather report when deciding what to wear. The tour is on foot, rain or shine, and approximately a mile long. But don't let that daunt your style, there's often a prize awarded for best dressed attendee of the night and you'll definitely get your steps in that day.
Groups and parties are always welcome. If attendees purchase tickets separately or online, simply include everyone's name in the notes section of the order form. Otherwise send an email—at least five days beforehand—to britk@redbarncommunications.com with all the participant's names.
Feeling lucky? There will be a raffle at the end of the evening with the drawing taking place at Rhythm & Rye's after party. Tickets are $20 and benefit the ODA's "downtown focused priorities [which] include cleanliness and safety, advocacy, imagemaking, and business assistance." Purchase tickets from ODA staff and board members or by calling the ODA directly at 360-357-8212. Don't worry if all the walking tires you out, you needn't be present to win.
After you've snagged your tickets, get ready to dance the night away to the jazzy sounds of the Hook Me Up band. Led by Grammy Award winning trumpeter Tracey Hooker, you can stream music online and get a feel for their stylish grooves. The evening's emcee is beloved Voice of the Sound Lois Ann Marler.
Stay up to date on all the Sip, Savor, & Stroll details via their Facebook event listing or directly through the Olympia Downtown Alliance. Share links with family and friends now to insure the entire group can get tickets while they last.
Want more downtown fun? The ODA's Third Thursday activities show off downtown's hidden gems and fan favorite treasures. They also feature music, shopping, prizes, and a chance to truly discover downtown.
C'mon, don't get left behind. Book your spot now and then message everyone you know. It's as easy as saying Wanna go?
Sponsored