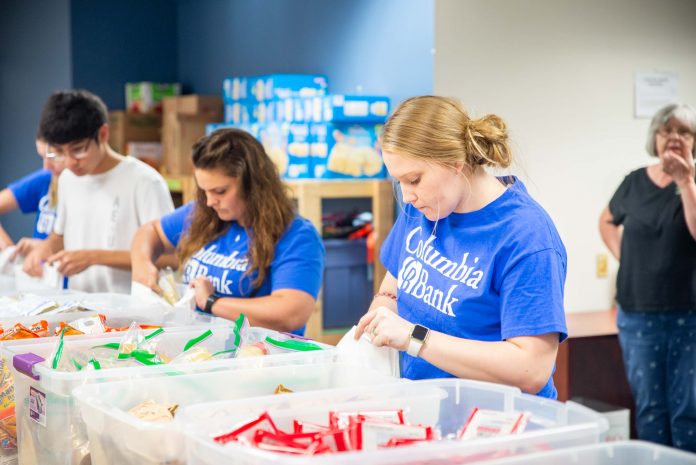 As a new school year begins, Homeless Backpacks is moving into a new space within the Columbia Bank Building in Lacey. After serving more than 600 kids in the South Sound region during the previous school year, the demand to provide weekend food support for children in need is growing. By moving into a larger space, Homeless Backpacks has a greater opportunity to meet this demand and better serve local children and families experiencing homelessness.
The mission of Homeless Backpacks is to provide weekend food to children experiencing homelessness in Thurston County, including the North Thurston, Olympia, Yelm, Tumwater, Rochester and Rainier School District.
Since the organization's pilot program began in the spring of 2005, Homeless Backpacks has grown to serve 608 students per week. Previously headquartered in the South Sound Center, the Homeless Backpacks board voted to move after outgrowing the space they were in.
"Columbia Bank offered us this beautiful space," says Homeless Backpacks Chair and Founding Board Member, Kelly Wilson. "A really, really affordable deal because they want to be in partnership and support the program."
Branch Manager of the Lacey Columbia Bank, Matthew Klifman, first became acquainted with Homeless Backpacks through his family and community connections.
"I had a daughter who graduated in 2012 from North Thurston High School, and with her group of friends she was going through high school with, there were some struggles that we were aware of," explains Klifman. "I was a Hawks Prairie Rotarian. It was through those experiences I became aware of Homeless Backpacks and really fell in love with the mission. I found a lot of passion around an all-volunteer organization and all that they do on a weekly basis."
After Homeless Backpacks showed interest in the Columbia Bank space that was available for lease, Klifman wrote a letter to Columbia Bank leadership, outlining the story of the organization and asking to provide the vacant space at a rate the organization could afford.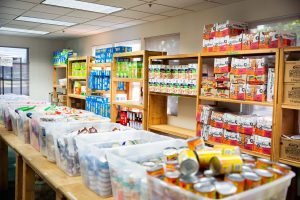 "I wrote a story up to the leadership at Columbia Bank," says Klifman. "They became familiar with the organization, got to understand what their current lease rate was, and made concessions to make sure it was within their budget for them to take over this space."
In the new location, there is office space to complete administrative work, in addition to meeting space. Extra storage rooms will help to streamline the planning process for the organization's two annual fundraisers, because donations and auction items will have a designated area.
This space will house prepared food bags that are ready to be delivered to local schools and will also allow for additional food storage.
"The new location is great," says Homeless Backpacks Board Member, Roxie Stancil. "We have a lot more space for a lot of donations so, if people want to have food drives, we try to encourage people to do food drives that maybe focus on one particular item. Maybe the more expensive items. Our chili or tuna fish and our ravioli products are our most expensive items that we put in bags and it's a huge contribution."
With an expanded storage area, Homeless Backpacks will be able to develop a deeper reserve to their food supply and will also be able to take advantage of sales at local stores, which leads to long-term savings.
"Where the value will come in, is that when something goes on sale, we can buy it up," explains Wilson. "At Costco right now, the rice crispy treats are $3.50 off per box, and that's something we regularly put in our weekend food bags. So, when we can stock up on those things, at that kind of savings, it saves us a significant amount of money."
As the first event of the school year and the first event in the organization's new space, Homeless Backpacks hosted a bagging assembly party in the last week of August, with members of the Homeless Backpacks board and representatives from Columbia Bank in attendance.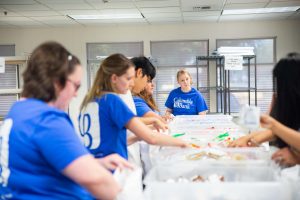 "It's a great way for us to get to know them, get their hands into our program and really get a sense of what it is we do," explains Wilson. "They also get a sense of the difference they're making by offering us the space at such an affordable price."
Comprised only of volunteers, Homeless Backpacks relies solely on locals donating their time to shop, assemble and deliver food to the program's more than 600 recipients on a weekly basis. With no government funding, Homeless Backpacks relies on donations from the community to continue operation. With each weekend food bag costing $8 for Homeless Backpacks to produce, fundraising is vital to the organization.
"The joyful part, the part that feeds us and keeps us going, is the bagging the food and delivering the food," explains Wilson. "We can do that forever and ever, but our annual budget has grown exponentially. The demand for our program has grown so much over the past few years."
A key annual fundraiser for Homeless Backpacks, the Bountiful Harvest Dinner and Auction will take place on October 5 at the Lacey Community Center. The evening will feature a fall harvest theme and will include a live auction, a silent auction and four raffles.
To learn more about the Bountiful Harvest Dinner and Auction, the Homeless Backpacks mission and other ways to get involved, visit the Homeless Backpacks website.