Bunchgrass waves in the breeze. Purple camas dots the flattened landscape, accentuated by stands of oak and Douglas fir. This bucolic area, nestled in south Thurston County, was named Grand Mound by settlers in 1853, after a hillock on the flat prairie. It was once a major village of the Native Americans of the Upper Chehalis region, and then became the site of many a farm and pasture that we associate it with today. As Grand Mound has already seen, land use changes over time, and if the last decade is any indication, the character of Grand Mound is changing again.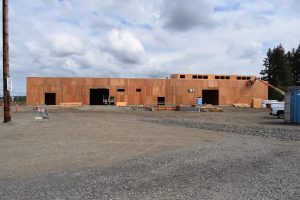 Strategic Plans Taking Shape
In order for a community to grow sustainably, proper planning is paramount. Thurston Economic Development Council's Executive Director, Michael Cade, says that Thurston County, Chehalis Tribal Enterprises, and private-sector partners have excelled in this process when it comes to Grand Mound.
Grand Mound is unusual in that it is unincorporated, but is also designated as an Urban Growth Area. The Growth Management Act of 1990 dictates land use and Cade explains that the Act directed that urban services and development be put into urban areas. There are two exceptions to this, Maltby in Snohomish County, and Grand Mound.
There have been keen eyes on Grand Mound for a while now, one of them the Confederated Tribes of the Chehalis Reservation. Grand Mound is not reservation land so the Tribe has been purchasing parcels of it in fee-simple agreements. "We've purchased land where the people are and where the traffic is," explains Chris Richardson, Chehalis Tribal Enterprises' Managing Director.  Chehalis Tribal Enterprises is led by a team of four tribal members – David Burnett, David Youckton, Greg Burnett and Chris.  The CTE's mission is to create new business outside of the gaming industry. "It's all about diversification," says Richardson.
Recognizing Grand Mound's unique situation, in 2009, the Tribe created a Development Plan to share with the County and the many stakeholders of the area. What this study essentially said is that water and sewer infrastructure was needed to help develop the area, along with vital transportation upgrades to accommodate growth. Now that those important infrastructure components have been completed, what lays ahead is something exciting.
Eagle One Development
Grand Mound now possess a handful of new businesses: gas stations, fast food restaurants, and a recently completed 88-room hotel, Fairfield Inn & Suites by Marriott. The hotel is owned by the Tribe and was open for business in January 2018. It's situated on a seven-acre parcel named Eagle One, which is one of four parcels that the Tribe owns in Grand Mound, comprising an overall area of about 20 acres.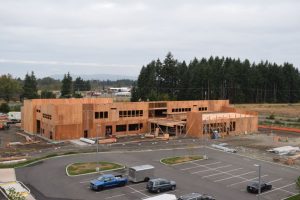 This past April, the Tribe broke ground on an exciting and ambitious new development on the Eagle One property. It's a 36,000 square foot building that will house a restaurant, brewery and distillery all in one. The development is adjacent to the Fairfield, and the hope is that the two combined will share business as it becomes yet another not-to-be-missed destination for craft brewing and distilling in Thurston County, especially as it is located along the County's agri-tourism route, the Bountiful Byway.
"The building will be half production and half retail," Richardson explains. The production side will be a distillery and a 60-barrel-system brewery. The distillery will be run and distributed by the private Heritage Distilling company.  While the brewery will be branded under the newly created Chehalis Tribal brand of "Talking Cedar" and will distribute beer to the Tribe's other ventures like the Lucky Eagle Casino and Great Wolf Lodge.  The upper floor will house two classrooms, and the Tribe plans to partner with South Puget Sound Community College's new Craft Brewing and Distilling Program to train a tribal workforce of in-house brewers.
The retail portion of the building will be a tap-room and tasting room associated with the brewery and the distillery, along with a 200-seat restaurant that will be part of the Ramblin' Jacks restaurant group, which includes restaurants like the Rib Eye in Lewis County and Mercato in Olympia.
Though the development seems to be taking after Grand Mound's topography and is rolling along, breaking ground on the project was no easy feat.
"It literally took an act of Congress – that's not a euphemism," shares Bryan Ryerse of Korsmo Construction and Eagle One project manager. The building project had been delayed over a year due to an antiquated federal law that banned the distilling of alcohol on Tribal lands.  Last November Rep. Jaimie Herrera Beutler, R-Battle Ground, worked to get it overturned and it was signed into law by year's end.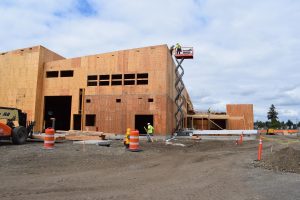 According to Ryerse, we can expect to see Eagle One, the $25 million development completed in the spring of 2020. Ryerse also explained that Korsmo, the general contractor for the job, is union-affiliated, but has an agreement with the union to hire Tribal Members for the job. "Korsmo currently employs 8-10 Tribal Members," Ryerse says, "as heavy equipment operators, laborers, plumbers, and carpenters."
When Eagle One is finished, the development will create 100 new jobs for Tribal members and Richardson shares that the profits and taxes the properties net will go toward the benefit of the Tribe in the form of essential government services such as schools, clinics, police force, courts and jails.
"The Grand Mound development is good stuff," Michael Cade surmises. "It's a great example of a Sovereign Nation: the Chehalis Tribe and local jurisdiction: the County, working with private development interests in a strategic way."
Thurston EDC's Real Estate Forum
The Thurston EDC has been very supportive over the years of the changes taking shape in Grand Mound. They are top-notch networkers and serve a crucial role in facilitating developments within the county which make it not only economically vibrant, but also a wonderful place to live, work, and play.
The EDC is hosting their annual Real Estate Forum, an event which, for the past decade, has highlighted the commercial, retail, and industrial properties of Thurston County. The event is said to be one of the best industry networking opportunities of the year. This year's event is September 26 from 11:00 a.m. to 1:00 p.m. at the Hotel RL in Olympia and is held in partnership with the National Association of Industrial Office Properties.
Keynoting this not-to-be-missed forum is Chris Mefford, president, and CEO of Community Attributes Inc, a Seattle-based consulting firm that transforms data into analysis and strategies for business, government non-profits and philanthropy. Community Attributes works with organizations and municipalities throughout the world on urban planning, economic development, and strategic planning. The firm also supports the private sector by bringing data to life by relating demographics and economic trends to strategic planning and business decisions.
The event is important for anyone involved in the local development community as it provides an opportunity to better understand the market and its players. Tickets can be purchased here, and more information can be found on Thurston EDC's website, or contact Holly House at HHouse@thurstonedc.com
Sponsored